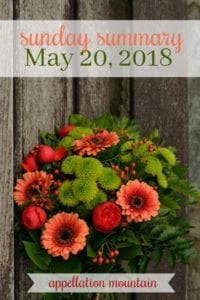 I woke up this morning to discover that it's Eliza Doolittle Day. Observed every May 20th, it celebrates the heroine of musical-turned-movie My Fair Lady. Audrey Hepburn starred in the 1964 movie version, which won the Oscar for Best Picture.
The two-cent synopsis: a highly educated and quite snobbish professor takes a bet that he can teach a girl from the wrong side of the tracks to pass as a well-bred member of society. (As this NPR article points out, it's a concept that doesn't stand up to our present-day realities.)
The odd couple pulls off their social experiment. Romance, naturally, follows. But in an early song, when Eliza is just starting to shed her Cockney accent, she sings:
One day I'll be famous, I'll be proper and prim
Go to St. James so often I will call it St. Jim
One evening the king will say, "Oh, Liza, old thing
I want all of England your praises to sing"

Next week on the twentieth of May
I proclaim Liza Doolittle day
All the people will celebrate the glory of you
So there you have it: Eliza Doolittle Day.
As it happens, I've been thinking about this name quite a bit. Ever since Octavia broke into the US Top 1000, I've been binge-watching the series that helped boost it: The 100. And the star? She's named Eliza Taylor.
Eliza rose to #140 in the new rankings, but I still say it's a Sweet Spot Girl Name: not too popular, not too rare; modern-sounding, but with roots; rich in nicknames, but likely to be used in full. And the fact that your daughter would have her own day when we sing her praises?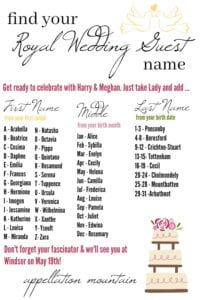 Total bonus.
Here's the post on Eliza, if you'd like to read more.
Elsewhere online:
Were you excited for the Royal Wedding? I watched some of it live, via BBC America. I always forget how thoroughly I enjoy such events! The highlight for me? Discovering that one of the bridesmaids, Ivy Mulroney, is actually Isabel Veronica, Ivy for short. Ivy is the granddaughter of former Canadian Prime Minister Brian Mulroney.
I also shared a helpful guide for finding your Royal Wedding Guest name. I'm Lady Arabella Frederica Mountbatten, and I'm just delighted for Harry and Meghan.
An interesting question: if you're having twins (or triplets) of the same gender, how do you decide which baby gets which name? We discussed this on Facebook, and there's definitely more than one way to go about such a choice …
So apparently we've been spelling Blake Lively's younger daugher's name wrong. It's Inez, with a z. Blake has asked that someone "Please tell Wikipedia." Okay, I get it. I prefer that my kids' names be spelled correctly, even the one that's uncommon and uses the even less familiar spelling. But Blake … you go to such lengths to keep your kids' names quiet, and then just sort of let the news trickle out. (Ryan confirmed James' name in an interview after weeks of speculation; their second daughter's name came out following the family's first public appearance together. Note: the article I'm linking to has been updated to reflect the 'z' spelling, but it originally released it as Ines. Proof? The dozens of articles, like this one, citing the original.) There's something to be said for a quick, no-nonsense birth announcement.
Speaking of name reveals: Colette Koala is Mackelmore's new daughter, a little sister for Sloane Ava Simone. Love both names, and even though I wouldn't have dreamed up Koala, I do like it.
Speaking of Colette, this round-up of the best of the middle is worth a read, and a good reminder that there are 1,000 names on the list, many of which are familiar, but not chart-toppingly popular.
This is fascinating: the girls' names popular in both 1917 and 2017.
Rumi didn't boom in use this year! But Logan, Dream, and Brennley? All of those were up. Check in on the results of Nancy's annual Pop Culture Baby Name Game here.
Remember when I wrote about butterfly baby names? Turns out there was already a high-profile baby girl named Monarch.
Wow – it's easier to change your baby's name that to re-do a tattoo. (Found via the ever-marvelous Clare's Scoop.it Name News page.)
Wise words from Duana: you know that rule that you have to keep your kids' first names short if your last name is long? Not true. Read the whole thing here.
That's all for this week! As always, thank you for reading – and have a great week!