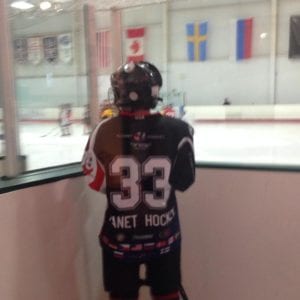 My son went off to ice hockey camp last week, and when I picked him up after the first day, another camper said "See ya, George," as we walked out the door.
My son – whose name is Alex – explained that over lunch they'd talked about whether the other kids thought their names fit, and if not, what their names should be instead.  Instead of Alex – a name that has been the subject of much discussion between my son and I – they dubbed him George.
And he would make a great George!  It's a family name on my dad's side, the name of an uncle and my late great-grandfather.  It never quite made our shortlist, and none of my cousins have used family names.
I'd considered Georgia over the years, but seriously considered never George – and I can't say why.  Could my positive reaction be part of a delayed Prince George effect?
Elsewhere online:
Idaho takes their time releasing name stats, but when they do, they also share unusual names registered.  Worth waiting for Theory, Glacier, Dually, Torque, Truce, and Pearadice.  Really – Pearadice!  What does that mean?
I like the names Truman and North, but Truman North together?  Can't decide if that's a poetic nod to Canada, or an unintentional punchline.
Rumor has it that Keisha Castle-Hughes is in talks to join the Games of Thrones cast for the fifth season as Obara, one of Oberyn's daughters.  Obara – the next Aria?  Maybe not, but I think she's more wearable than Khaleesi …
These 80s throwback posts at British Baby Names completely make my day.  Mary Petronella!  Ferdinand, Basil, and Beau!  Primrose and Pelham!  Aristocratic, daffy, and totally different than what I was hearing in 1989 in the US.  Too exciting.
Not to say that American names are boring.  Zeffy's list of 1790 finds is intriguing.  I know why we've stopped calling our kids Masheck and Nimrod, but Dempsey, Orson, and Collier are great.
Farewell, Geraldine.  And lots of other names in Ren's post at Nameberry.  For now …
Just noticed: Marjorie re-entered the US Top 1000 in 2013!
Best name mentioned in Facebook conversation this week: Zvezda, which the poster said means star in Macedonian – his grandmother's name.  No clue how to say it, but it's intriguing, right?
As if choosing first names wasn't tough enough, there's also plenty of room in 2013 to choose your kiddo's last name – a thoughtful look at surname choices, here.
Now, on to the exciting news – my birthday is coming up, which means that this upcoming week is packed with names that I've chosen – five straight days of crazy, would-you-really-consider-it choices.
As always, thank you for reading, and have a great week!
More names to explore: