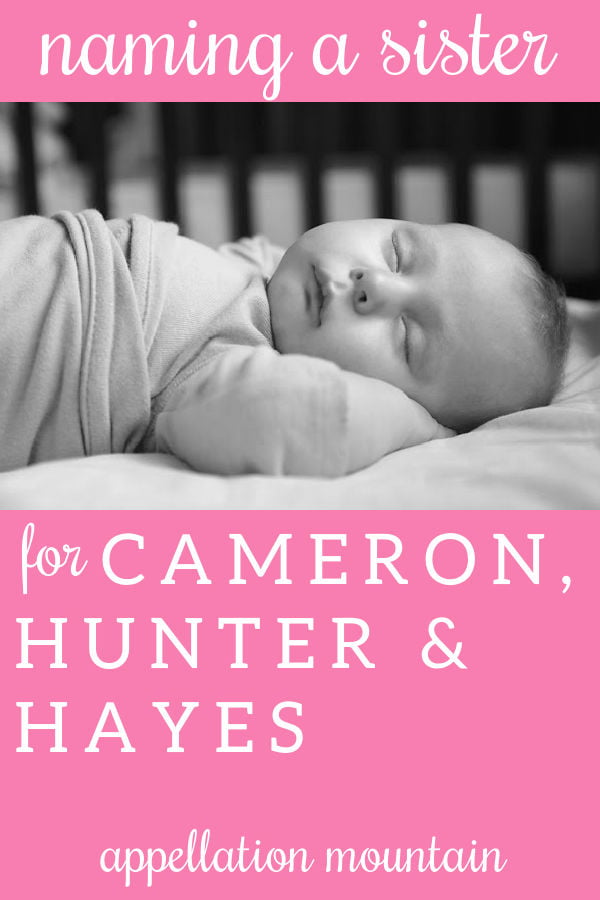 Name Help is a series at Appellation Mountain. Every week, one reader's name questions will be discussed.
We're relying on thoughtful comments from the community to help expectant parents narrow down their name decisions. Thank you in advance for sharing your insight!
Shay writes:
We have three boys – Cameron, Hunter, and Hayes. We're now expecting our fourth baby, and it's a girl! We weren't trying for a daughter at all – I love being a boy mom. But I'm so much more excited than I ever thought I'd be.
When we first started our family, my favorite girl names were unisex. I actually thought Cameron would be Cameron no matter what. Other names I liked were Harper, Lane/Laine, and Dylan. Though we know a few Dylans now, so it's pretty much out, and I wouldn't want a third H name.
But I now I find myself drawn to names like Annabelle – or even Annabella? – Josephine, Liliana, Eliana, and Cecilia.
Our last name is two syllables, starts with an M, and ends with -y, so we pretty much avoid any first name ending with y/ee/ie, etc.
My husband isn't sure if he likes our old list better than my new list, but he's mostly leaving it up to me. And I'm appealing to you and your readers: what should we name a sister (eep!) for Cameron, Hunter, and Hayes?
Please read on for my response and leave your thoughtful suggestions in the comments.
Dear Shay –
Congrats on your new daughter!
I think plenty of parents experience what you're feeling. We think we like the same kinds of names, regardless of gender. But when we actually picture our child, something shifts.
That might feel unfair or biased or downright wrong. But it reflects reality: girls' names have always been more subject to trends, and, generally speaking, the pool of girls' names in use has always been deeper and more varied.
But it may simply be that your tastes have changed. Some families name four or five children across a dozen years and stay remarkably consistent. But most of us change a little more, either because we've heard SO many kids' names, or simply because, well, styles change.
Let's work through a few questions:
Is this likely to be your last child? Sorry, it's nosy! But I ask because Cameron, Hunter, Hayes, and Annabelle is one thing. But if you have another girl in the future, it might be difficult to name her Parker or Lane without making Annabelle feel like the odd one out.
Do any of your girl names have extra significance? Maybe Annabelle reminds you of your grandma Annie. Or if you grew up singing in youth choirs, then Cecilia's associated with musicians might speak to you. I mention this because changing styles is fine, but having a really good reason behind it can build your confidence in the choice.
All of that said, I wonder if you might be happiest with names that are clearly feminine, but just a little more tailored. So not borrowed-from-the-boys Dylan, but not the lacy romance of Cecilia, either?
Or … maybe names that are unisex in style, but used in overwhelming numbers for girls?
NAMES MIDWAY BETWEEN DYLAN and CECILIA
EVELYN – Some will argue that Evelyn is meant for boys, and it has a history as a unisex name. But in the US? It's all girl. That tailored sound separates it from frilly choices like Arabella, but it's undeniably a vintage, feminine choice.
EVERLY – If Evelyn is close, but not quite right, would you consider Everly? It shares the same style as Cameron, Hunter, and Hayes, but it's used in far bigger numbers for girls. Plus, nickname Evie makes it even more feminine.
MAREN – Maybe Maren sounds like a surname, but it's actually a rising favorite for girls in the US, borrowed from Scandinavian languages, where it's a form of Marina – or possibly Mary and Margaret.
PIPER – Musical Piper feels light and feminine, but with a style that stands up to your favorite boy names.
SLOANE – I suppose Sloane could be a boy's name. But from Ferris Bueller's Day Off to Entourage, we've associated it almost exclusively with girls. It's an update to Joan, a tailored choice that's feminine enough to fit in with Cameron, Hunter, and Hayes, but still sound like their sister.
TEAGAN – Confession: I'm always surprised at how popular Teagan has become. Twenty years ago, it was used in modest numbers for boys and girls alike. Since 2015, it's been a Top 200 choice for our daughters.
VIVIAN – This name shares many characteristics with Evelyn; at some point, Vivian was also masculine. But it's a feminine favorite, timeless and yet gently vintage, too.
WREN – How do you feel about nature names? Something like Wren – brief and complete, used in bigger numbers for girls, but not especially frilly – could be perfect.
I'm tempted to suggest names like Everly and Teagan, but I suspect that's exactly what you're ruled out. From your original list, I actually like Annabelle and Josephine an awful lot, too.
You haven't mentioned middle names. I wonder if something like Piper Annabelle or Wren Josephine could be the best of both worlds?
Readers, over to you! How would you handle a switch in naming styles for a daughter after three sons? Have you experienced anything similar? And, most importantly, what would you name a sister for Cameron, Hunter, and Hayes?