Downton Abbey names took off from the series' earliest days. You almost certainly know a girl who shares her name with the Dowager Countess or her American daughter-in-law. Maybe with the middle daughter's secret child, too, or the chauffeur-turned-family-member.
This post is packed with spoiler alerts for the original series, but not for the September 2019 movie that takes us back to all of our beloved friends, upstairs and downstairs, at Downton.
Names come from the aristocratic Crawley family, the lords of Downton Abbey. (Strictly speaking, the head of the family is Earl of Grantham and Viscount Downton, but he's referred to as Lord Grantham.) But they also come from the many servants required to make the manor run well. And we meet others over the course of the series – doctors and lawyers and journalists, men and women who point to a changing world.
Options are richer for the ladies than the gentlemen. Maybe that's because Robert and Joseph and John don't feel especially attached to the series. Or maybe it's because the era meant that they were referred to by their surnames or titles far more often, and so their names don't feel as linked to the show. However, a few surname names do make this list, inspired by the male characters.
The Ladies of Downton Abbey
ANNA
Current US popularity ranking: #54
We love loyal Anna, ladies maid and beloved of the long-suffering Mr. Bates. She has a rough road, too. But at the series' end, the couple lives happily ever after, with son Johnny joining their family. As a given name, Anna feels undeniably classic. Though this generation may associate it more strongly with Elsa's sister in Frozen than the hallowed halls of Downton Abbey.
I've yet to write about Anna, but check back and I'll update when I do.
BERYL
Current US popularity ranking: unranked
While rarely mentioned on the show, Mrs. Patmore's given name is the lovely Beryl. I'd have left it off this list, except it's just too wonderful to overlook. It's a gemstone name, a green stone, and it would have been relatively novel when the Abbey's cook was born. That makes Beryl the rough equivalent of a name like Mackenzie or Kaylani today.
I've yet to write about Beryl, but check back and I'll update when I do.

CORA
Current US popularity ranking: #73
The graceful and gorgeous Lady Grantham brought an American fortune to Downton when she married the Earl. She's a devoted mother and wife, and brings a quiet strength to her role. When the series debuted in 2010, Cora was rising steadily in use, following sound-alike Nora up the charts. The British drama helped the name more than double in use since its debut. One reason to adore the name: it sounds like the Latin cor – heart.
DAISY
Current US popularity ranking: #169
Kitchen maid Daisy features in story lines from the very first season, and she remains a force to be reckoned with throughout the series. Her floral name fits right in with the era, since the Victorians embraced so many in the decades prior to the show's setting. The household staff also includes an Ivy, and plenty of botanical favorites belong to the aristocratic characters, too.
EDITH
Current US popularity ranking: #518
The Crawley's middle daughter spends several seasons as poor Edith, the one always overlooked and prone to tragedy. But Edith triumphs over them all. She forges a career as a writer, and then ends the sixth season by marrying Bertie Pelham, becoming the Marchioness of Hexham. As a name, Edith has long felt unfashionable. And yet, it's a 1930s favorite – so if the hundred year rule applies, it's just about time for Edith to feel fresh once more.
ISOBEL
Current US popularity ranking: unranked
Isabella graces the US Top Ten, and has for many years. Isabelle isn't too very far behind. But Isobel – the Scottish spelling – remains quite rare. Still, if you prefer Katharine to Katherine and Elinor to Eleanor, perhaps Isobel will appeal to you, another elegant alternative spelling that might be just different enough to feel new.
MARIGOLD
Current US popularity ranking: unranked
Lady Edith's secret daughter, it's originally planned that she'll be given up for adoption. But Edith can't bear to be parted from her, and eventually takes her in as a ward, before admitting their relationship. The show launched the name. It sits just a bit outside of the current US Top 1000, and continues to gain rapidly in use. Originally a mash-up of Mary and gold, the richly meaningful name could easily join other floral favorites on the charts.
Read more about Marigold here.
MARY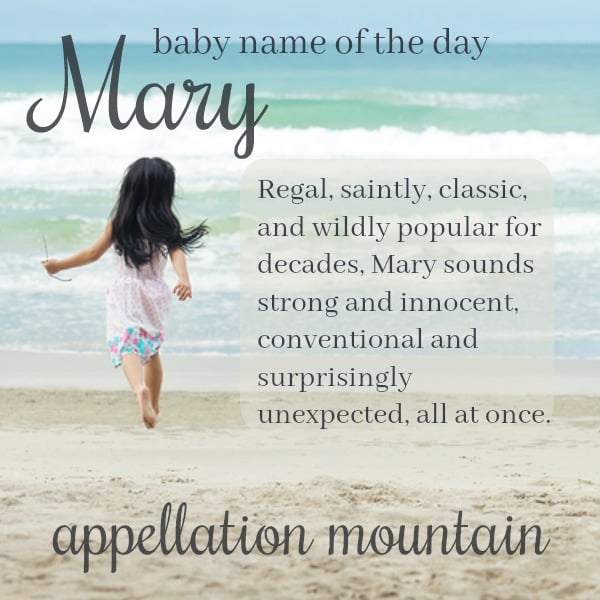 Current US popularity ranking: #126
Lady Mary Crawley is the eldest daughter at Dowton. Sometimes cold and calculating, even cruel, she's also whip-smart, generous, and brave, too. Her first husband's death devastates her, but by series' end, she's found love once more. I felt certain that the beautiful aristocrat would remind us all how much we love this classic girls' name. But so far, it continues to fall in use.
ROSE
Current US popularity ranking: #123
The extended Crawley family includes cousin Rose, daughter of Hugh and Susan MacClare, and great-niece to Violet Crawley. There's also Robert's sister, Rosamund. But it's Rose that feels like the bigger Downton name. After all, Lady Rose moves in to the grand house when her parents move to India. Her daring romances dominate several storylines, as does her eventual marriage to The Honourable Ephraim Atticus Aldridge.
SYBIL
Current US popularity ranking: unranked
Sybil was given to just a dozen girls the year Downton Abbey debuted; by 2018, that number soared to 108. The youngest Crawley daughter, idealistic, romantic, and warm, Sybil marries for love, and dies tragically young. Her daughter is also Sybil, called Sybbie. She's raised at the Abbey, alongside her cousins. While rare, it could be part of the next wave of vintage revival names, a substitute for Abigail or Evelyn.
VIOLET
Current US popularity ranking: #43
Is any character more appealing that the Dowager Countess, played by the incomparable Maggie Smith. At time, she's snobbish and rude, but also loving and fierce. And Violet Crawley gets all of the best lines. The name was just outside of the US Top 100 when the show debuted, but it's only continued to climb since we met the fearless, stronger-than-strong matriarch of the Crawley family.
The Gentlemen of Downton Abbey
ATTICUS
Current US popularity ranking: #326
Lady Rose loves passionately, and without regard to the realities of the day. She ultimately falls for The Honourable Ephraim Atticus Aldridge, known by his middle. He's heir to a title, which makes him a suitable match, but he's Jewish, so there's plenty of tension in the storyline, too. In the US, we didn't use the name Atticus at all until Harper Lee made it so famous in To Kill a Mockingbird. So it strikes me as slightly anachronistic. Except there are plenty of ancient men called Atticus, and a few others along the way, too.
BERTIE
Current US popularity ranking: unranked
The British love Bertie. There's PG Wodehouse's immortal creation, Bertie Wooster of Jeeves and Wooster fame. And then there's Herbert "Bertie" Pelham, aka the Marquess of Hexham. He and Edith fall in love, and despite many challenges, ultimately marry at the end of the series. This makes poor Edith a marchioness – meaning she outranks even her mother.
I've yet to write about Bertie, but check back and I'll update when I do.
BRANSON
Current US popularity ranking: #770
We meet Tom Branson, the Irish chauffeur, at the very beginning of the show. Sparks fly between Tom and Lady Sybil from the first. They ultimately break all the rules and marry. After Sybil's tragic death in childbirth, Tom remains to raise their daughter at Downton. As a member of staff, he's referred to as Branson, though once he joins the family, he's most often Tom. A surname associated with a popular Missouri resort destination, it was already rising when the show premiered, but spiked along with the character's storyline.
I've yet to write about Branson, but check back and I'll update when I do.
CARSON
Current US popularity ranking: #70
Carson sounds just right on a baby boy today. And yet it's undeniably a Downton name, the surname of the dignified, but caring, butler, Charles Ernest Carson. Serious and loyal, Carson is the backbone of the household, along with the head housekeeper – and his future wife, Elsie Hughes. He's also more than mere employee, especially to Lady Mary and her father. Carson symbolizes an entire era.
GEORGE
Current US popularity ranking: #127
As firstborn son to a future king, George makes an impeccably royal choice. There's a George on the throne during the Downton days, too. In fact, the 2019 movie centers around a visit from King George V. But it's the son of Matthew and Mary that wears the name most prominently on the show. He's born just hours before his father's tragic accident, and grows up in the nursery as the heir to all of Downton Abbey. In the US, George seems ready for revival, a successor to Jack and Henry and William, too.
MATTHEW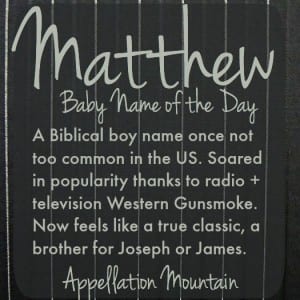 Current US popularity ranking: #20
Classic Matthew is falling in use, while Mateo and Matias climb. But it's Matthew Crawley that sets the series' drama in motion – and his demise that causes yet more complications for the family. The show helped transform our perception of the name, from Matt – a cowboy and a quarterback – to English gentleman Matthew. And that might help give the name a new life for twenty-first century parents.
THOMAS
Current US popularity ranking: #49
One of the most intriguing characters, footman Thomas Barrow schemes and plots his way through the series. He suffers terribly, too, but ends the series in triumph, succeeding Carson as butler at Downton. A classic name, it might not be so linked with the show as a name like Marigold or Branson. But, like Matthew, Thomas reminds us that the full name feels very different from the casual short form. Calling your Thomas by the full two syllables might make the traditional choice a little bit on the surprising side.
What are your favorite Downton Abbey names? Oh, and ladies, click on the image below to find your Downton Abbey name – and position in the household.