Every year, I dust off the ol' crystal ball and try to imagine what the next twelve months have in store, baby name-wise.
And then twelve months later, I check in to see if I got it right.
Nameberry rolled out their 2015 Trend Report earlier this month.  Here's my take on what the future holds.
Baby Name Predictions 2015: The Coras are Coming
From Neil Gaiman's Coraline to Downton Abbey's Countess of Grantham, fiction has given us plenty of Cora- names to consider.  And just like Lily names and Ellie names, it's easy to imagine lots of Cor- and Cora- names catching on.  As of 2013:
Cora climbed to #127, and is poised to enter the US Top 100 by 2015.
Coraline shot up over 100 places to #714.
The French Corinne was also up, to #739.
Cordelia has hovered just outside the Top 1000 for the past few years.  In 2013, it took 248 births to rank.  199 girls were named Cordelia.
Coralie was given to 58 girls, a mix of the Cor- trend and our affection for three-syallable, ends in 'y' or 'ie' names for girls.
On the boys' side, Corbin is up, and Corban and Cortez debuted in the US Top 1000 in 2013.
The only Cor- names that haven't fared well in recent years are Cory and Corey – two choices that seem way too tied to the 1980s to feel fresh today.
Of course, it possible that Cora names have already arrived, and maybe 2013 – the height of Downton Abbey obsession – marked the high water moment for the names.  It could be – especially since Coralie and Cordelia actually fared slightly better in 2012.  But I think that Cora and company still have lots of life left in them, and farther to climb.
Baby Name Predictions 2015: Monroe is the Hot Celeb-Inspired Baby Name
There are two things that can happen when a celebrity chooses a surprising baby name.
The first is lots of noise, but very little influence.
There might have been a slight uptick in kids called Apple, Suri, and Pilot after the high profile birth announcements.  We talked about those names so much.  But the attention didn't actually translate into lots and lots of children called Apple, Suri, and Pilot.
Mariah Carey and Nick Cannon welcomed twins in 2011.  File their son's name – Moroccan, inspired by the room where Nick proposed – with Apple and Suri.
But their daughter's name is another story.
In 2010, 93 girls were named Monroe.  The Carey-Cannon twins arrived in April 2011, along with 140 other girls named Monroe that year.  By 2013, the name ranked #763 in the US.
Monroe arrived at exactly the right moment – parents were looking for fresh surname names for girls, something a little different than Madison, Addison, and Mackenzie.  And girls' names ending in 'o' are also on the upswing.
Everly and Olive were widely influential, and Monroe seems to belong in their club.
Baby Name Predictions 2015: Marlowe is the New Harper
Marlowe is catching on for the same reasons parents love Monroe.
Surname names continue to be stylish, but we're always looking for something new.  Not so long ago, Harper was fresh and interesting.  Now that Harper has reached the US Top 20, boosted by everyone from the Beckhams to the Burtka-Harris family, we need something new.
Or is Marlowe the new Mackenzie?  There are at least three reasonable spellings:
Marlo, favored by blogger Heather Armstrong, as well as comedian Rob Corddry.  Marlo has a midcentury, That Girl vibe.
Marlow, which makes her a perfect match for the white-hot Harlow.  Hmmm … is Harlow the new Harper, and Marlowe is the new Harlow?  My head is spinning.
Marlowe, the current favorite based on usage.  181 girls were named Marlowe in 2013, but I think this name will crack the US Top 1000 by 2015, easily.
Marlowe has all the makings of a fast-rising pick, and could follow Harper's trajectory into the US Top 100.
Baby Name Predictions 2015: Vivienne Will Eclipse Vivian
Variant spellings can be controversial.
I prefer to think of dominant spellings – the spelling most common at any given point in time.  These change, for lots of reasons.  Kaitlyn replaced Caitlin.  Zoey eclipsed Zoe.  Zander is more popular than Xander.  Annabel was once most common, but today it's Annabelle.
In recent years, I've been watching:
Combine Jaxon and Jaxson, and the 'x' spellings rival the conventional Jackson – but will one of those creative 'x' spellings overtake the original?
Can Spanish-friendly Sofia replace Sophia as the most common form of the name?
The lively Vivian, with roots in poetry and Arthurian legend, as well as ties to Latin and an early saint, has been on the upswing lately.  But which spelling will dominate?
Vivian is the most popular as of 2013.  But my guess is that the French Vivienne will surpass the -ian ending by 2015.
Baby Name Predictions 2015: S Surnames for Girls, W Surnames for Boys
For girls, S is the letter to watch, with surname names Sutton, Sloane, and Sloan all climbing.  Sawyer is just outside the boys' Top 100, but is also catching on for girls.  Spencer is falling for boys, but climbing slightly for girls.  And Scout – which feels more literary than surnamey – is definitely on the upswing.
For boys, surnames starting with the letter W seem to be having a moment.  There's preppy hellraiser name extraordinaire, Wilder.  Walker keeps moving up.  All of the Wes- and West- names are in the middle of a good run.  Other stylish possibilities include Wells, Winslow, and maybe Walton, too.
Baby Name Predictions 2015: The Triumphant Return of Peter
Peter has been slipping since the 1950s.
The New Testament name is arguably a classic, but Peter left the US Top 100 back in 1996, and fell to an all-time low of #208 in 2013.
By 2015, I think we're going to see a change.  Three reasons:
We're in love with Henry and Oliver – both names that once felt quirky, but classic.  Now that they're solidly ranked in the US Top 100, they'll probably be slightly too popular for some parents.
NBC's live production of Peter Pan at the end of 2014 raised the name's profile.  Big screen prequel Pan, expected in the summer of 2015, should do even more to boost the name.  And storybook names like Alice have fared well in recent years.
Peter has that stylish 'r' ending.  If we're rediscovering Walter, can Peter really be doomed to obscurity?
Baby Name Predictions 2015: Girls Name Out of the Attic
Up until 2008, Edith was falling.  Edith was your grandmother, or maybe the sweet little old lady across the street.
But Edith just plain wasn't a baby.  It was too fusty to consider.
That's changed in the last few years.  Now all of Edith's positive associations, from Edith Wharton to fictional characters in Despicable Me and Downton Abbey are boosting the name.  Short form Edie fits right in with Sadie and company.
As of 2013, Edith ranked #719.  Here's guessing we'll see a good-sized jump for Edith in the 2015 numbers.  Edith is a sister for Beatrice, an alternative to Esther.
Baby Name Predictions 2015: Name Bit That Just Won't Quit
Beginning in the 1990s, names including 'ken' and 'kin' were suddenly everywhere.  Mckenna and Mackenzie were huge, and gave rise to Kendall and Kennedy for both genders.
Conventional wisdom holds that trendy sounds don't last, and there's some truth to that.  But the sounds don't rise and fall in the space of a year or two.  Instead, a sound can dominate for decades.  The long 'a' of Kaylee and Aiden has been wildly popular for three decades, from the 1980s Hayley and Caitlin to more recent successes like Grayson and Jayce.
Ken and kin are still going strong in names like:
Masculine Kendrick, up 159 places in 2013
Kennedy, rising to #64 for girls
Kinsley ranked #161 for girls
Kendra, up over 2oo places to #187 in 2013
Newer Ken and Kin names are joining them, and we'll still be hearing the sound in 2015 in inventions like Kenzie and Kensley, as well as new discoveries like McKinley – as presidential as Kennedy, but relatively uncommon – until now.
Baby Name Predictions: Oo Baby!
Trends don't exactly die.  They're replaced as our tastes evolve.  And while the long 'a' sound remains in favor, I think it is rapidly giving way to the 'oo' sound.  Stylish up-and-comers like Luna and Jude could soon rival Ava and Mason.
In the US Top 100, there's Julian, Lucas, and Luke for boys; Lucy and Ruby for girls.  The sound could help pull other names – think of June and Juniper for girls, Bruno for boys – into more mainstream use.
Baby Name Predictions: True
Speaking of that great oo sound, how 'bout True?
The presidential Truman is slipping, but reality television boosted Truely, and a few years ago, a short-lived Fox series gave us Tru as a girl's name.
Because they've got the right vowel sound, and because American parents are all about virtue names, I do think we'll hear more of True and company in 2015.  Keep an eye on:
Tru – 36 girls and 65 boys in 2013
True – 40 girls and 49 boys in 2013
Truth – 14 girls and 39 boys in 2013
Truly – 39 girls in 2013
Truett – 107 boys in 2013
Truett is a triple threat.  Not only is Truett a member of this fashionable cluster, Truett is also a stylish ends-in-et name.  And the recent passing of Chick-fil-A founder Truett Cathy means that plenty of people are familiar with the name, even if we've never heard met a Truett in real life.
Baby Name Predictions: Top 1000 Debuts & Revivals
Let's see if we can accurately predict a few names to crack the US Top 1000 in 2015:
For boys, let's keep an eye on:
Wilder – My favorite preppy hellraiser name, bound to appeal to parents for lots of different reasons.
Alaric – Sounds like a Game of Thrones character, but isn't … right?  I had to double check.
Ledger – This one has been rising ever since the tragic death of actor Heath Ledger.
Otis – Not just for hipsters anymore, boosted by the arrival of son Otis Alexander to Olivia Wilde and Jason Sudeikis earlier this year.
Boone – Capable frontiersman name with a great, on-trend sound.
Cairo – Place name with a vibrant 'o' ending, and a more exotic spin on Kai.
Fox – Part-Felix, part-X Files.
Wallace – A gentle classic with ties to the Scottish hero – hard to believe Wallace isn't currently in the US Top 1000.
Gatlin – The early machine gun was a gatling, but drop the 'g' and you have a stylish – if aggressive – name.
Abner – An Old Testament name, ready for rediscovery on the heels of Abel, Asher, and Abraham.
Leif – A Viking by way of Hollywood, just a few more boys could tip Leif into the Top 1000.
Ford – A surname name with an Americana, can-do spirit.
Lyle – File Lyle with Abner – another vintage pick ready for a rediscovery.
Lazarus – A long shot in terms of numbers, but a lock in terms of style.
Smith – The everyman surname could join Jackson on the playground.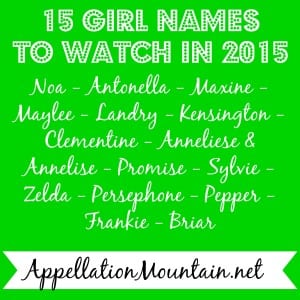 Since I chose fifteen names for boys, let's find the same number of promising appellations for girls:
Noa – Noah is a boys' name – the #1 name in the US in 2013.  Drop the 'h' and Noa is a legit girls' name, big in Israel, but still rare in the US.
Antonella – Along with Antonia, Antonella is on the edge of the rankings.  I went with the -ella ending as the more likely to chart.
Maxine – A sassy, retro choice ready for fresh consideration.
Maylee – Hailey and Kaylee are fading, but we're all about Mae.
Landry – Gaining steadily for both genders, but I'm giving Landry to the girls.
Kensington – Part of the unstoppable Ken/Kin trend.
Clementine – The female equivalent of Wallace – how can darling Clementine not rank in the Top 1000?
Anneliese, Annelise – Okay, this is two names.  Annalise is rising fast, and thanks to How to Get Away with Murder, may be the clear favorite.  But here's betting that we'll see the variant spellings catching up within the next year or two.
Promise – With Trinity, Destiny, and Serenity cracking the Top 100 in recent years, never count out a word name with a spiritual vibe.
Sylvie – Part-Sophie, part-Ava, part-Genevieve.
Zelda – The daughter of the late Robin Williams bears this name, and was in the spotlight following her father's death.
Persephone – Another mythological moniker to consider, now that Penelope is so popular.
Pepper – Iron Man couldn't do it, but maybe Annie can push Pepper into the Top 1000?
Frankie – Drew Barrymore's daughter Olive helped take the name mainstream.  Can her new arrival do the same for Frankie?
Briar – Currently more popular for boys, but possibly set to rise for girls in 2015.
What do you think 2015 will hold for baby names?  Are there any names you think will rise next year?  What will the #1 names be for boys and girls?