Let's talk celebrity baby names to watch 2018.
I mean, 2017 was a big year. Huge! George and Amal welcomed Ella and Alexander. Beyonce and Jay-Z introduced us to Rumi and Sir.
But that's nothing compared to 2018. It's shaping up to be a serious year for celebrity baby names.
Some parents surprised us. Kim and Kanye broke their pattern, and so did Chip and Joanna. But the biggest upset award surely goes to Will and Kate. The royal couple had me – and much of the world convinced – that their prince could only have one of a few names. But they proved much less predictable than we would have thought.
Other families stuck with their tried-and-true patterns, like the Baldwins and Chrissy + John.
I'll also share my personal favorite celebrity name choice of the year so far. It surprised me – and yet was completely predictable, too! – in the best of all possible ways.
UPDATE: The year has surely started with a bang! Here are updates on all of the celebrity baby names to watch 2018 … so far …

Celebrity Baby Names to Watch 2018: The Fixer-Upper Baby
Reality renovation stars Chip and Joanna Gaines announced that they're expecting their fifth. It makes for a fascinating question, because their first four children are so perfectly matched. Their sons are named Drake and Duke, with daughters Ella Rose and Emmie Kay. Can you say pattern problems?
Sure, plenty of names still fit. I can imagine choices like Edie Grace for a girl, and Deacon or Dex for a son. And nothing says they have to stick with the pattern they've established.
Still, it makes for a truly fascinating birth announcement, doesn't it? The Gaines baby is expected sometime this summer, possibly around July.
Update: The Gaines family broke their pattern, and stuck with it at the same time, naming their fifth kiddo Crew.
Read more about the name Crew here.
Celebrity Baby Names to Watch 2018: Baldwinito #4
I like to think about long-term, sweeping changes that are changing the way we name our children forever. I don't mean favoring short names over long, or thinking about which vintage favorites are  making a comeback. (Though that's fun, too.) Instead, I'm talking about changes that are truly seismic. My theory: one of the biggest sources of dramatic change in how we name our children is the rise in bilingual, English-Spanish speaking families. And so when a high-profile couple like Alec and Hilaria Baldwin continue to choose gorgeous, culture-spanning names for their children? That's a name announcement I'm watching closely.
Alec is dad to Ireland Eliesse Baldwin with ex Kim Basinger. Together, he and wife Hilaria welcomed daughter Carmen Gabriela, and sons Rafael Thomas and Leonardo Angel.
They've announced that they're expecting a boy, and it sounds like she's due sometime this spring. I'm betting on Santiago or Mateo, but whatever they choose will be a great example of how Spanish-language names have become mainstream favorites in the US circa 2018. After all, Hilaria calls her babies Baldwinitos, which sums up the evolving English-Spanish smoosh of languages and names perfectly.
Update: The family named their new son Romeo Alejandro. It's maybe a little bit bolder than their traditional older kids' names, but still feels very much in keeping with their family names.
Celebrity Baby Names to Watch 2018: Behati's Baby
Behati Prinsloo and Adam Levine named their daughter Dusty Rose, with some help from Ellen DeGeneres. Now they're expecting another daughter – due any day now! Ellen has offered to help with name suggestions once again.
This one piques my curiosity because Dusty was such an unconventional choice. It peaked in the 1970s for girls and 1980s for boys. (Mark Wahlberg's character in the Daddy's Home movies, Dusty Mayron, is named well.) By the time Adam and Behati chose the name in late 2016, well under 100 boys and girls total received the name each year.
Are we entering a post-style age, where name trends matter less? I doubt it, and yet hearing celebrities choose names that are so determinedly offbeat makes me wonder. And that's why I really can't wait to hear what the second little Miss Levine is called.
Update: Once again, the couple chose a name that no one saw coming! Dusty Rose's little sister is Gio Grace. No word on whether Ellen named this daughter, too.
I've yet to write about Gio, but check back and I'll update when I do.
Celebrity Baby Names to Watch 2018: Late Night Littles
I knew, vaguely, that Late Night host Seth Meyers and wife Alexi Ashe were expecting their first child. But I wasn't especially watching their name choice. But then they named their son Ashe Olsen, after his wife and his mother-in-law.
How fantastic is that? Sons have been named after their fathers and grandfathers forever. Traditions where girls are given family names exist, too, but seem slightly less common. And we've all met women named Danielle or Stephanie for their dads, Dan and Steve. (At the bottom reaches of US name data, choices like Willette, Dannie, and Clyda can be found – those are from 1918 – suggesting that daughters named for dads is nothing new.)
Not only did the couple look at family names with fresh eyes, they named a son for his mother and grandmother. I think that's just exactly right.
Now Seth and Alexi are expecting a second child, and I'm curious to hear if they adapt family names once again.
Update: They named their son Axel Strahl, and yup, that's a family name in the middle. It comes from Alexi's side, and honors her grandparents, both Holocaust survivors. As for Axel – could it be inspired by mom's name? The letters are very close.
Celebrity Baby Names to Watch 2018: What goes with Boomer?
From the very second Michael Phelps and Nicole Johnson announced their first son's name, I wondered: What do you name a sibling for Boomer?
This is the year I'll get to find out!
Boomer was born in May 2016, and in a Jimmy Fallon interview, Michael explained they didn't want a normal name, and then quipped, "He's definitely gonna be the cool kid."
I can't imagine the couple will opt for a mainstream name after this, and happily, they're almost certainly going to share their choice. (Boomer Phelps has over 782,000 Instagram followers.)
Update: They named their son Beckett, a surprisingly mainstream pick after the out-there Boomer. And yet they sound like brothers, don't they?
Celebrity Baby Names to Watch 2018: Around the World for Anacã's Brother
Supermodel Candice Swanepoel and husband Hermann Nicoli named their firstborn Anacã.
If you've never heard of it before, well, that's because Anacã is a Brazilian bird. (Specifically, a red-fan parrot.) Candice is from South Africa, and Hermann is Brazilian – hence, the Portuguese name. Mom is fluent, too, and also speaks English and Afrikaans.
So that's one globe-trotting baby.
It also speaks to the possibilities – and challenges – faced by so many families combining different native languages and cultural identities when they name their children. Hearing what they name their new son will be interesting – could it be another animal-inspired name, but this time from Afrikaans? (Leeu is the word for lion, and I kind of love it for their family.) Or will they go a completely different direction?
Update: The supermodel named her second son Ariel – Hebrew for lion of God, so that's pretty close to what I guessed!
Celebrity Baby Names to Watch 2018: A Sister for Saint & Bronx
Sometimes when celebrity couples divorce and remarry and have more children with a new partner, they reveal which parent was the daring namer. But when it comes to Pete Wentz and Ashlee Simpson?
The answer was both.
The couple welcomed Bronx Mowgli back in November 2008. Then they split. Ashlee is now mom to daughter Jagger Snow, with new husband Evan Ross. Meanwhile, Pete and Meagan Camper named their first son together Saint Lazslo. Now Pete and Meagan are expecting a daughter.
With such bold choices for their sons, I can't wait to hear what they call a daughter.
Update: Pete and Meagan did not disappoint! They welcomed daughter Marvel Jane. It's a little bit comic strip, a little bit Hunger Games. But it's also surprisingly vintage – it ranked in the US Top 1000 for girls from the late nineteenth century into the 1940s.
I've yet to write about Marvel, but check back and I'll update when I do.
Celebrity Baby Names to Watch 2018: Luna Simone's Brother
Many of the families I'm watching made the list because, well, I think they'll choose another wild, out-there name for their new children, and I cannot wait to hear it.
But a few are here simply because I love their style. File Chrissy Teigen and John Legend in the latter category. They welcomed daughter Luna Simone in April 2016. They chose a hero middle name – Simone, after legendary singer Nina – and a cool, current favorite for her first.
Now the famous couple is expecting a son in mid-April, and I'm eager to hear the name they pick. Chrissy has joked about naming him Blaze, but I'm not convinced she'll go that route. One note: I'm pretty sure Luna's surname is the far more pedestrian Stephens, as Legend is only dad's stage name. My best guess is something fresh and pan-global, maybe Koa, Kai, or Ari.
Update: The couple opted for another name inspired by a legendary musician: Miles Theodore. They're great namers!
Celebrity Baby Names to Watch 2018: The Kar-Jenner Dynasty
2018 started with a bang! That would be Kim and Kanye naming their new daughter after dad's hometown, Chicago. But this set of reality show royals just keeps on giving. That's because two more Kar-Jenners are expecting soon.
Third sister Khloe is currently expecting her first with Tristan Thompson. If it's a boy, she's said it will be Tristan, Jr. But if it's a girl, she's stumped – but she might like to stick with a T or a K name. A few thoughts for her: Kalista, Kailani, Kyra, Talia, or Twyla. We shouldn't have much longer to wait. Word is that she's due in March.
Youngest sibling Kylie Jenner just welcomed a daughter with boyfriend Travis Scott. No word on her name yet, but one story that rang maybe-possibly-probably-not-but-could-be true to me? The tale of Kylie and Kim squabbling over baby name Love. But I can also imagine Kylie sticking with something far more traditional. Annabelle, maybe? Or looking at her lip kit line for inspiration, could she go with something like Posie, Rosie, Koko, Dulce, Amore, Harmony, Ginger, Kristen, Madeleine, or Charlotte – all names drawn from products on her site? If it sounds far-fetched, consider that one of her products is named Reign, just like Kylie's nephew.
We'll have to wait and see, but a Kar-Jenner birth announcement for every month of the first quarter of 2018? What a way to start the year!
Update: The year started with Kim's daughter Chicago. Then came Kylie's daughter, Stormi. And finally, Khloe's firstborn, daughter True. Much to my surprise, True is topping my list of favorite celebrity baby names of 2018 so far. I think it's a great modern virtue name, but I also love that it has family ties for the Kardashians. Plus, it echoes the family's signature style while somehow feeling a little more wearable.
For more about Kylie's daughter, read more about Stormy here.
And read more about Khloe's daughter, True, here.
Celebrity Baby Names to Watch 2018: Another HRH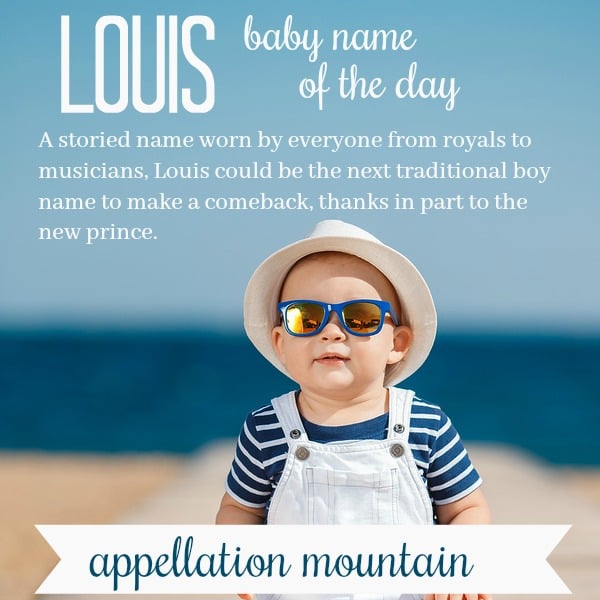 But there's no question about the most anticipated birth announcement of the year. That honor goes to Will and Kate, and the new Cambridge baby expected this spring. There's no question the couple will stick to classics, which helps with the name-guessing.
Still, conventional wisdom holds that children less likely to ascend the throne may receive slightly more adventurous names. This baby will be fifth in line to throne, behind grandpa Charles, dad William, and older siblings George and Charlotte. Still, the Duke and Duchess tend to keep things pretty traditional, so I doubt we'll hear anything truly unexpected for the future royal.
The most common guesses for the new baby's name are Alice and Arthur, both of which feel very possible. After all, the bookies bet exactly right on Princess Charlotte's name.
Update: The Cambridges surprised us all with Louis Arthur Charles.
Read more about the royal baby name here, and about Louis here.
So, those are the celebrity birth announcements to watch 2018 – or at least the ones I'm watching.
What's your favorite celebrity baby name of the year so far?