Name Help is a series at Appellation Mountain. Every Saturday – and some Mondays – one reader's name questions will be discussed.
We're relying on thoughtful comments from the community to help expectant parents narrow down their name decisions. Thank you in advance for sharing your insight!
Libby writes:
My husband and I are expecting our second child and first son in late May. We have a daughter named Charlotte LeeAnn – Charlee for short. We both love her name, which honors three people from my family. If this baby was a girl we were set on Lila Michaela. We just found out we are having a boy though, and this is where our trouble begins. We are all over the place and quite desperate for at least a short list to take to the hospital.
We agree that we like classic/traditional but refreshing names; however thats the end of what we agree on. I like Gabriel, Samuel, Julian, and Alexander. My husband has a very short list of one – Oliver. There are names we both like but cannot use because little boys very close to us all ready have them: Zachary, Lucas, Jasper, Patrick and Xavier.
One thing we know for sure is that out son's middle name will be Frank as it is a family name on both sides.
Names that we have considered but aren't really sure about:
William – I have a lot of Bills and even two Liams in my family, but I would rather the nickname Will. But is the change of nickname is enough to set it apart?
Joseph – We each have some Josephs in our family trees but I'm not sure where this name stands. Is it too 'average Joe' or has it become a name that would be nice to here again?
George – Great name but the main concern is the Prince George/Princess Charlotte pairing
We've thought about just going with Frank as the first name too. I like it but don't feel as though it goes well with Charlee.
Read on for my response, and please leave your helpful suggestions in the comments!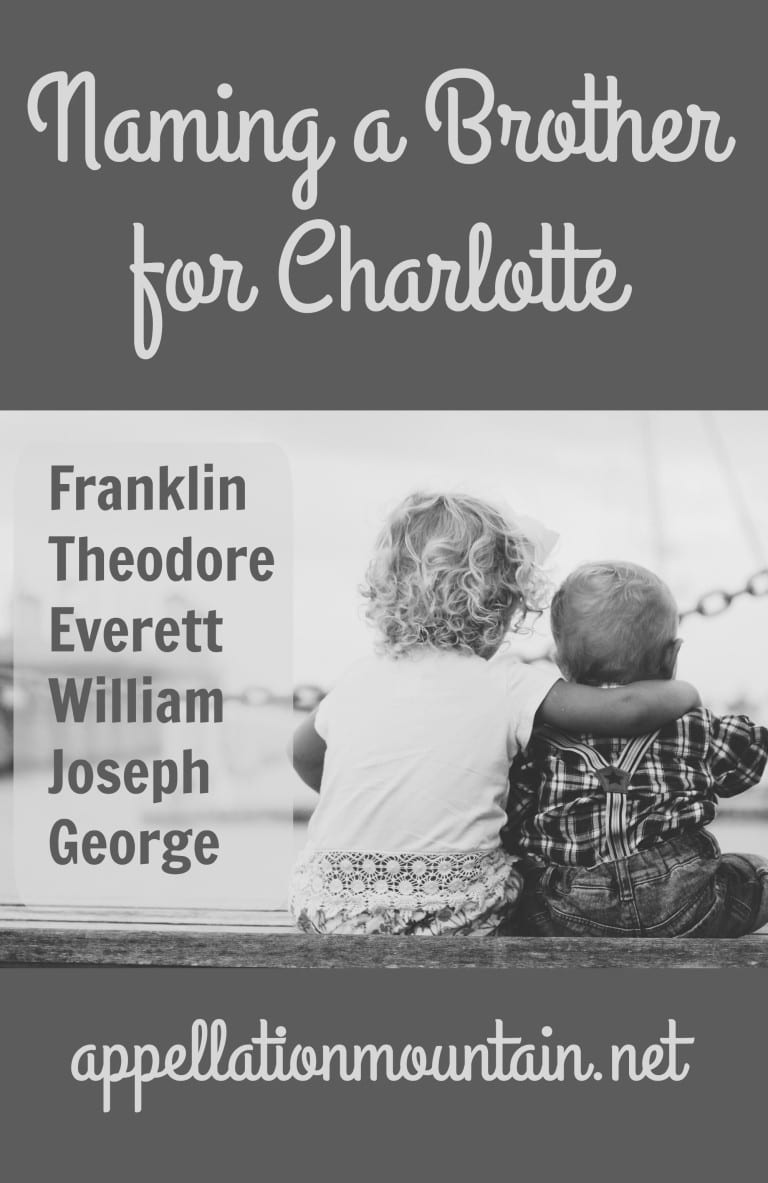 Hi Libby –
Congratulations on your baby on the way!
It's tough when one parent is absolutely convinced that he or she has found The Name, and is just quietly waiting around for the other parent to see the light. If you actively disliked Oliver, it would be easier. Oliver would be off the list – sooner or later – and you'd have to start fresh.
It sounds like you think that Oliver is fine. It fits in with your general style, and I can think of brothers named Samuel and Oliver. So if you were having, say, seven boys, maybe it would make your list eventually. But it's not quite right this time – right?
Let's begin where we usually end: by looking at some new possibilities that aren't on your current list.
My first thought is Franklin. I'm guessing that the Franks in your family were just Frank, but maybe lengthening the name would make it feel like more of a match for sister Charlotte? It also transforms Frank from a midcentury favorite to something different. It's both retro-presidential – hello, Mr. Roosevelt – and a match for modern favorites like Logan and Mason. Charlotte called Charlee and Franklin called Frank – or even Frankie when he's little – seems perfectly paired.
If I can't talk you into Franklin as a first name, I wonder if you've considered Theodore, nickname Theo? Theo has Oliver's O, and is every bit as classic as Alexander and many of the names on your list. Charlotte and Theodore; Charlee and Theo.
Or maybe Everett? Everett is one of the names I often suggest as a substitute for Oliver. It has the same middle 'v' but is much less popular. Because Oliver? Is powerfully popular. No, really. It was the fastest rising boy name in 2014, based on raw numbers.
There are good reasons to use a popular name, so Oliver's popularity isn't a reason to put the name aside. But it might be worth exploring some other options.
Now, back to your list:
William called Will – It seems like this could be The Name, but it's very popular in your family already. That might create a few moments of confusion, but you already have the solution: instead of Bill or Liam, your William will be Will. It seems like a graceful way to use a much-loved name and make it distinct for your son. Still, I understand your hesitation. Is the concern that others in your family might feel like you're taking their name? Or do you worry that it might seem like an honor name, when that's not the case? Both are potentially awkward situations. I still think William-called-Will should be at the top of your list, but let's move on.
Joseph – Is Joseph too ordinary? I don't think so! It's definitely one of the most evergreen names for men of our time, and I know Josephs who are 80-something, 50-something, 30-something, school-aged, and still in the nursery. You can say that makes Joseph dull, but it's also the secret of the name's strength: you can't pigeonhole Joe. The name is athletic and artistic, scholarly and cool. Charlotte and Joseph; Charlee and Joe; Charlee and Joey. Completely original? No. But a rock solid choice.
George – George is a great name, and a traditional choice that's not too popular. And yet – Charlotte and George? I feel like that's taken! No worries, though, I've turned to the internet to ask for feedback on whether Charlotte-called-Charlee can have a brother named George, and we'll have a poll here, too.
Assuming that you've ruled out Gabriel, Samuel, Julian, Alexander, and Oliver, I think the strongest choice from your list is Joseph. No built-in jokes about royalty, no worries about repeating a much-used name in your family. But I do hope that I can talk you into considering Franklin. It's less common than many of the choices on your list, but still makes for a traditional feeling name that would pair beautifully with big sister Charlotte.
Readers, what would you suggest to Libby and her husband? And I'm dying to know if you think that siblings can be named Charlotte and George.