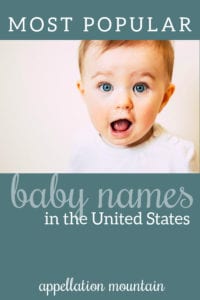 After a long delay, the new baby names popularity data for the United States is here at last!
OLIVIA REPLACES EMMA AS THE TOP NAME FOR GIRLS
There's very little change in the girls' US Top Ten, but we do have a new #1: Olivia. The new Top Ten is as follows:
Olivia
Emma
Ava
Sophia
Isabella
Charlotte
Amelia
Mia
Harper
Evelyn
Feeling a certain amount of deja vu? That's because, with the exception of Olivia/Emma, Sophia/Isabella, and Amelia/MIa swapping places, it's the same list as last year!
LIAM HOLDS THE TOP SPOT; OLIVER AND ELIJAH GAIN
While there's no change to the #1 name, Oliver and Elijah both moved up, while James, William, and Benjamin slipped. Ethan replaced Logan in the Top Ten.
The complete list is as follows:
Liam
Noah
Oliver
William
Elijah
James
Benjamin
Lucas
Mason
Ethan
LUCA AND KAI MAKE THE BOYS' TOP 100; ARYA FOR GIRLS
New Top 100 names include Luca and Kai on the boys' side. There's definitely something different about twenty-first century boy names. They're vowel heavy, softer, more international than generations past.
On the girls' side, Arya joined Aria on the list. Credit to Game of Thrones?
NEW BOY NAMES INCLUDE LEGACY, MAC, AND CALLAHAN FOR BOYS
Boy names returning or debuting in the US Top 1000 include Legacy, which has also been rising quickly for girls, along with surname name Callahan, and Max-Gus mini name Mac.
NEW GIRL NAMES INCLUDE NAVY, WINNIE, SALEM, AND THEODORA
Some fascinating debuts and returns on the girls' side include sparky retro nickname Winnie, place name Salem, colorful Navy, and traditional Theodora.
FAST-RISING FAVORITES INCLUDE ARCHIE, BAKER, AND CREW FOR BOYS
The most recent not-quite-royal baby Archie, football star Baker, and reality television's Crew all helped their boost their stylish given names.
STEVIE, LYANNA, AND ELSA SOAR FOR GIRLS
On the girls' side, some fast risers include Stevie, of Schitt's Creek fame, another Game of Thrones reference from Lyanna, and Elsa. After several years of Frozen hurting the use of Elsa, that seems to have reversed – possibly in a big way – in 2019, the year Frozen 2 was released.
Watch for updates as I work through all the numbers!