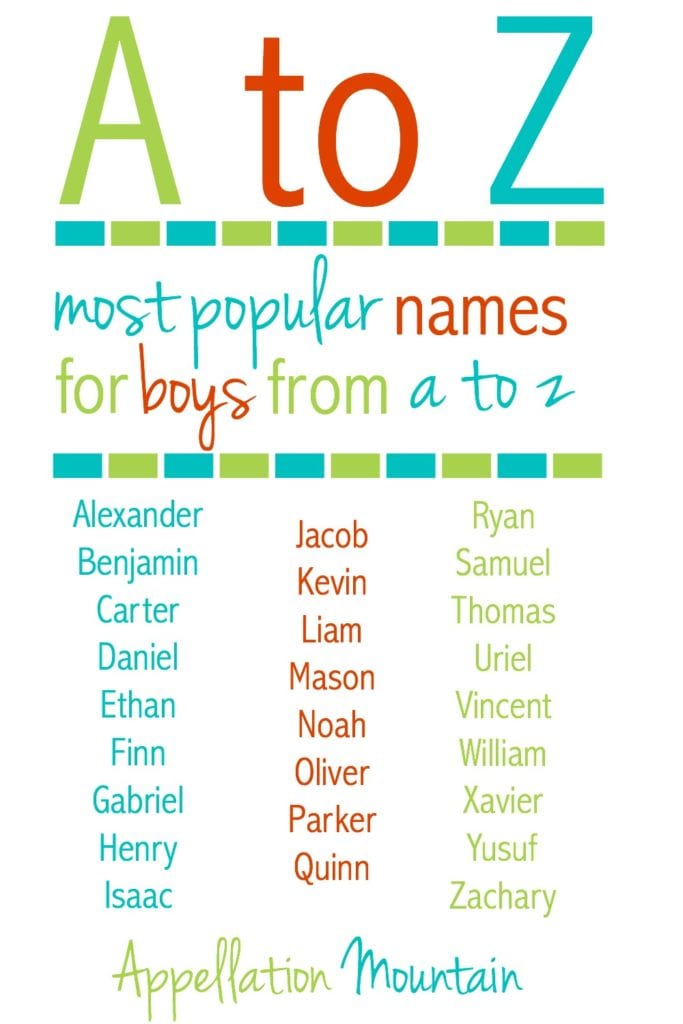 The most popular baby names A to Z range from chart-toppers like E's Emma and N's Noah to obscurities like Y's Yaretzi and U's Uriel.
Why make a list like this? It started on a whim. And I think I've seen them on other sites for years past, but I couldn't find one for this year.
Can you learn anything from a list like this? Maybe. It reinforces that some letters are really much more popular than others – and if you're after an unusual name, looking to a less common first initial can be a good way to begin.
Now, on to the most popular baby names A to Z!
Most Popular Baby Names A to Z: Alexander (#8) and Ava (#4)
No surprises here! These names have been big for a while, and the letter A is a favorite for parents from vintage picks like Amelia to novel names like Axton.
Most Popular Baby Names A to Z: Benjamin (#10) and Brooklyn (#31)
Benjamin is the new kid on the block, arriving in the US Top Ten for the first time in 2015. Brooklyn has been fading over the last few years, but remains the most popular of the B names for girls.
Most Popular Baby Names A to Z: Carter (#24) and Charlotte (#9)
Surname name Carter was boosted by E.R.'s John Carter back in the 1990s, and is still going strong all these years later. Charlotte is the newest of the trending traditionals in the US, entering the Top Ten in 2014, and inching up one more place this year.
Most Popular Baby Names A to Z: Daniel (#12) and Delilah (#116)
Daniel is one of the most classic names for boys, and it's still holding on at #12. Delilah surprised me, but sure enough The Plain White T's "Hey There Delilah" is still going strong, putting Delilah well ahead of Destiny and Daisy.
Most Popular Baby Names A to Z: Ethan (#6) and Emma (#1)
E is the second letter represented by two Top Ten names. Colonial cool Ethan is still going strong in 2015, and Emma? No girls' name has yet proved popular enough to unseat the literary favorite.
Most Popular Baby Names A to Z: Finn (#209) and Faith (#91)
Finally, a fun letter! I wouldn't have guessed Delilah, and might have missed Brooklyn or Carter, but I really didn't know F going in! Finn wins, and it actually more popular than it ranks, thanks to Finley and Finnegan. Faith is still in the US Top 100, but still feels relatively underused.
Most Popular Baby Names A to Z: Gabriel (#22) and Grace (#19)
Gabriel and Grace both climbed modestly in 2015. They make a good pair – I can imagine twins called Gracie and Gabe.
Most Popular Baby Names A to Z: Henry (#29) and Harper (#10)
Here's proof that trending names aren't always trendy. Henry is as classic as they come, and yet, it's definitely a name in favor in 2016 – it moved up again in the most recent rankings. Harper, on the other hand, is new – rarely heard for boys or girls before the twenty-first century, and now absolutely everywhere, and bringing similar names along for the ride. (I'm looking at you, Piper!)
Most Popular Baby Names A to Z: Isaac (#31) and Isabella (#5)
Biblical Isaac was a Top 100 name in the nineteenth century, and returned to the top of the charts in the mid-1990s. It's a solid choice for a son. Isabella is regal and frilly at once, a winning combination that once took this name to #1.
Most Popular Baby Names A to Z: Jacob (#4) and Julia (#89)
Jacob was a long-time #1 name, making Jake an every-guy name right about now. It's still very popular. Julia is timeless, nearly as classic as Elizabeth, but slightly less often heard.
Most Popular Baby Names A to Z: Kevin (#79) and Kennedy (#57)
My eyeballs well out when I saw Kevin. Kevin! The name of adorable kiddos on The Wonder Years and Home Alone seems dated to me today – way more than, say, Harold or Frederick or other names I think could feel ready for revival. But it's true – this 1960s favorite is still going strong. Kennedy, on the other hand, was president in the 1960s – and a popular choice for girls more than five decades later.
Most Popular Baby Names A to Z: Liam (#2) and Lily (#25)
Liam has been holding in second place, right behind Noah, for three years running. Lovely Lily is down just a bit since 2011, but lots of Lil- names keep this one more common than you might guess.
Most Popular Baby Names A to Z: Mason (#3) and Mia (#6)
This is the third letter in our list – and the first consonant – represented by two Top Ten names. I long expected Mason to take the top spot, but maybe that's unrealistic – the only non-Biblical boys' name to ever climb so high is Robert. Then again, Mason is actually the #1 name in Delaware and Pennsylvania. Mia succeeds because we're all about mini names lately, but also because it's an easy English-Spanish crossover.
Most Popular Baby Names A to Z: Noah (#1) and Natalie (#27)
Noah took over the #1 spot from Jacob in 2013, and no name has bested Noah yet! Like Audrey and Ava, Natalie is associated with a famous actress (Natalie Wood), but it's also a three-syllable, ends-in-y name for a girl, a construction that has been popular over the years, from Dorothy to Kimberly to Emily.
Most Popular Baby Names A to Z: Oliver (#19) and Olivia (#2)
Oh, those Oliv- names! Olivia has been a Top Ten name for girls for years. Now Oliver has some serious momentum, and could soon join his sister near the top of the charts.
Most Popular Baby Names A to Z: Parker (#72) and Penelope (#34)
If you were writing a children's story in the 1980s, and wanted to convey that the characters were somewhat eccentric, this is what you might have named the kids. Today they're absolutely mainstream, the kind of choices that feel popular and stylish. Though, for seekers of the just slightly different baby names, there's something perpetually appealing about the letter P. Paulina and Perry, anyone?
Most Popular Baby Names A to Z: Quinn (#354) and Quinn (#97)
Nope, that's not a typo! Sure, there aren't too many names starting with the letter Q. Quinn is the only Q name for girls in the US Top 1000. But for boys, Quinn was head of Quincy and Quentin and other handsome possibilities. Is this proof that truly unisex names are becoming more and more mainstream?
Most Popular Baby Names A to Z: Ryan (#39) and Riley (#35)
Rye has been a popular sound in baby naming in recent decades, inspiring the rise of Ryder, Ryker, and Rylan. While this isn't quite the coincidence of the letter Q's double Quinn, Ryan is also used for girls, and Riley for boys.
Most Popular Baby Names A to Z: Samuel (#23) and Sophia (#3)
Maybe this isn't the most exciting pair of names on this list, but they're rock solid. Samuel and Sophia feel timeless and traditional – and at the same time, very expected names for children born today.
Most Popular Baby Names A to Z: Thomas (#51) and Taylor (#76)
Thomas is a quiet, traditional choice, sure to please any train-loving small boy. Taylor is less Elizabeth, more Swift these days, and falling in use – but it still comes out ahead of Trinity, Tessa, and Talia – for now.
Most Popular Baby Names A to Z: Uriel (#568) and no girls name
There should be 52 names on this list. But there is not a single girls' name starting with the letter U in the current US Top 1000. I considered digging deeper. And – well, the most popular girls' name starting with the letter U, given to 137 girls in 2015? It was Unique. Moving on …
Most Popular Baby Names A to Z: Vincent (#109) and Victoria (#20)
I recently named Vincent one of my neglected gems from the 1910s. And yet, it's the go-to for the letter V for boys! The girls are far richer with V names, from regal frontrunner Victoria to picks like Violet and Vivienne.
Most Popular Baby Names A to Z: William (#5) and Willow (#111)
The Wills own the letter W, from buttoned-down classic William for the boys, to modern nature name Willow for the girls.
Most Popular Baby Names A to Z: Xavier (#90) and Ximena (#125)
You knew these next few letters would be a doozy, right? We love the letter X in boys' names, but Xavier is one of the few where X is in the driver's seat. Ximena is a rising Spanish language favorite, possibly a variant of Simone.
Most Popular Baby Names A to Z: Yusuf (#592) and Yaretzi (#400)
Yusuf and Yaretzi are easily the two most-out there names on the list. Or not. Yusuf is an Arabic form of Joseph, and Yaretzi is a popular name in Latin America.
Most Popular Baby Names A to Z: Zachary (#88) and Zoey (#23)
Z names have been big favorites in recent years. Zoey surpassed Zoe a few years ago. Zachary manages to feel modern and energetic, but also traditional.
Do you have any favorites on this list of most popular baby names from A to Z? If you had to choose one boy name and one girl name from the list, what would it be?