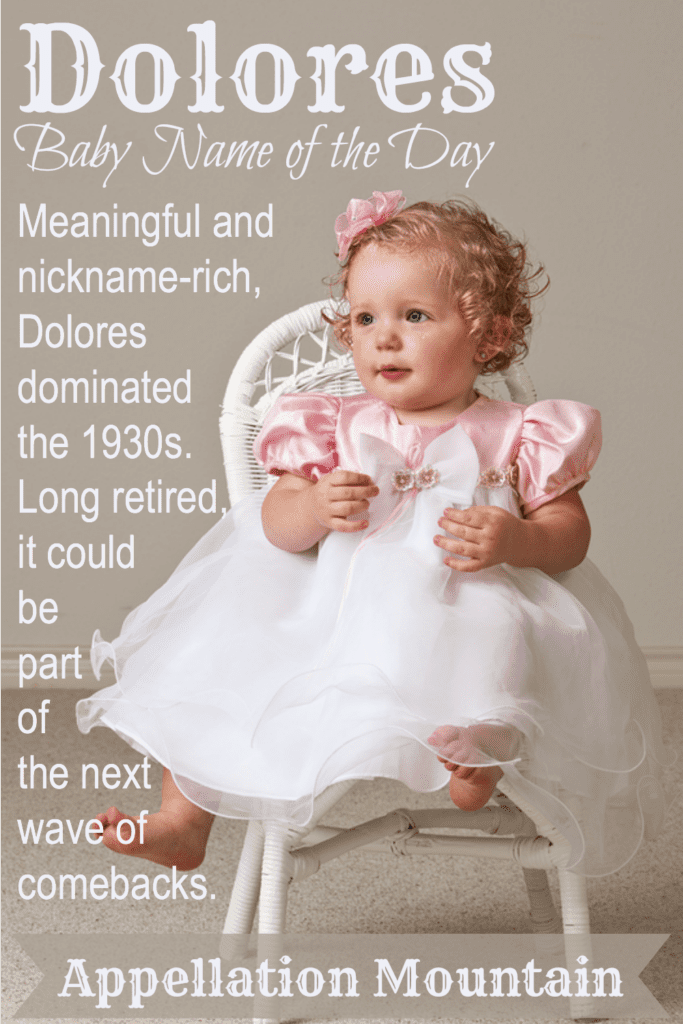 Dolores topped the charts in the 1930s. Today, the name teeters on the edge of extinction.
Thanks to Carrie for suggesting our Baby Name of the Day.
Dolores: Our Lady
Like Pilar and Luz, this name comes a Spanish title for the Virgin Mary: Maria de los Dolores. It translates to Mary of Sorrows.
Seven sorrows are associated with Mary in the Roman Catholic faith. A feast day for Our Lady of Sorrows is observed on September 15th. Mary is depicting weeping, or with her heart shot through with daggers.
To an outsider it seems pretty bleak. To the faithful, it represents a virtue – to be steadfast in the face of suffering.
Dolores: Rise
The name appears in the nineteenth and early twentieth centuries in the US, possibly inspired by:
AC Swinburne published a poem using the name in 1866.
In 1911, Dame Ivy Compton-Burnett penned a novel by the name.
Then came English-born Kathleen Rose. Florenz Ziegefield hired her for his famous stage show, calling her "the loveliest showgirl in all the world." She left the stage in 1923, moved to Paris, and worked with the Resistance during the Second World War. Some consider Rose the first fashion model.
She answered to the stage name Dolores.
The numbers suggest that she deserves some credit for the name's rise. In 1915, more than 1,000 girls were named Dolores for the first time ever. By 1920, that number was over 2,000, and by 1923, it topped 3,000.
Dolores: Del Rio
Born Maria de los Dolores in Mexico, actress Dolores del Rio became a star in Hollywood in the 1920s and 30s. She graduated from silent film to talkies, and after she left Hollywood, continued to work steadily in Mexico.
Miss del Rio puts this name in the same category as Marilyn.
Dolores: Lolita
The name peaked in the 1930s, and remained a Top 100 choice for another decade. It was fading when Vladimir Nabokov published his scandalous Lolita in the 1950s.
The story tells of middle-aged professor Humbert Humbert and his obsession with his 12 year-old stepdaughter, Dolores. He calls her Lolita – hence the title of Nabokov's book. A movie followed in 1962.
The controversial classic might have ruined the name. Except it had slipped considerably by then. And Lolita actually reached its highest rank ever in 1963.
Dolores: Dolly and Lola
Other nickname options abound, including Lola and Dolly.
Lola has gained well over 500 places in the past dozen years, a true comeback. Meanwhile, Dolly remains quite rare, even as Molly enjoys significant popularity.
Dolores: Claiborne
Stephen King gave the name to the narrator of his 1992 bestsellers. His Mrs. Claiborne defends herself against one murder charge by admitting to another. The novel inspired a 1995 film with Kathy Bates in the title role. In 2013, the story became an opera. It also cemented the name as aged.
By then, the name had disappeared from the US Top 1000 entirely.
Dolores: Umbridge
In Harry Potter and the Order of the Phoenix Hogwarts welcomes yet another new Defense Against the Dark Arts teacher. She turns out to be almost shockingly cruel. Her name suggests her character: Dolores – sorrows – and Umbridge, presumably a play on umbrage, or offense, resentment.
Between King and Rowling, the name transformed. It's dated, but it's also associated with tragic – or evil – characters.
Dolores: Ready for Revival
Despite these negative associations, the name might be almost ready for reconsideration.
HBO's Westworld gave the name to Evan Rachel Wood's character.
Also, consider other 1930s favorites. While Shirley, Patricia, Carol, Joyce, Doris, and Marilyn remain stuck in style limbo, we're embracing Martha, Frances, Ruth, and Dorothy.
While it might take a few more years, with traditional roots and a long history of use, this name will eventually be ready for revival.
Do you think this name is hopelessly dated? Or does it feel fresh and interesting?