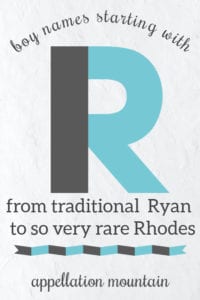 Looking for boy names starting with R?
From traditional mainstays like Robert and Richard to new favorites like Ryder and Remy, there's no shortage of R boy names to consider.
In recent years, it's felt like a number of the hottest names come from this letter – just look at the list of most popular picks, containing names like Remington and Rowan.
Speaking of Rowan, a handful of these names lean unisex. Reese and Riley – and Rowan – all appear in the girls' Top 1000, too. But that hasn't taken anything away from these names for our sons. In fact, all of those names are holding steady for our sons and daughters alike.
While it feels like a long list of R names, the initial ranks just tenth on the list of most popular first initials for our sons.
Read on for the most popular boy names starting with R, from rising River and Rhodes, to new possibilities you may have never considered.
MOST POPULAR BOY NAMES STARTING WITH R
These are the most popular boy names starting with R, based on births in calendar year 2018. (Check the full list for yourself here, at the Social Security Administration's name site.)
An Irish surname name meaning "little king," Ryan has ruled the Top 100 since the 1970s.
A name that sounds when followed by "Empire," Roman stepped off a soap opera and into the baby names charts beginning in the 1980s.
One of the few non-Biblical boy names to ever hold the top spot in the US, Bob's your great-uncle these days. But Robbie and Rob keep this name wearable for a new generation.
An Irish surname meaning red, and a nature name, too, thanks to the rowan tree.
Inspired the tragic death of River Phoenix, this name has slowly gone from the fringe to the mainstream, a noun name for a boy with an appealing image.
RYDER (#111)
Ryder started out as an occupational surname. It could mean messenger – or perhaps warrior, someone who rode as part of his profession.
Another surname name, but one that we've thought as a first thanks to Gone With the Wind's Rhett Butler, played by Hollywood legend Clark Gable.
RYKER (#153)
Star Trek's Will Riker spells his name with an 'i', but he still gets credit for the rise of Ryker-with-a-y. It may mean wealthy, from a Dutch surname.
Regal and plenty classic with a great meaning "brave ruler," Richard has a long history of use.
It's the name of a firearms manufacturer, which could make Remington controversial. But this name succeeds because we love longer surname names, like Sullivan and Jameson.
RAFAEL (#237)
A favorite across much of the world, this classic remains relatively rare in the US.
RILEY (#246)
An upbeat Irish surname name, Riley is more popular for girls, but remains in steady use for boys, too.
Less popular than Ryan or Aidan, Ronan is every bit as Irish. It means "little seal."
A regal Irish choice with a colorful meaning: "red king."
REID (#299)
A surname name with a strong, traditional sound.
RAYMOND (#330)
A name from another era, with a traditional vibe and cool built-in nickname Ray.
RYLAN (#338)
Ryan meets Riley meets Dylan in this appealing modern mash-up.
RICARDO (#346)
Richard's romance-language cousin, heard in Spanish and Portuguese.
A romantic hero and a very on-trend sound, Romeo is among the fast-rising R names for boys.
RUSSELL (#352)
Like Rory, Russell means red – but it's French in origin. Philosopher Bertrand Russell makes it sound smart, but Russ is a thoroughly down-to-earth kind of name.
An appealing French possibility, familiar thanks to a Disney-Pixar flick.
ROYAL (#370)
A name in the key of Reign, but with a longer history of use.
RAIDEN (#383)
Ray meets Aiden, with a dash of Mortal Kombat. 
ROYCE (#392)
An English surname name that brings to mind the luxury car brand.
The most popular spelling of this name for boys at the moment. it looks creative – but instead, it's authentically Welsh, with a great meaning: enthusiasm.
REED (#416)
Nearly as popular as Reid, with a hint of musical name about it, thanks to the reeds used for playing wind instruments.
RONIN (#438)
It looks a little like Ronan or Rowan, but Ronin is a Japanese title for a type of samurai – and a Marvel character, too.
RUBEN (#460)
Old Testament Reuben means "behold, a son" in Hebrew. Ruben is the slimmed-down spelling preferred in Spanish, as well as many other European languages.
ROCCO (#502)
This name mixes a kind of tough-guy vibe with serious Italian heritage.
ROBERTO (#507)
The romance language form of Robert.
RAPHAEL (#538)
Another Hebrew name, Rapahel means "God heals." Spelling Rafael is more popular in the US.
ROWEN (#539)
Popular names always encourage variations, and so Rowen followed Rowan into use.
ROY (#551)
A down-to-earth name, Roy means king. It could rise in popularity thanks to Ted Lasso's footballer Roy Kent.
RIDGE (#558)
A rugged nature name possibility.
RONALD (#563)
The smoothed-out Scottish form of the Scandi Ragnvaldr, Ronald ranked in the US Top Ten during the 1940s.
RYLAND (#566)
Another surname name, and an elaboration of Rylan.
RODRIGO (#570)
The romance language form of Roderick.
REECE (#579)
Rhys re-spelled for an English-speaking audience.
RAUL (#606)
Ralph, by way of Rome or Rio or even Bucharest.
A name fit for a king – or queen, as Reign is unisex. Reality show royal Kourtney Kardashian used it for her youngest son, but she's not the only high profile parent to embrace regal names.
RAYLAN (#641)
A successor to Rylan, which a nod towards Ray.
RAYAN (#662)
An Arabic name associated with paradise.
ROLAND (#668)
A hero from medieval legend, Roland is widely known, but relatively rare among baby boy names today.
RIO (#672)
Leo meets River.
ROGER (#686)
A medieval favorite, Roger enjoyed a renaissance in midcentury America. Today it's falling again, but with so much history, odds are this R name will make a comeback – eventually.
REX (#696)
Regal Rex means king in Latin, and fits with so many short boy names in favor now.
RAYDEN (#700)
Cousin to Raiden and all of the Aiden names.
REESE (#701)
The least common of the Rhys variants, but still a possibility for a son today.
REMI (#720)
A take on Remy, or possibly a name with separate Japanese or Yoruba origins.
REY (#762)
The Spanish word for king, and a take on Ray.
RAMON (#768)
The Spanish equivalent of Raymond.
RICKY (#770)
Along with Rich, Richie, Rick, Dick, and Dicky, a traditional Richard nickname with the potential to stand on its own – just like baby boy names Charlie and Billy.
ROME (#785)
The eternal city makes a logical name for a son in our age of Rhys and Cole.
RIGGS (#786)
A surname name with a hardy, capable vibe.
ROHAN (#797)
From Sanskrit, Rohan means ascending. JRR Tolkein fans will also think of the imaginary place name.
RUDY (#819)
Short for Rudolph, or maybe the perfect choice for Notre Dame fans.
RAY (#840)
The new Gus.
ROCKY (#881)
Inspired by fictional boxer Rocky Balboa, as well as a real-life legendary boxer who answered to the name. However, Balboa was born Robert, while real-life Rocky Marciano was Rocco.
REUBEN (#883)
The original version of Ruben.
ROBIN (#896)
Originally short for Robert, Batman's sidekick and legendary hero Robin Hood keep the name masculine. Our tendency to treat bird names as baby girl names makes it unisex.
RANDY (#917)
Originally short for Randall or Randolph, Randy became a stand-alone favorite in the 1950s.
RENE (#964)
A thoroughly European choice, Rene brings to mind philosopher and mathematician Descartes.
RODNEY (#965)
An Old English place name turned surname, Rodney peaked in the US during the 1960s. Today it feels traditional, but unexpected.
RARE BOY NAMES STARTING WITH R
RADLEY
Bradley without the B, and a surname name, too.
RAFE
If Jake and Nate are baby boy names, why not just Rafe?
An upbeat, Irish surname name that shortens to friendly Raf and Rafe.
RAHIM
An Arabic name meaning kind.
RAINIER
A given name once common in Europe, Rainier is also spelled Rainer and Rayner – to name just two. It's a familiar name in the House of Grimaldi, the rulers of Monaco. But in the US, it's probably most famous as the name of Mount Rainier, outside of Seattle.
RALEIGH
A place name inspired by Sir Walter Raleigh, a prominent figure in Elizabethan England, as well as the New World.
RALPH
Delightfully old school, and possibly ready for revival. Ralph Fiennes – and other British bearers – pronounce it like Rafe.
RAMSEY
A strong surname name, Ramsey brings to mind celebrity chef Gordon (who spells it Ramsay) and financial guru Dave.
RAMSES
A popular name for ancient Egyptian kings, still regal all these millennia later.
RANGER
An active surname name, Ranger might follow Hunter up the charts.
RANSOM
A distinctive given name, Ransom notes seem like odd inspiration for a child's name. But chances are that this is a religious reference, to the concept of Christ's death paying a debt for humanity.
RAVEN
Like Robin, Raven is more popular for girls – but truly, nature names often seem unisex.
RAVI
A Sanskrit name meaning sun.
REEVE
A sharp sounding name, with a strong meaning: sheriff.
REGINALD
A traditional favorite, Reginald only recently left the US Top 1000. Cuddly nickname name Reggie is big in the UK.
REN
The dancer at the heart of Footloose – both the 1984 original and the 2011 remake – was called Ren McCormack. It could be short for lots of longer names. It's also a Japanese name, meaning either lotus or love, depending on the kanji used to write it.
REYNOLDS
A logical formal name for Ren, and a surname name with potential.
REVERE
A virtue name in the key of August … or possibly an American one, akin to Hamilton.
A name that feels smart – think of Rhodes scholars – and impressive – think of the Colossus of Rhodes.
RIAN
Inspired by Rían, the traditional Irish spelling of Ryan. With the accent, it ranks in the current Top Ten in Ireland.
RIDLEY
Long-time director Ridley Scott puts his unusual given name on our list of possibilities.
RIGBY
An English surname from Norse roots, Rigby refers to a farm by a ridge.
RIGEL
Borrowed from the star in the constellation Orion.
ROAN
First names Rowan and Rohan are more popular than Roan, but  all three can be pronounced almost exactly the same way.
ROBINSON
Move over, Sullivan and Harrison.
A modern name that signals achievement.
ROCKWELL
Rocco meets Maxwell, with a dash of Americana thanks to Norman.
ROGAN
A surname-style name that's cousin to Rory, but probably owes much of its popularity to Logan.
ROLLO
Short for Roland and Orlando and Errol, or maybe an independent name every bit as appealing as Arlo.
ROOK
A bird, a chess piece, and a seldom-heard verb meaning to swindle, Rook just plain sounds cool.
ROONEY
A bright and surprising Irish surname option. Roone is sometimes heard, too.
ROSCOE
With Old Norse roots, Roscoe has centuries of history – but is virtually unknown today.
ROSS
A surname name originally, Ross has been used as a first long before Carter and Mason topped the charts. It peaked in the 1980s and is surprisingly uncommon now.
RUFUS
An old school name with a casual, approachable vibe.
RUI
Spanish, Portuguese, and Japanese in origin, too, this short name is rich with potential.
RUSH
A nature name with a speedy vibe.
RUSTY
It might be short for Russell, or even a nickname name for a redhead. But Rusty is also used as a formal name. Fans of National Lampoon's Vacation movies will recognize it as the name of the eldest son, seen most recently as the dad in the 2015 reboot.
What are your favorite boy names starting with R?
First published on May 25, 2020, this post was updated on September 14, 2020; June 7, 2021; and again on June 6, 2022.