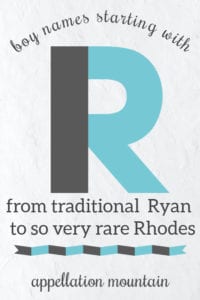 Looking for boy names starting with R?
From traditional mainstays like Robert and Richard to new favorites like Ryder and River, there's no shortage of R boy names to consider.
In recent years, it's felt like a number of the hottest names come from this letter – just look at the list of most popular picks, containing names like Remington and Rowan.
Speaking of Rowan, a handful of these names lean unisex. Reese and Riley – and Rowan – all appear in the girls' Top 1000, too. But that hasn't taken anything away from these names for our sons. In fact, all of those names are holding steady for our sons and daughters alike.
Read on for the most popular boy names starting with R, from rising River and Ridge, to new possibilities you may have never considered.
MOST POPULAR BOY NAMES STARTING WITH R
These are the most popular boy names starting with R, based on births in calendar year 2018. (Check the full list for yourself here, at the Social Security Administration's name site.)
An Irish surname name meaning "little king," Ryan has ruled the Top 100 since the 1970s.
A name that sounds when followed by "Empire," Roman stepped off a soap opera and into the baby names charts beginning in the 1980s.
One of the few non-Biblical boy names to ever hold the top spot in the US, Bob's your great-uncle these days. But Robbie and Rob keep this name wearable for a new generation.
RYDER (#116)
Ryder started out as an occupational surname. It could mean messenger – or perhaps warrior, someone who rode as part of his profession.
An Irish surname meaning red, and a tree name, too.
RYKER (#135)
Star Trek's Will Riker spells his name with an 'i', but he still gets credit for the rise of Ryker-with-a-y. It may mean wealthy, from a Dutch surname.
Another surname name, but one that we've thought as a first thanks to Gone With the Wind's dashing Rhett Butler.
Inspired the tragic death of River Phoenix, this name has slowly gone from the fringe to the mainstream, a noun name for a boy with an appealing image.
Regal and plenty classic with a great meaning "brave ruler," Richard has a long history of use.
It's the name of a firearms manufacturer, which could make Remington controversial. But I think this name succeeds because we love longer surname names, like Sullivan and Jameson.
HOTTEST BOY NAMES STARTING WITH R
What are the hottest R names for boys? If we look at increases in in raw numbers of births, no boy names starting with R make the list. But the letter brings us some impressive risers nonetheless.
RAIDEN (#382)
Don't count the Aiden names out just yet. While many are falling, Raiden – a long-running Mortal Kombat character – enjoyed a boost in 2019. One possible reason? The release of Mortal Kombat 11 in April 2019.
A name fit for a king – or queen, as Reign is unisex. Reality show royal Kourtney Kardashian used it for her youngest son, but she's not the only high profile parent to embrace regal names. Reign is also white hot as an unexpected middle name option.
The spelling looks novel, but it's actually close to the original Welsh form of this brief, but very stylish, possibility. It appears throughout the history books, though in English, it tends to become Reese or Reece. The meaning is appealing: enthusiasm.
Rugged and outdoorsy, Ridge also feels just a little more buttoned-up than some nature names, closer to Wilder than Canyon.
ROCKY (#839)
Rocky is an Americana hero, an iconic figure from the silver screen dating all the way back to 1976.
RONAN (#269)
An upbeat and energetic Irish name, Ronan seems poised to succeed Ryan, Aiden, and the rest of an earlier generation.
RORY (#358)
Rory means red king, but if you don't know your Irish heroes, it could scream Gilmore Girls. That explains why it's rising for our sons and daughters alike.
ROYAL (#462)
Another regal possibility with the same vibe as Reign, though Royal has been heard in the past. From the late nineteenth century through the 1960s, it regularly appeared in the US Top 1000.
ROYCE (#392)
Royce follows Bryce and Reese into wider use.
RUSSELL (#391)
A former favorite, Russell has recently reversed course and showed signs of a comeback.
TEN RARE BOYS STARTING WITH R
An upbeat, Irish surname name that shortens to friendly Raf and Rafe.
RAMSEY
A strong surname name, Ramsey brings to mind celebrity chef Gordon (who spells it Ramsay) and financial guru Dave.
RANGER
An active surname name, Ranger might follow Hunter up the charts.
A name that feels smart – think of Rhodes scholars – and impressive – think of the Colossus of Rhodes.
RIDLEY
Long-time director Ridley Scott puts his unusual given name on our list of possibilities.
RIGBY
An English surname from Norse roots, Rigby refers to a farm by a ridge.
RIGGS
Briggs ranks in the current Top 1000, so why not Riggs?
RIO
The Spanish word for river, and a modern spin on Leo, too.
ROME
Roman is white hot, so why not the name of the Eternal City, too? As of 2019, Rome debuted in the US Top 1000.
ROOK
A bird, a chess piece, and a seldom-heard verb meaning to swindle, Rook just plain sounds cool.
What are your favorite boy names starting with R?
First published on May 25, 2020, this post was updated with new popularity data on September 14, 2020.