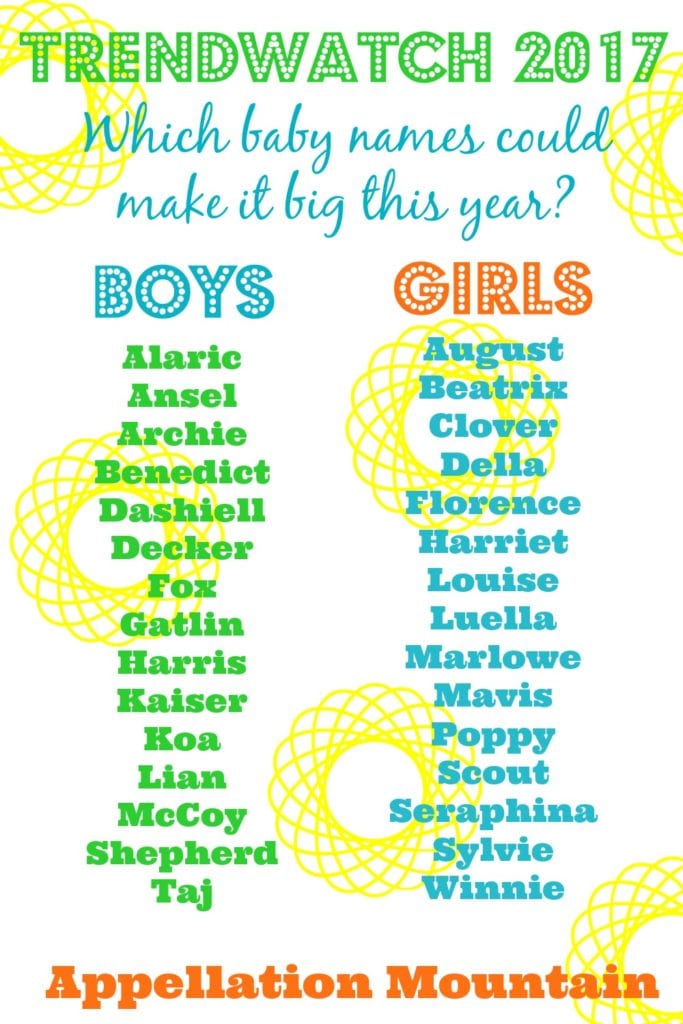 Trendwatch 2017 predictions have arrived!
For the past few years, I've tracked rising names. Annually, I make my guesses about the names most likely to crack the US Top 1000 in the coming year.
A note about dates: strictly speaking, the Trendwatch 2017 Predictions will be evaluated against 2016 data. But I do factor in a year's worth of information when making the predictions.
For the first time ever, I set some general rules for myself. Here's the absolute truth: I cannot predict which new television series will become a smash hit in May, sending a previously-rare name soaring. So I'm looking solely at names that have a numerical chance of breaking into the rankings. They were already given to 100 or more children last year; the trendlines show the name is consistently gaining in use; and there's plenty of buzz on baby name forums about the name.
Why does it matter if a name cracks the Top 1000? Names in the US Top 1000 get far more press than those outside the official rankings. It becomes a list that parents consult. They can draw a line: nothing in the Top 100. Or only names above 500. The Top 1000 inspires other lists – best rising names, best new names, best names no one is using. So a rising name that breaks into the rankings is more likely to be given more children, compared to one that just misses the list.
Let's look at the names I'm watching this year!
Trendwatch 2017 Predictions: Boys
Alaric – Looking back at my 2015 predictions, I gave up on some names too quickly! Alaric has more than doubled in use over the past three years. It's going back on Trendwatch 2017 predictions list!
Ansel – Legendary photographer Ansel Adams makes it enduringly artistic. Handsome young actor Ansel Elgort makes it current, too. If Elgort's career continues to flourish, Ansel could fit right in with Asher and Abel.
Archie – I'm intrigued by the British tendency to put nicknames on the birth certificate. Not just Jack, but Charlie and Alfie and Archie, too. Americans have embraced the habit for girls, but boys? Not so much. Except that 145 boys were named Archie last year, the most since the 1980s. Later this month, Riverdale debuts on The CW, an update to the Archie Comics of yesteryear. Existing momentum plus a prime time boost? It could take Archie back into the Top 1000 for the first time in ages.
Benedict – We love Benjamin, enough to put the name in the US Top Ten for the first time ever last year. It's worth looking at other Ben- names for trendwatch 2017 predictions, and saintly Benedict, boosted by the unstoppable actor Cumberbatch, seems like a good bet.
Dashiell – Dashiell carries over from Trendwatch 2016. It remains a literary pick with a great built-in nickname, and rose in use last year.
Decker – Another carryover from Trendwatch 2016, Decker stalled out last year. But I still think it fits right in with all of those tough guy boy names. If Ryder can break into the Top 100, Decker has a shot, too.
Fox – Fox feels like one of those names parents worry over. Is it too out there? But we've been warming up to Fox over the last few years, and I think 2017 could be the year.
Gatlin – Another name I'm bringing back from 2015's predictions, Gatlin is a brother to Remington, a ready-aim-name. Yes, the gun takes its name from inventor Richard Gatling, with a g. But Gatlin has history as a surname and place name, fits with our two-syllable, ends-in-n pattern for boys, and sounds like the way most people say Gatling. So … Gatlin it is, for 2017!
Harris – Henry climbed last year. So did Harrison. It seems like only a matter of time until Harris joins them in the Top 1000, too.
Kaiser – Teen Mom launched more baby names than you'd ever guess. Bentley remains the show's breakout baby name star, but it's not alone. Janelle Evans gets credit for boosting Jace, the name she chose for her firstborn. Kaiser, the name of her second son, doubled in use from 2014 to 2015, the year following his birth. Kaiser also picks up on our affection for ends-in-r names for boys, as well as big, bold names like King and Messiah.
Koa – Take Noah, mix in Kai, and you'll arrive at Koa. The Hawaiian nature name feels current, but just slightly different, and was bestowed on 161 boys last year – a new high. That puts it within striking distance of the Top 1000.
Lian – Confession: Lian baffles me. It seems like a girls' name, but use is rising for boys. 165 newborn boys were given the name in 2015, up from 79 in 2012. What explains the rise? I guess it could be a creative spin on Liam, with a dash of Leon and Ian mixed in. Despite my uncertainty, the numbers put this one the list.
McCoy – McCoy has made some noise at Nameberry recently, and I think it works on several levels. The real McCoy makes it almost a virtue name. It feels edgy, Western, and masculine even while many Mc names trend feminine. And the numbers say McCoy is headed in the right direction.
Shepherd – Gentle Shepherd would have cracked the US Top 1000 already – if not for the rise of alternate spelling Shepard. The -herd spelling remains the favorite, so I'm betting it will make the cut in 2017.
Taj – American parents have embraced imports like Kai (okay, it's Hawaiian) and nouveau names like Jax. Taj feels like a natural successor to both. From the Arabic word for crown, Taj made waves in Australia, thanks to surfer Taj Burrow. Rocker Steven Tyler has a grown son called Taj. Most importantly, the numbers are there. 200 boys were named Taj last year, and the name has been on the verge of breaking through for years.
Trendwatch 2017 Predictions: Girls
August – Is August the latest boy name stolen by girls? Or should we consider this a calendar name no different than June or January? Hard to say, but August has doubled in use for girls over the last five years.
Beatrix – Yes, Beatrix! Because even though Beatrice ranks in the US Top 1000, the -x ending does not.
Clover – Clover might have been reserved for dogs a decade back. But today, Harper and Piper count as the hottest of girl names, and we've moved well beyond Daisy and Rose for ever more daring botanical picks. Better still, Clover symbolizes good fortune.
Della – For a while, I was watching Delia. But lately Della strikes me as the up-and-comer. A successor to Ella, Stella, and Bella, Della ranked in the US Top 1000 back in the nineteenth century, making this a vintage revival.
Florence – Speaking of vintage revivals, Florence appeared in the Top Ten from the late nineteenth into the early twentieth centuries. In the UK, Florence has already made a comeback, but it's not quite at the tipping point in the US – yet. I say 2017 could be the year.
Harriet – Another vintage name overdue for revival, Harriet has more than doubled in use since 2011. File Harriet with names everyone knows, but no one is using – an irresistible category for many parents.
Louise – Louisa recently re-entered the US Top 1000. Now her tailored sister, Louise, seems poised to do the same.
Luella – Because we truly do love those Lou and Lu names, Luella might stand a chance at a comeback. Yes, a comeback. Like Della, we've nearly forgotten Luella – but it had a good run in the US Top 200 more than a century ago.
Marlowe – Madison, Harper, Margot. How can Marlowe miss?
Mavis – Fueled by an animated vampire, and that mix of Mae, Ava, and Alice sounds, Mavis belongs with the formerly fusty names that feel fresh in 2017.
Poppy – Another flower power possibility, Poppy tops charts elsewhere in the English-speaking world, but remains rare in the US. But as of last year, Poppy just barely missed making the Top 1000 here. I think it's a safe bet for 2017.
Scout – Literature makes Scout lean feminine, pushed Harper in the US Top Ten, and gives this name substance that it might otherwise lack. It's gaining for boys, too, but this word name falls just outside the current girls' Top 1000.
Seraphina – Some parents love the mini names: Ava and Liv, Ivy and Gia. But with Olivia still rising and Isabella, Victoria, Penelope, and Savannah still popular, there's plenty of room for long, lovely girl names, too.
Sylvie – When I reviewed my Trendwatch 2016 predictions, I was surprised to see that Sylvie fell slightly, from 228 to 212 newborns. But I decided to keep Sylvie on the Trendwatch 2017 predictions list, because it just seems like there's so much buzz around this name.
Winnie – Jimmy Fallon chose the name for his daughter. Lots of Win- names, from Winter to Winifred, are heating up. And for a generation raised on The Wonder Years, Winnie feels like a cool girl name. It has more than doubled in use since 2013, suggesting that Winnie will soon return to the US Top 1000 for the first time since the 1950s.
What do you think? Will these names crack the US Top 1000 this year? Are there others you're watching?