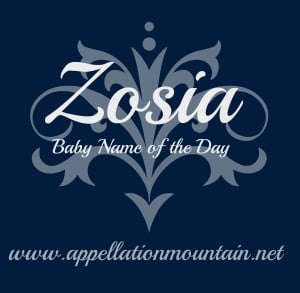 She sounds clunky and modern at once, a name that seems like a name, but like nothing you've heard.
Thanks to Amanda for suggesting Zosia as our Baby Name of the Day.
Zosia comes by her clunky-cool, legit-invented status honestly.  She's so rare in the US that the first year it was given to more than five girls was 1997, and peak year – 2012 – still just saw 18 girls given the name.
Except she isn't rare at all. Plenty of women have been called Zosia in the US and elsewhere.  Except their birth certificates have read Zofia or Sofia or Sophia.
Zosia is a Polish diminutive for Sophia.  The Polish form of Margaret is reduced to Gosia – sort of like Greta – and Katherine becomes Kasia.
You might have heard her just a few places.  One that comes to mind is Sophie's Choice, the heartbreaking 1979 William Styron novel and 1982 film adaptation.  Meryl Streep won her second Academy Award for her portrayal of Sophie.  There's lots to remember about the story, so don't be surprised if you've overlooked this footnote, but in the scenes that take place in Poland, Sophie answers to Zosia.
Then there's playwright David Mamet and his ex-wife, Oscar-nominated actress Lindsay Crouse.  The couple had two children together, daughters Willa and Zosia.  That was ages before anyone who ever appeared on a segment of Top Chef had their birth announcement dissected by bloggers like yours truly.  But Zosia put herself in the spotlight, by embarking on an acting career.
This is where things get curious.
In my experience Zosia is pronounced with a long 'o' sound – not quite like coat or most, but close.  But maybe not.  Zofia is sometimes like Sophia with a Z instead of an S, but in Polish, the 'o' becomes an 'aw' – sort of like pause: ZAWF yah.
But I can say for sure and certain that I had never heard Zosia pronounced like Sasha with a Z.  Not until Zosia Mamet.
Was she simply too kind to correct interviewers?  No.  She's really Zosia, pronounced like Zasha.  Hear her say her name here.
If it were spelled Zasia, sure.  Kasia rhymes with Sasha.  But everyone is buzzing about Ms. Zosia Mamet, and since it is most people's first exposure to the name, that's the sound that sticks.
Everyone is talking about Mamet lately, thanks to HBO's Girls, the Lena Dunham smash hit.  Mamet plays Shoshanna Shapiro, an NYU student and Sex and the City fan, cousin to Jessa.  She's the youngest one, the innocent one.
While Zosia hasn't exactly skyrocketed, I'm guessing that the tiny uptick in the name's use has something to do with parents-to-be who tuned into one of Mamet's appearances – her guest appearance on Mad Men, or her work in The Kids are All Right, or the first season of Girls.
We'll have to see how the name fares when the 2013 data are released.  Could we see 30 girls called Zosia?  More?
Because while Mamet's pronunciation of her name isn't one you'd hear in Warsaw, I'll admit that it is rather appealing.