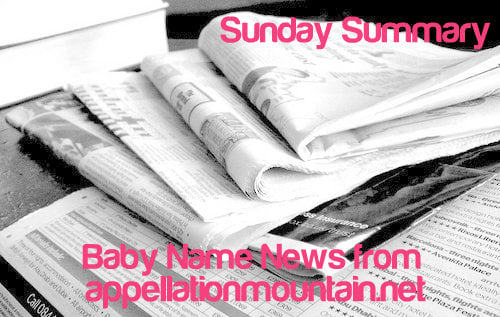 This week's vocabulary word is phonestheme.  Phonestheme, as in the way a sound can evoke a certain feeling, like the mor of villains Moriarity, Voldemort, Morbius, and dark words like morbid and moribund.  In some cases, the meaning may match up, but that's not always the case.
I'm always curious about how names rise in clusters.  It's a safe bet that if Nora and Cora are rising, we'll soon find more girls named Flora and maybe Lora, along with Coraline and Cordelia.  And if Elias is gaining, then no wonder that Silas, Isais, and Tobias are, too.  A cluster isn't always based on sound – think of avian names like Wren and Lark – but sound is pretty common.  They peak, and then tend to fall together, at least some of the time.
But it isn't always so.  Sometimes I'll find a name that should fit the pattern, but it was popular a decade or two too early.  Or it just never does catch on.  So sound is only part of the puzzle.
Elsewhere online:
An interesting possibility for a son: Leto, as profiled at Baby Name Pondering.
Sisters named Liesel and Birgitta … too von Trapp?  My hesitation isn't the musical association … if I were adopted from India, I'm not sure I would want such an obviously not-Indian name.  But I know there are differently schools of thought about this.
Star names, of the more exotic variety, over at Roses & Cellar Doors.  There's Twyla, name that continues to fascinate me …
My favorite springtime names are Olwen and Persephone, at least from this list.
Angela nails the nickname-proof name conversation with this line: "The parents give the name, but the kid owns it."  You can name your child Riley, but when he comes home from soccer practice in fourth grade answering to Rio and it sticks, well …
That reminds me of two articles from the archives: Ten Reasons to Embrace Nickname-Rich Names and Nine Reasons to Skip the Formal Name.  I can see both perspectives, but my still is definitely, unapologetically, nickname-rich.
Oh my goodness – a real life Arrietty in this DesignMom Living with Kids home tour!
Interesting observations about hidden -o names for girls from Laura Wattenberg.
Innovation in names is constant!  Check out these nouveau coinages at Names For Real: Jadence, Crayton, Kable, Portlyn, Rigley, Tedford  Halen, Kezri, Adigen.
Let's end with the British Baby Name birth announcements round-up, just because they make me happy: Flora Araminta, Maisie Mary Patricia Rose, Maxwell James Kavanagh, and my favorite of the week: Angus Jules Dacre.
A special thank you to everyone who has voted in the March Madness series!  I'm absolutely stunned at the final match-ups – I was convinced that Finn and Beatrix would win the whole tourney, but no – neither of them made it past the semi-finals.  Please vote in both the boys' match-up and the girls' final, if you haven't already done so.
That's all for this week!  As always, thank you for reading – and have a great week.