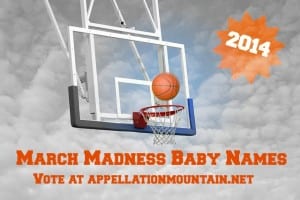 Can you believe it?  March has flown by with a whoosh!  Time to vote in the final – yes, the very last round – of March Madness Baby Names 2014.
The winner of this match will take away the title for 2014, and join an elite group of favorite names for boys:
In 2011, Nathaniel won the very first match-up.
Arthur was victorious in 2012.
2013 saw Archer at the top of the heap.
Time to reveal who won the semi-final round … and to vote for your favorite names for boys, one last time!
The 2014 contenders are a surprising pair.  If you'd asked me at the beginning of March, I would have never guessed that the final would come down to these two.
But it is a fitting match-up, with two names that have both attracted positive attention in recent years.
Underdog Everett just pulled past favored Finn in the semi-final round, 53% to 47%.  Still that's not the closest margin of the series.  Heck, that's not the closest match of this round!

That honor goes to the Soren versus Atticus match-up.  In the end, Soren scored exactly one more vote than Atticus to advance.  Atticus has been quite the up-and-comer, leaping from unranked in 2003 to #410 in 2012.
And so I present our final match: the Scandinavian, philosophical Soren faces the stylish surname name Everett.
Voting will remain open through Friday, March 28th, and the winner will be announced on Saturday, March 29th.