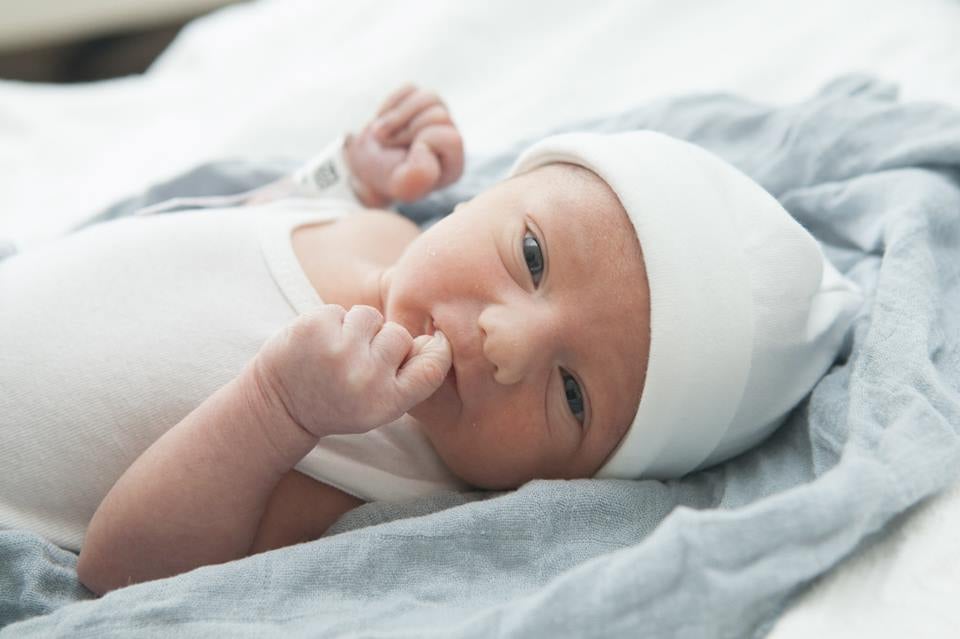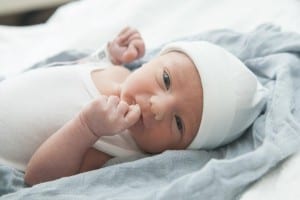 Please join me in congratulating Melissa and her husband on the arrival of their new son, Brooks Roosevelt. His middle name is after grandmother Rose!
What a great name. Thanks to all who made helpful suggestion in their #namehelp post.
Seriously, could he be any more adorable? I'm reminded of something Melanie Wilkes said in Gone With the Wind: "The happiest days are when babies come." So true!
Now, on to the baby name news:
Good library karma: I found a copy of Primates of Park Avenue on the new releases shelf! The book has gotten nothing but buzz since it came out a few weeks ago. The author is an anthropologist who found herself living and raising kids on Manhattan's super-elite Upper East Side – and feeling more than a little culture shock. So she decided to study the phenomenon of UES motherhood from her professional perspective. I'm only a few pages in, but it's fascinating. And the few names I've come across are great, starting with the author's name – Wednesday!
Speaking of reading, in The Tsarina's Daughter, a young Russian woman dreaming of the Revolution names her daughter Iskra – the spark. "The spark is the hope of change," she says. It's pure fiction, but I found it on this list of names used during the heyday of the Russian revolution.
I loved this interview with Alyson Hannigan. She talked about how they first considered names like Madeline, but quickly realized it was way too popular. Her daughters are Satyana and Keeva – definitely not run-of-the-mill!
Character names from Charles Dickens! He's such a great namer. This list is drawn from a list Dickens kept for inspiration: Rosetta Dust, Sophia Doomsday, Henry Ghost, Verity Mawkyard. And that's what he left on the table, the ones that never made it into print! Names he used: Bayham Badger, Lady Honoria Dedlock, Bentley Drummle, Affery Flintwinch, Estella Havisham, Uriah Heep, Oliver Twist, Ebeneezer Scrooge!  Found via Clare's wonderful Scoop.it account, Name News.
This is quite the conundrum. As we learn more about outer space, we're running out of names from the traditional sources. Pluto's moons are Styx and Kerberos and Charon, all names drawn from Greek and Roman myth about the underworld. But as the New Horizons probe flies over ice mountains and such, they're running out of obvious names. Baby Name Wizard has a great list of suggestions. I'm pulling for Mordor.
Twain Anthony might be one of the best, unexpected boy names I've heard in ages.
I think Mirabai might be a lot to wear, but it's all sorts of gorgeous, and Brooke makes a good case for the name.
How wildly, delightfully retro are brothers named Wayne and Jerry? The family asked for help naming their third child, and first girl, at Swistle. I agree with Swistle that Sally would be an amazing sister name. I also applaud the family for understanding that finding a familiar-but-not-often-heard name can mean choosing names that are perceived as currently outside of trends. Or, you can't name your daughter Ava and then be upset that she's not the only one.
From Clover to Guinevere, apparently I have a thing for girls' names that contain the sequence VER.
Meagan from A Tulip By Any Name reviews some great Kate Winslet character names. I'm torn between Iris and Sabine.
This answer from Anna Goldfarb at The Frisky to a baby name theft question is perfection. Say you cut her out of your life for considering to use a baby name you had your heart set on. What does this tell your husband about your sense of loyalty? What does it tell your co-workers about your judgment? What does it tell your parents about your maturity level? There's a lot more to the question, but Anna nailed it. I might have to send some of my thornier questions her way …
Officially the strangest case involving baby names that I've ever come across.
From the wayback machine: in 2008, the featured name was Millicent. So sweet! And ready for a comeback, I think. Revival-ready Leland and glittering Opal were up in 2009. Buttoned-down Chester and Biblical Tabitha took center stage in 2010. In 2011, we were all about Jehosaphat. And 2012 brought us Vanessa. Surname name Blair and the rarity Domino followed in 2013. Last year, we talked about the floral Magnolia and the gentle Walton.
This story about the Biblically-inspired baby name Emmaus moved me to tears.
That's all for this week. As always, thank you for reading – and have a great week!