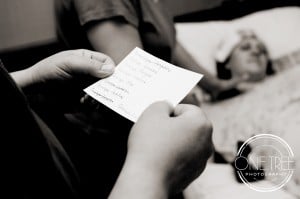 Editor's note: Long-time readers will remember the story Angel shared about naming older daughter, Emmeline Rhapsody.  I'm delighted she's sharing her story of naming daughter #2 here, on this very special day.  Happy first birthday to Penelope Annelise!
We had Penelope picked out before we even considered a second child. We were shoe shopping a few weeks before Emmeline's first birthday, and I said IF we were going to do it again, and IF we had a girl, my guilty pleasure name is Penelope. Eric surprised me and said he loves that name, and we said Penelope Anne and that was it.
Then when I actually became pregnant, the middle name wasn't quite right.
I noticed that one-syllable middle names were often paired with Penelope, and I was looking for something different, something more. Our eldest daughter has a first and middle that are both eight letters, so as a challenge to ourselves, we thought it would be fun to see if we could find a middle name we loved that was also eight letters. We kept a card of all the possibilities on the refrigerator, and we had …
Annelise – it was the first one I wrote down, and we eventually crossed it off. It was a blend of a name we liked and my mom's name.
Guinevere – the idea being that if you combined the first parts of both names, you'd have Penguin – nine letters, but too fun to pass up
Marigold – one of my favorite botanical names and one of a handful of songs Dave Grohl ever wrote (made famous by Nirvana and Foo Fighters)
Coraline – pop culture name we both liked
Wren/Wren Elise – Wren from the family name, Lawrence, and my mom's name. Combined, it would have honored five people, and I really liked the pair, but we weren't sold on two middle names
Angeline – a way to incorporate my name (thanks to name nerd, strangebird, for the suggestion)
And then after a while, we started into the silly…
Victoria – just in case she was born on Canada Day
Contessa – my favorite cookbook series
Joceline/Joscelin – because our last name starts with the letter, B, I chuckled at the PBJ monogram possibility
By the time several false labors had passed we started to get desperate. It felt like if we could pick a name out for our little girl, then I could go ahead go into real labor.
Oh, the things we tell ourselves when we're done with pregnancy.
Each name had some small story or something to offer, but none of them felt quite right, and we couldn't pin it down. I kept saying I wished that Annelise felt more like us, but it just didn't seem like it. And so we crossed it off.  We thought our final two were Guinevere and Marigold, but when she was born those didn't work as well as we'd hoped. It's funny because I'm the person who created a middle-name finder post on the Bump Name Blog, and here we were without a middle name.
My awesome partner-in-crime and I had found a great arrangement: we go in with two, and he makes the final call. It worked perfectly for our firstborn, but little miss was perplexing him. So out came the card again. After everything had calmed down, everyone had gone home, and everyone in our social networks was updated, we had a middle name: Annelise. And of course, I feel all the best decisions are made after some ice cream and some sleep.
Anne for the literary connection, and a name we both like, Elise to honor my mom, eight letters, A to reflect my name, and Danish origins, which we each share.
Despite being 10lbs 9.8oz and a bit of a bear cub, she has some of the delicate features of the both of us, and we really liked the balance of the spunky/punchy stand alone Penelope with the more lace-like feel of Annelise. It's a reverse style of her sister's name, but still the same pattern of combination: first name we love and middle name with personal meaning.
We call her by her full name, and it was pretty darn cute to hear her then two-and-a-half-year old sister say, "Puwelope."
So it turns out that while we had a hard time picturing Annelise for us, it was just right for her. It took twelve hours after she was born to nail down the middle name, but we kept coming back to Annelise, and it felt perfect once we said it out loud. Anything goes when baby arrives. It was the name we crossed off!