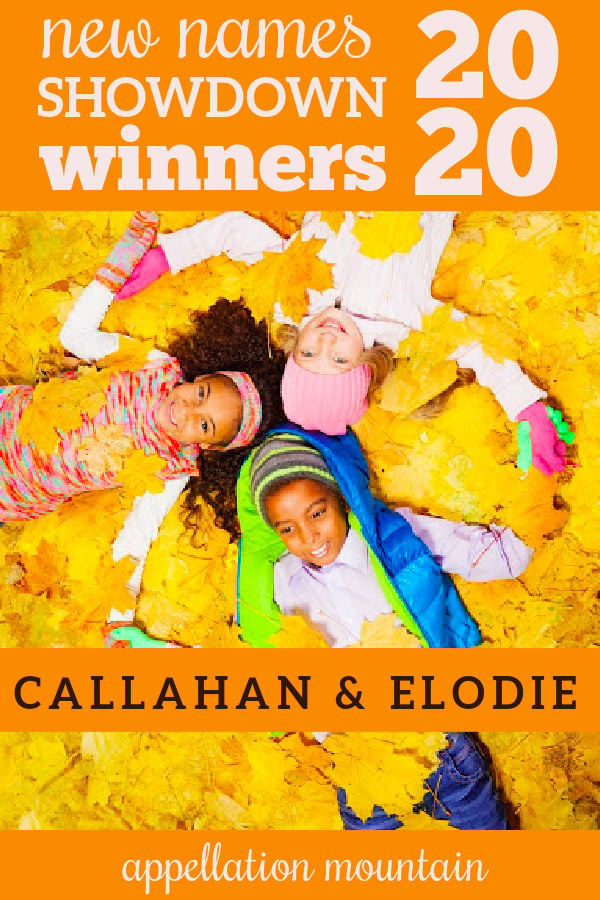 The votes are in, and you've chosen the BEST new boy name and girl name for the year.
Drumroll, please …
ELODIE and CALLAHAN
How did we get here?
Every year, the US Social Security Administration releases the Top 1000 names, divided by gender. Inevitably, some names fall off the list. Others return, or debut for the very first time.
You can find lists of all the returns and debuts here:
I take those lists, sift through them, and choose the sixteen names – eight for boys, eight for girls – that I think could be BIG in the coming years. That leads to this list: The Best New Baby Names 2020.
Then you vote, bracket style, until we've narrowed it down to just a single favorite.
THE FINAL ROUNDS
In our final boys' match-up, Callahan bested Blaise, taking over 69% of the total. Callahan is a bold boys' name, capable and bright. It picks up on favorites like Sullivan, but it also offers the Cal- nickname of traditional Calvin and rising import Callum. It's easy to imagine parents embracing all the swagger and style of Callahan. It hits the sweet spot, right between epic names like Maverick and more familiar surname picks like Hunter.
For the girls, Elodie won out against Persephone, with a decisive 68.81% of the vote. Both names are rising favorites. But Elodie is one of those names that name fans have loved forever, and I've long expected to see break into the US Top 1000. It's French, sophisticated but sweet, starts with that beloved El sound, and sounds a little like so many favorites for our daughters: think Emily and Melanie.
ALL THE BEST NEW GIRL NAMES, 2016 to 2020
Elodie joins past winners:
We chose Arden in 2016. As of this year, the name stands at #962.
Sylvie, our 2017 champ, has steadily gained traction, reaching #874 now.
But Marlowe, the 2018 girls' winner, has left the Top 1000 entirely. I have a hunch that this name will be back.
In 2019, we picked Zora as the winner, and the name climbed to #789.
It's safe to say that all of these names feel fresh and stylish today.
ALL THE BEST NEW BOY NAMES, 2016 to 2020
Callahan joins past winners:
In 2016, we picked Wilder. The name has climbed from #963 to #486.
Shepherd took the title in 2017. From #851, Shepherd has now reached #629.
2018's winner, Wells, debuted at #915. It's now at #624.
And for 2019, we selected Archie. It went from #988 to #672!
All of those boys' names have gained substantially in use since your votes put them on top. When it comes to new boy names, Appelllation Mountain readers have a crystal ball!
Thanks for each and every vote – it's always fun to see which names rise to the top! Our next contest comes in December, when we vote for our favorite celebrity baby names of the year.