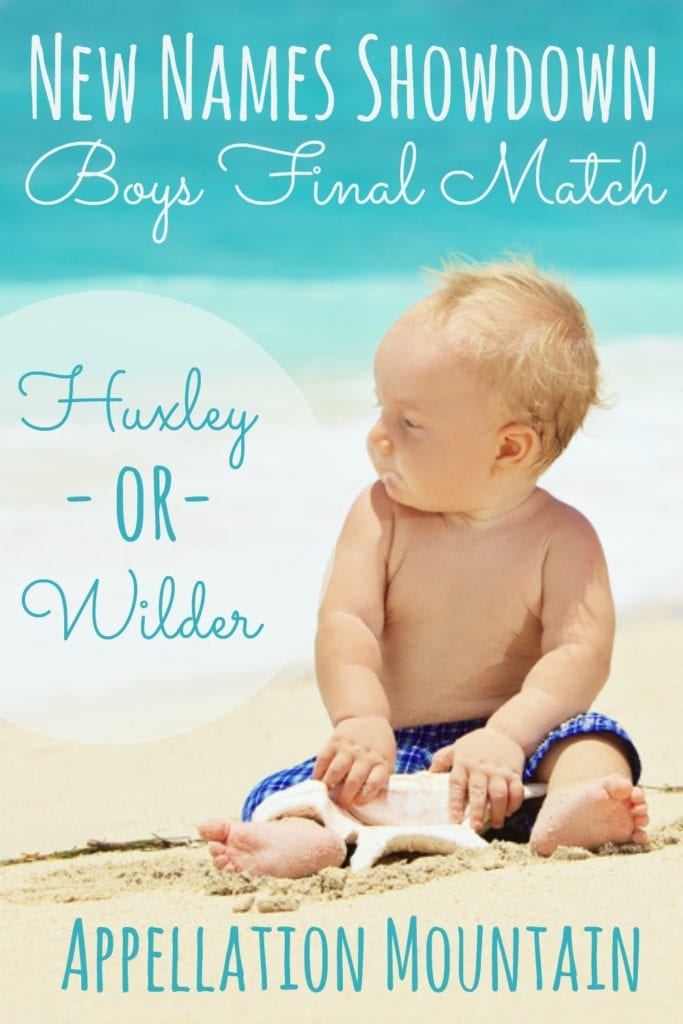 Our summer fun challenge has simply flown past! It's already time for the New Names Showdown 2016 boys final.
If you've been playing along, you'll know our goal is simple – and incredibly difficult, too! We started with eight boy names that returned to debuted in the US Top 1000 in this year's data set.
We started out with eight names: Canaan, Briar, Ridge, Achilles, Huxley, Boone, Wilder, and Cairo. The goal: to narrow those eight down to one name that will catch on in a big way in 2017 and beyond.
I think any of those eight could climb in the coming year. They're all on trend, with plenty of reasons that parents might continue to choose them in greater and greater numbers.
But your votes have narrowed down the pool of eight to just two names.
Here's the outcome of the SemiFinals round:
Wilder walloped Canaan, winning the contest 83% to 17%. Wilder has made my list of names to watch in the last few years. It has it all – a preppy hellraiser name that fits right in with popular picks like Hunter. The name feels outdoorsy and buttoned-down, familiar but not popular. Biblical place name Canaan carries plenty of meaning, but it wasn't on anyone's radar until Oprah mentioned it was the name she gave to the son she lost so many years ago. It caught the ear of many an expectant parent, but it is a relative newcomer. I would agree that Wilder makes the safer bet for a name likely to jump in the coming year.
A similar outcome happened in the other semifinal matchup. Huxley bested Ridge, 62% to 38%. Huxley has also made the list of names I'm watching in recent years, thanks to that stylish middle x. And Ridge is another name that snuck up on me. Still, it could certainly could be major in the coming years.
That makes for a tough final round! Which of our finalist names will rise dramatically in the rankings next year? The data won't be released until May 2017, but you have just one week to vote.
Which name seems more likely to soar in 2017? Please vote in the New Names Showdown 2016 Boys Final, and check back next week to see the winners!