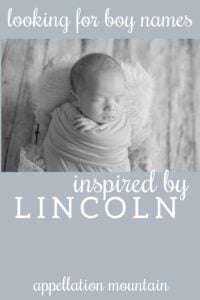 Name Help is a series at Appellation Mountain. Every week, one reader's name questions will be discussed.
We're relying on thoughtful comments from the community to help expectant parents narrow down their name decisions. Thank you in advance for sharing your insight!
Steph writes:
We're expecting our first baby at the end of November, a boy.
My all-time favorite name is Lincoln. It's strong, historical, not something you hear everyday. But it turns out it has a really bad association for my husband.
It's taken me a long time to get over the idea that we can't use Lincoln. He's not really into names, and is pretty much willing to go with whatever I suggest. Well, except the one name I can't stop thinking about!
Can you help us with a list?
Please read on for my response and leave your thoughtful suggestions in the comments.
Abby replies:
Congratulations on your son!
It is so tough to move on from a long-time favorite name, isn't it?
But everyone has feelings about a few certain names.
Sometimes they're logical – like a prickly family member you wouldn't want to appear to honor.
Other times, they're all wrapped up in emotion from the past. The mean kid from the school bus in third grade can permanently mar a name – even if you wouldn't recognize that kid on the street today.
And sometimes they're just plain irrational. I dislike the name Alyssa, even though Every. Single. Alyssa. I have ever met has been nothing short of wonderful.
No matter why your husband has vetoed Lincoln, it seems best to move on and find a name you can love every bit as much.
One consolation: while you probably don't know many people named Lincoln, it currently ranks #40 in the US. We know a handful, all my kids' ages or younger.
Let's look for a boy's name that is strong, current but not popular, and rooted in history, too.
NAMES LIKE LINCOLN
ARCHER #160
A sharp surname-name that finds the mark, Archer was once an occupational name for a soldier or a hunter. Today it's just a cool, current pick.
CALLUM #335
A traditional Scottish name, Callum fits in with names like Colin and Colton, but feels just a little different.
CREW #283
There are wrecking crews and Motley Crue. But there's also J. Crew. It's the kind of name that straddles the wild and the buttoned-up.
HAYES #245
Another preppy hellraiser name in the key of Crew, Hayes feels traditional, but with an adventurous streak.
HENDRIX #284
A form of classic Henry, Hendrix takes on a rock and roll edge, thanks to the late, legendary Jimi Hendrix.
KNOX #236
Like Lincoln, Knox has a specific tie to American history. Fort Knox is home to the US Mint's bullion depository – the gold.
PARKER #95
An outdoorsy name with plenty of polish.
WESTON #104
Weston sounds like a surname name, but it also conjures up the American West.
Overall, my favorites for you are Hayes and Archer. I think they're strong names that sound like natural substitutes for Lincoln.
Readers, what would you suggest to Steph as substitutes for the name Lincoln?