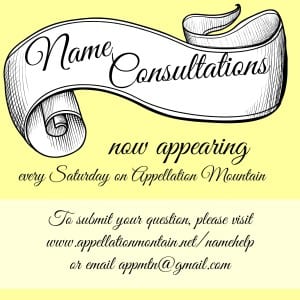 Name Help is a series at Appellation Mountain. Every Saturday, one reader's name questions will be discussed.
We're relying on thoughtful comments from the community to help expectant parents narrow down their name decisions. Thank you in advance for sharing your insight!
Perrin writes:
I've got a lot of disjointed concepts running around my brain for what to name our second child (gender still unknown).
Ideally, we'd like to find a name that goes well with our son's name and that similarly references both sides of our families without being too literal. Our first son's name is Luca Aslan and references (through sound) both sides (my dad is Haluk, my great-grandfather-in-law is Liko).
We like Aslan because it references my Turkish heritage and is also literary.
I'd love to find something metallurgical as my last name means essence of iron and my mother-in-law's maiden name is Steele.
Another consideration might be something floral or plant/tree-based as our families include a Holly and a Rosa.
Another commonality we have is the sound Car- or Carl-; there are multiple generations of Carlo on my side. It's my grandfather-in-law 's first name, and my husband's middle name is Carlton.
Our backgrounds are Turkish, Spanish and Italian, although my husband is also a Francophile. Our last name is one syllable. We prefer names that are not overly common.
Read on for my response – and please add your thoughtful comments and suggestions!
Hi Perrin –
Congratulations on baby #2! Luca Aslan is a great name, and it sounds like it perfectly captures your heritage and your family ties. When you've found such a great name for your firstborn, it can make it even harder to settle on a second child's name.
First, let's collect all of the possible sources of inspiration for this kiddo's name:
Languages: Turkish, Spanish, Italian, French
Car-, Carl-, and Carlo- names
Floral/botanical names
Steel/iron/metal names
Literary names
Okay, that's a lot. But it's not too much to work with, and I think there's lot of potential here. I have a bunch of ideas, but let's leap right into the name suggestions.
Names for Boys
Carlo Demir – Carlo seems like a good match for the romance language Luca. A bonus? While Carlos is still used frequently in the US, Carlo is seldom heard. And yet it's perfectly on trend – after all, Arlo was one of the fastest rising names for boys in 2014!
Because Luca's middle name is Turkish, I'm tempted to suggest Turkish middle names for a second child, too. Demir is the Turkish word for iron, and it appears to be used as a given name, too.
Tarik Ferris – Some Turkish names seem like natural crossovers, don't they? Tarik is one that I've heard more and more often. My understanding is that it means "morning star" in Arabic, though I feel like there's more to the story that I'm missing.
In this case, I'm flipping the Turkish name to the first spot. I know a few families of mixed heritages who have done this – first child has a first name that reflects the mom's background and a middle from dad; the second child has the same influences, but reversed.
Ferris is another iron-inspired baby name, this time with a healthy dose of Americana thanks to Ferris Bueller's Day Off and, of course, ferris wheels. On the plus side, it's definitely tied to metal.
You've mentioned that you prefer uncommon names, but I wonder if this combination goes too far? Carlo Ferris would work, too, as would Tarik with another middle name.
Taylan Steele – When I went looking for Turkish names, Taylan leapt right out at me! If it didn't exist in Turkish, we would have invented it in English. It's a mix of Taylor and Tristan, with a dash of Jaylon, too.
The downside of that is that Taylan doesn't scream "heritage choice." But I do think there's some appeal to having an easy crossover name with a great story.
I'm not sure if Steele – just Steele – is too much as a middle name. I think plenty of families would embrace the oh-so-masculine vibe. It doesn't quite seem to match with the gentler, more literary appeal of Luca Aslan – but then again, Aslan means lion, which is pretty darn fierce.
Emre Eisen – Emre is another Turkish name with great crossover potential. The downside: it could easily be confused for Emory. The positive? It feels decidedly Turkish, without being difficult to say or spell in English. And Luca and Emre sound like brothers, don't they?
Eisen is another metal-inspired possibility, but it comes from a German surname, ultimately from a German word meaning iron.
Acero Ender, Ferro Ender – Carlo and Emre strike me as different, but not too out-there. Ferro and Acero are definitely different – maybe too different. Acero is the Spanish word for steel, and Ferro is the Italian word for iron.
Ender is a Turkish given name that means rare. It's also associated with Orson Scott Card's Ender's Game. It's not quite as classic a literary choice as Aslan, but I think it has similar appeal.
Rowan Acero, Rowan Gray – Holly and Rosa could inspire lots of botanical names for girls, but there are plenty of nature names that work for boys, too. It doesn't look like Turkey has ever adopted a national tree, but there are plenty of great tree names that work for boys: Rowan, Alder, Cedar, Linden, and Hawthorn all come to mind.
Luca and Rowan sound great together. And I think they hit the right note in terms of current popularity. In 2014, Luca ranked #185, while Rowan came in at #239.
If Acero feels bold as a given name, I think it's a great middle name choice.
Another option: the very stylish Gray, inspired by the color of iron and steel.
Names for Girls
Adalet Holly – I'm not sure if I'm pronouncing Adelet correctly, but I think it could make a wonderful Turkish-English crossover name. It could shorten to Addie or even Ada if your daughter prefers a more conventional nickname. But Adalet is a legitimate Turkish name.
You've mentioned that you'd like a botanical name, citing Holly and Rosa from your family trees. Holly could be great in the middle spot, but Adalet Rose or Adalet Lily might work beautifully, too, and surely there are more.
Caroline Bahar, Carolina Bahar – There are many forms of Carl- that could work beautifully for a girl, including the very popular Charlotte, the slightly less popular Caroline, or some true rarities: Carla or Carlotta, maybe? Carolina is a another possibility that's particularly appealing in Spanish.
If you use something more conventional in the first place, I think you could use a really bold name in the middle. Bahar is from the Turkish word for spring. If we can name girls Winter and Summer, why not Bahar? Spring isn't exactly a botanical name, but I do think we associate flowers with the season.
Anthea Ceren – Anthea comes from the Greek word anthos – flowers. One of the goddess Hera's titles was Hera Anthea – Hera of the Flowers. That makes it a pan-botanical name, a category that might work well if you're hoping to honor women named Holly and Rosa. Antha is another form of the name, sometimes seen. It's rare, but with Thea on the rise, I think it would wear well. Luca and Anthea; Luca and Thea.
Confession: I had no idea how to pronounce Ceren, even though I've loved the look of this name ever since I heard of actress-model Ceren Alkaç, married to actor Jason Lee. Listening to it on Forvo, it seems like a phonetic spelling in English might be Jeran. Which is … confusing. I think most American English speakers would default to Karen, though some might say Seren. So even though I love tailored Ceren, I've moved it to the middle spot.
Carys Evren, Evren Carys – Carys comes form a Welsh name meaning beloved. It's rare, but not unknown – Michael Douglas and Catherine Zeta-Jones used the name for their daughter. While your heritage isn't Welsh, Carys picks up on the Car- from all of those men with Car- names, including your husband's middle.
Evren is, like Ceren, a lovely tailored name possibility. I think it works equally well as a given name. It's the Turkish word for universe, and I believe it is used as a given name.
Layla Frances – I'm not sure which spelling of this name would most appeal, but Layla is one of the ultimate crossover names of our time. I know a Turkish dad who chose this for his daughter.
Frances is one of many given names that could be a nod to your husband's ties to France. There's also Fransa, the Turkish word for France. (I think – I relied on Google Translate for that one!)
This would probably be my top suggestion, except that Luca and Layla are a little bit singsongy when said together. And is it just me, or does it sound too close to "Luke and Leia," as in Star Wars? Still, I think it deserves a mention.
Mina Lale – Mina is currently a popular name for girls in Turkey. I couldn't unravel the meaning or origins in Turkish, but I think it's a perfect crossover name from Turkish to English. Mina is nicely portable – I think it would work in many languages. And Luca and Mina sound great together.
Lale is a second Turkish name, meaning tulip – definitely a botanical option. English speakers would want to rhyme this one with kale or sail, but it's actually closer to lah LAY – which might take some repetition, but doesn't seem impossible to say. I think it's gorgeous paired with Mina.
Suggestions
Writing this made me fall completely in love with Turkish names, but, of course, a native speaker will probably have all sorts of associations with my suggestions – and it's very possible that I've gotten some of these not-quite-right, since I haven't ever been to Turkey.
My favorites for a girl are Mina Lale and Carys Evren. And I love Carlo Demir and Rowan Acero or Rowan Gray for a boy.
Readers, what would you suggest for Luca Aslan's sister or brother? If you speak Turkish, I'd especially love to hear from you! And since I worry that I've been MUCH too literal, I'd love to hear all of your crazy, creative ideas, too.