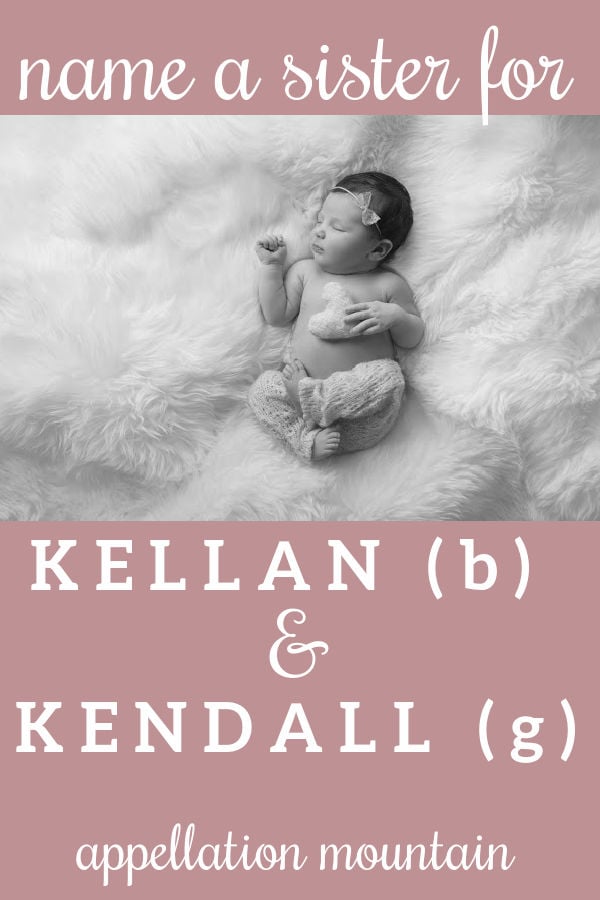 Name Help is a series at Appellation Mountain. Every week, one reader's name questions will be discussed.
We're relying on thoughtful comments from the community to help expectant parents narrow down their name decisions. Thank you in advance for sharing your insight!
Melissa writes:
We are having a surprise third baby – we don't know the gender yet.
We have a boy and a girl, Kellan and Kendall. We like Declan or Landon for a boy, which I think minus being a "K" name fits.
We are completely unsure of a girl name … lost is more like it! We don't like names ending in -y or -ie and don't want an H name. We're not really feeling adding another K to the set, either.
Any help would be awesome. Thanks!

Please read on for my response and leave your thoughtful suggestions in the comments.
Dear Melissa –
Congratulations on your third!
It's funny … some people would hear Kellan and Kendall and think, of course their third child has to have a K name, too! Other people hear Kellan and Kendall and have the exact opposite reaction.
I used to think I would've pushed for another K name … except in our own family, my husband and I are As who gave our son an A name, and then chose a C name for our daughter. Other factors mattered more than completing a set.
It sounds like you're in a similar place. It's not that there aren't K names you might like. You'd just rather find something that suits this child, but doesn't make them sound quite so coordinated. (Koordinated? Groan.)
The right name for Kellan and Kendall's sister would probably be:
Tailored, even unisex in style.
Modern – nothing like Agatha or Millicent.
Nickname-proof.
Familiar, but not Top 100 – which rules out Skylar or Addison.
So what's midway between, say, Addison and Millicent?
A SISTER FOR KELLAN AND KENDALL
BLAIR
A handful of one-syllable surname names come to mind: like Blair/Blaire, Sloan/Sloane, and Laine/Lane. Choosing a third surname emphasizes that it's the style you like, not so much the letter K. And shorter names are often nicely nickname-resistant, too.
HOLLAND
One thing that stands out to me: both Kellan and Kendall share a double-L … just like place name Holland. I suppose some might ask if you're Dutch. (Of course, if you are, it could be perfect.) But Holland has been used as a given name for years, and has ranked in the girls' Top 1000 every year since 2014.
LYRIC
Word names might work, and Lyric is one of those musical favorites that feels a little different, but also perfectly familiar. (I'd call it a "sweet spot" name.)
MAREN
A tailored Scandi import, connected to more traditional feminine names, Maren bridges the difference between picks like Mary and Margaret and modern surname favorites like Madison and Mackenzie.
PARKER
Parker is more popular for boys, but ranks in the girls' Top 200, too. That's one reason it goes well with Kellan and Kendall. Another factor: like Declan, it has the 'k' sound in the middle, without being a third K name. It's subtle, but it connects the names nicely.
SUTTON
Another surname name option that's rising in use, Sutton seems like a good match – it shares just a little of Kellan's ends-with-n rhythm, but I can say the three names fast without tripping over them.
TEAGAN
Like Kendall, Teagan seems unisex – but it's used in far bigger numbers for girls. That might make it perfect.
WINTER
If you'd like to edge slightly away from surnames in general, a handful of nature names share that tailored style. Winter is my favorite with Kellan and Kendall, but Briar, Sage, and River would all work, too.
Overall, my favorites are Teagan and Parker. I think Teagan just plain sounds right. And Parker's middle K appeals, too.
But let's open it up to the community, because I know they'll have some good suggestions.
What would you name a sister for Kellan (b) and Kendall (g)?