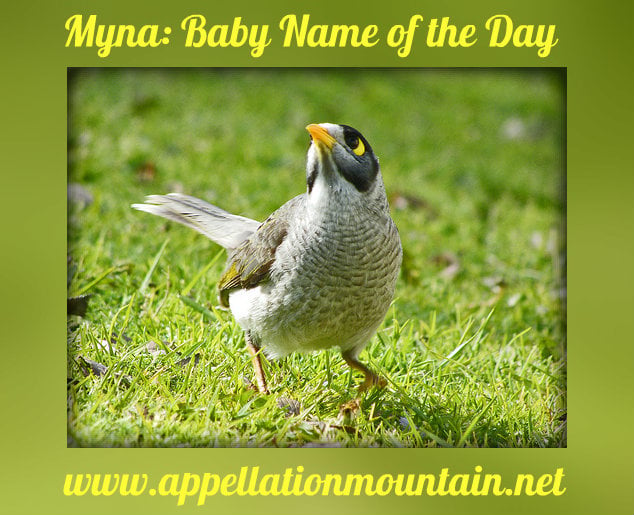 Wren, Lark, Sparrow.  Avian names are very much in vogue.  Factor in the popularity of Mia and Maya, and why not consider this one?
Thanks to Ashleigh for suggesting Myna as our Baby Name of the Day.
A myna is a bird, a member of the starling family.  They're native to Asia and especially India, but are now found all over North America, Europe, Australia, and beyond.
The name sounds like "mine" with an "a" at the end, rhyming with Dinah.
As birds go, they're pretty interesting creatures.  Mynas are great mimics, and some of them can imitate human speech.
I love this description from a website about identifying mynas: "unlike most birds, they move with a jaunty walk."  You can hear a myna call on their site.
So they're smart, friendly birds, but they're also rather numerous in some locations, and can be a hassle.  They're considered an invasive species – possibly one of the reasons Myna hasn't caught on as a given name even as we're busy considering Aderyn and Swan.
That's too bad, because it turns out Myna has a lovely meaning.  The name comes from the Hindi maina.  Maina comes from a word meaning delightful.  This makes for a happy association with the name.
In the US, there have been more than a few women named Myna over the years.  For most of twentieth century, Myna was in sparing use.
Still, it might not have been thanks to the bird.
In the 1920s, we were rather fond of the -na ending for girls' names:
Enduring choices like Anna and Donna remain familiar today.
A few ends-with-na choices feel fresh again today: Lena, Nina, Elena, Carolina and, more recently, Ramona.
But the bulk of this list is stuck in style limbo.  The more daring among us might use them, or know someone who has.  I'm a huge fan of Lorna, but Edna, Leona, Verna, Ina, Rena, Mona, Iona, Lorena, Myrna, Erna, Lona, Elna, and Dena all seem better suited to a different decade.  Others will organize the list differently, but few of us are using Verna or Elna for daughters in 2013.
The -h spelling – Mynah – is even rarer, though it can refer to the birds and could certainly be a given name.
There's another possible way to think about Myna.  She might make a great short form – or even a contracted form – of many choices.  Myna could be short for the wise goddess Minerva or for the literary Miranda.  Of course, there's no certainty that she'd be pronounced like the bird.  She could be said (or spelled) Meena, Mina or Minna, to name just three.
All of this leaves Myna in style limbo.  She should read like a quirky riff on current names – a mix of popular Maya and granny names like Edna, a sister for Olive or Pearl.
Six girls received the name in the US in 2010, but fewer than five in 2011.  The bird's status as more pigeon than swan hamstrings her use, but if you're not in a part of the world where the birds are not considered a problem, and if you're after a quirky, obscure, vintage possibility that tracks with current trends, Myna might fly.
Original photo link: paddynapper via Flickr