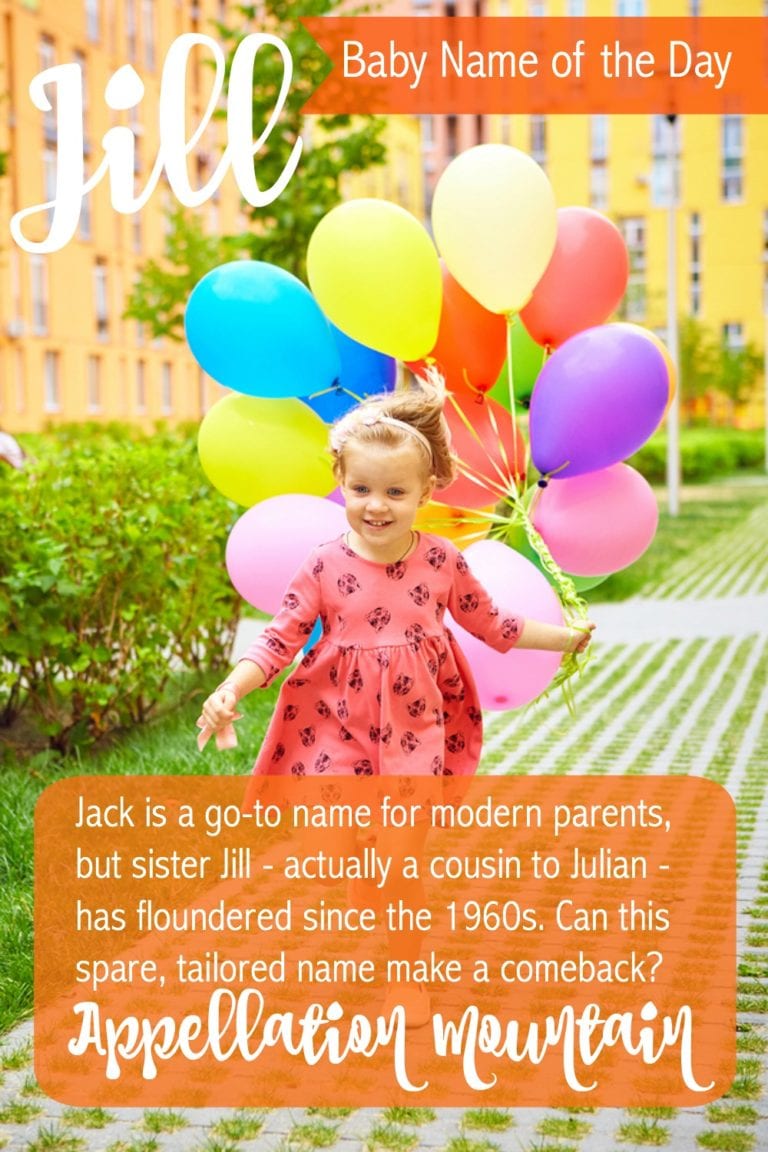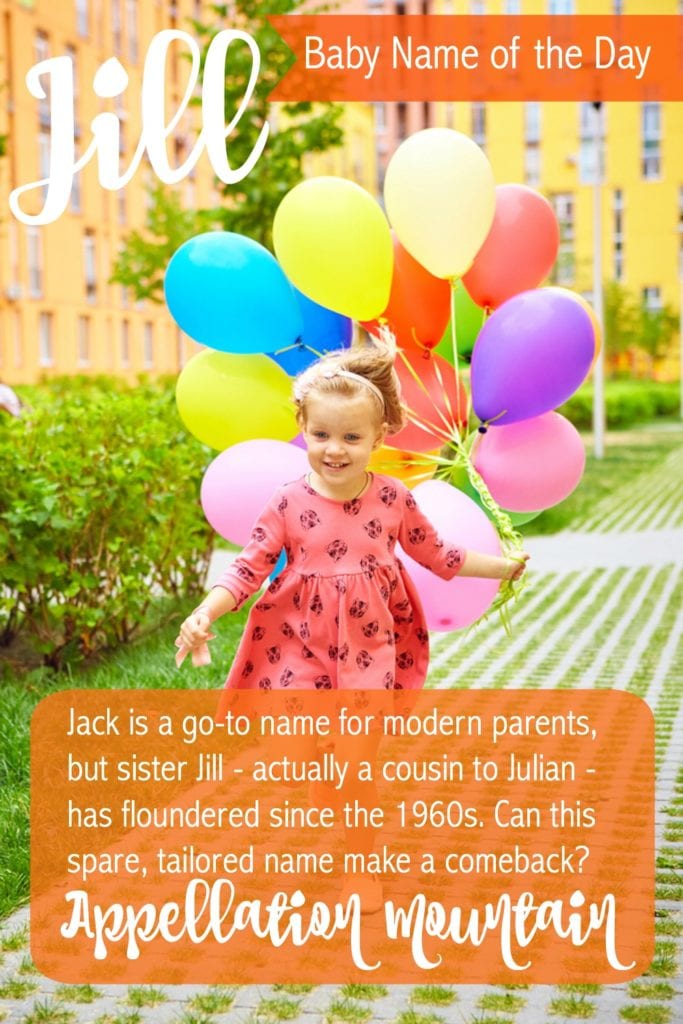 Jill went up the hill with Jack, but while Jack is a white hot choice for boys today, his sister is in style limbo.
Thanks to a reader for suggesting her name as our Baby Name of the Day.
Jill: Juliana's Cousin
This name was once so common in England that it became a generic term for girl, as in "Every Jack must have his Jill."
But it's actually part of the Julian family. Julian has a history of use for both genders. Gillian evolved from Julian, and then came the J spelling. Drop the last two syllables, and there you go.
The name first entered the US Top 1000 in 1929 – the same year Jack & Jill Ice Cream went into business.
It reached the Top 100 in 1958.
The name peaked in the 1960s, and the famous bearers of the name make that clear. Mrs. Joe Biden answers to the name; so do actresses Wagner, Eikenberry, and St. John. It was the mom's name on 1990s sitcom Home Improvement.
Today, Julia, Juliana, Julianna, Juliet, Juliette, Julie, and Julissa are all far more popular, while just Jill has left the US Top 1000 entirely.
Jill: Da Doo Ron Ron
More proof that this was once a go-to name for girls?
Back in 1963, girl group The Crystals scored a hit with "Da Doo Ron Ron."
It was covered by The Searchers just months later. They changed the lyrics slightly. Instead of "Somebody told me that his name was Bill," they substituted Jill.
Teen heartthrob Shaun Cassidy scored a hit with the J-for-B swap lyrics in 1977.
Jill: Farrah
In 1976, Charlie's Angels debuted, and became an overnight sensation. Farrah Fawcett was the series' breakout star. She played Jill Munroe.
Fawcett left the show after just one season, and Cheryl Ladd replaced her, playing her sister, Kris Munroe.
The show's mega-popularity had no impact on the name's use. It had been in the US Top 100 since 1957, and would stay there until 1983 – but Charlie's Angels couldn't boost the name any higher than it had already gone.
Jill: Exile
It all adds up to a classic mom name, just like Kimberly or Ashley or Michelle.
And yet, it's almost shocking how far it's fallen. Consider:
Spare, tailored names for girls are having a moment. This includes surname names like Sloane and Blair, classics like Claire and Grace, as well as new possibilities like Wren and Kai.
Many former favorites remain in the US Top 1000 for years. Jessica is around the 200 mark, Jennifer isn't far behind, and Ashley is still in the Top 100.
The name has a storybook quality, thanks to the nursery rhyme. That puts it in the company of choices like Alice and Eloise.
It's undeniably nickname-proof, a quality parents increasingly appreciate.
Despite all of those positives, this name is headed for extinction. Just 36 girls were given the name in 2015.
It's been kept in the spotlight by one of the J-named Duggar sisters. Some might attribute the name's decline to the family's struggles, but the name was in decline long before.
Gillian is also out of the US Top 1000, given to just 120 girls last year, while the J spelling fared slightly better. It remains in the Top 1000 at #435.
If you're after a traditional girl's name, but find Margaret, Elizabeth, and Katherine a little bit too buttoned-down, this might be the perfect choice. Everyone will recognize it, but odds are your daughter will never meet another Jill her age.
Were you surprised to see how far this name has fallen? Do you know any Jills?