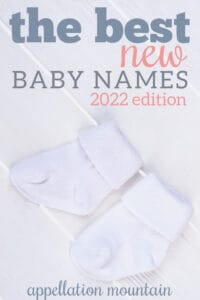 These are my choices for the Best New Baby Names 2022.
What, precisely, does that mean?
Most years, the US Social Security Administration releases the official Top 1000 most popular names for girls and boys born in the prior calendar year. That means that our current list debuted in May 2022, and includes data from January 1st through December 31st of 2021.
Most names rise or fall in rank. Some leave the list entirely. Others debut for the very first time, or return after an absence.
It's those last two groups – the debuts and returns – that concern this list.
Every summer I choose the Best New Names for that year, and you vote your way through them, bracket-style, until we've chosen our favorites.
What do I mean by Best? That's subjective. I tend to choose names that feel interesting. The ones I want to think about and talk about with you.
When voting, you can apply a totally different criteria – the names you'd be most likely to choose for a child. Or the names you just wish could be saved for your future kiddo.
Why does it matter which names enter (or return to) the Top 1000? In some ways, it doesn't matter one bit. The name ranked 999th is still very uncommon, every bit as rare as the name ranked 1,032nd or 1,021st.
But names that make the Top 1000 tend to attract more attention. They're visible. And so crossing that threshold – even if only by a handful of births – makes it more likely that future parents will discover the name.
While our record isn't perfect, looking at past winners suggests that entering the US Top 1000 can be a ticket to catching on – sometimes in a big way.
PAST CHAMPS
Last year, Etta and Leif won the contest. Etta now ranks #932; Leif stands at #992.
Elodie and Callahan triumphed in 2020. Elodie now ranks #737, while Callahan has reached #659.
2019's victors were Zora, currently #824, and Archie, presently ranked #399.
For 2018, Marlowe and Wells won out. Marlowe is now #896, while Wells is ranked an impressive #479.
In 2017, Sylvie carried the girls' side, and now ranks #586. For boys, Shepherd won, and now stands at #528.
In the very first year, Arden and Wilder took the titles. Arden has since left the charts, but Wilder? At #368, it's just plain soared in the rankings over the last few years.
On to my picks for the best new baby names of 2022!
BEST NEW GIRL NAMES
BILLIE (#941)
One-part Millie and Molly, one-part Charlie and Sloane.
BIRDIE (#897)
A mix of modern nature name and vintage style.
CLOVER (#866)
Good fortune meets those R-ending names we adore.
GUINEVERE (#965)
Elegant, dramatic, and literary, but with friendly nickname Gwen to make it accessible.
INDIGO (#906)
Scarlett, Hazel, Violet, Navy … why not Indigo?
SOLEIL (#999)
A blazing summer name, borrowed from the French word for sun.
SORAYA (#987)
A Persian import, Soraya refers to the Pleiades constellation. That makes it one-part Sierra, two-parts Luna.
VIDA (#992)
Ultimately from the Latin vita, meaning life, Vida and Vita are vintage, international gems that fit right in with girl names we love now.
BEST NEW BOY NAMES
AMIRI (#757)
From the Arabic title for a prince.
BENEDICT (#991)
A Benjamin alternative with all the star power of Hollywood A-lister Cumberbatch.
BOWIE (#950)
Logically follows Lennon and Hendrix.
CASSIAN (#969)
An ancient name in the key of Sebastian, with the benefit of a Star Wars universe character.
EVANDER (#767)
It looks like an Evan-Alexander smoosh, but it's a separate name with Greek roots, meaning "good man."
GRANGER (#953)
A surname name reminiscent of Hunter and Wilder, but this time slightly more domestic – grange refers to either a granary or a farm.
KYLIAN (#572)
The French spelling of Irish Killian, it's that rare re-spelling that truly solves a problem. Because Kil/Kill is not a great short form, but Ky is.
TURNER (#942)
One more ends-with-R occupational surname, this one with ties to the Pirates of the Caribbean franchise, and an appealing image of change.
These names will be back, beginning on Saturday, July 2nd for the annual New Names Showdown. Your votes will determine the winner!