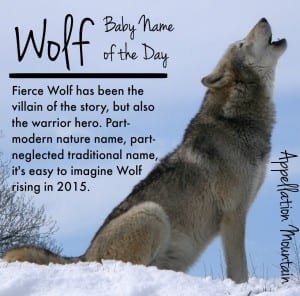 This post was originally published on November 11, 2010. It was substantially revised and re-posted on May 11, 2015.
Looking for a boy's name that is fierce – and yet wearable, too?
Thanks to Taylor for suggesting Wolf as our Baby Name of the Day.

Wolf: Lupus
Wolf comes directly from the Old English wolf. In Latin, the animal is lupus.
Wolves have long been feared by villagers and chased off by farmers. They're the villain of fairytales and folk stories, from The Three Little Pigs to Peter and the Wolf to The Boy Who Cried … well, you get the idea.
They figure prominently in legend and myth. Romulus and Remus, the future founders of Rome, were raised by a she-wolf. The Norse god Odin kept two as pets, but Loki's son Fenrir was a monstrous one. In some cultures, they're destruction on four legs. In others, their fearlessness is admired.
Christianity sometimes equates wolves with the devil, but Saint Francis tamed one in an Italian village.
And then there are the werewolves, a concept dating to the 1400s and continuing right through Twilight and True Blood.
Fierce creatures often influence personal names, because we appreciate their strength and courage. Just like there are plenty of Leo names, we can find names like Wolfgang, Cynewulf, Ranulf, and Beowulf over the centuries. Surnames like Lowell and Lovett also refer to the animal.
The Hebrew name Ze'ev or Zev is yet another wolf name, and has seen some use in modern Israel.
It appears that Wolf started out as a nickname at least some of the time. This family tree includes men answering to Lupellus – little wolf – and Lupus as well as the surname de Lovel. But many of those given names have long histories of their won.
Wolf: Famous Figures
Wolfgang is probably the most familiar form of the name, thanks to notables like Mozart and Goethe.
More recently, we've met:
It was a nickname for author Jack London. In his 1904 novel The Sea-Wolf, it's the first name of Captain Larsen – though he's no hero. London also bought land in California's Sonoma Valley, and spent years building his dream home, Wolf House, only to see it burn to the ground before his family could move in. The ruins are part of Jack London State Historic Park.
CNN journalist Wolf Blitzer, born in Germany to Jewish Holocaust survivors. It's a family name, shared with his grandfather.
Celebrity chef Wolfgang Puck was born in Austria, and is now a household name.
Rocker Eddie Van Halen and actress Valerie Bertinelli named their son after Amadeus, and now Wolfgang plays bass for dad's band.
The design-savvy Novogratz family of 9 used the name for their eldest and put it squarely on the style map, along with Tallulah, Bellamy, Breaker, Five, Holleder, and Major.
Kimora Lee recently welcomed a son named Wolfe, a little brother for Aoki, Ming, and Kenzo.
Wolf: Very Wearable
There's something fierce about Wolf, and yet this one feels quite wearable – maybe surprisingly so. Parents have embraced nature names, including other creature names, from Colt to Fox to Wren. 
The numbers bear this out. In 2014, there were:
93 new boys named Wolfgang, up from 64 in 2013.
47 named Wolf, down slightly from 2013's count of 51.
The 'e' spelling was given to 14 boys in 2014, up from 11 in 2013.
Plus 5 boys called Wolfram in 2014.
With ties to traditional names used over the centuries, no wonder Wolf feels like an undiscovered gem. And while Wolf and company remain under-the-radar, there are signs that these names may not remain rare for long.