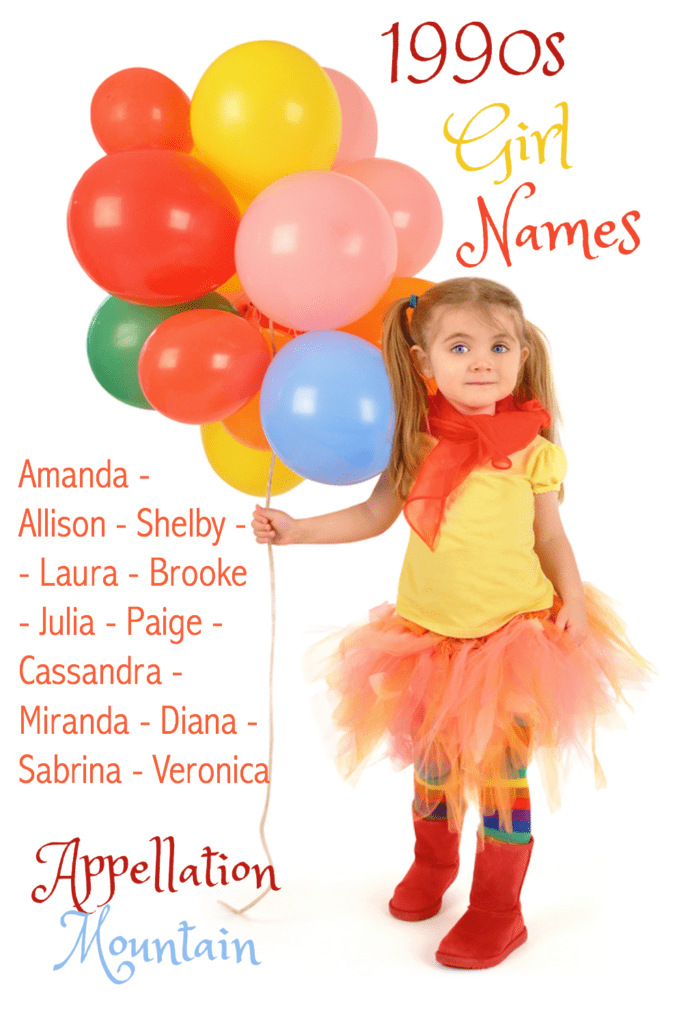 If I say 90s girl names, what comes to mind? You'll probably think of Jessica and Ashley. Brittany – or maybe Britney – comes to mind. Kaitlyn, too.
But look beyond the chart-toppers and the trends, and a surprising number of 90s girl names remain very wearable today.
One note worth mentioning: many of our 2016 favorites were rising quickly in the era. Olivia, Emma, and Abigail ranked in the Top 100. Sophia and Chloe gained, too. I'll focus on names that peaked in popularity around the 1990s.
Here are my picks for the most enduring of the Top 200 names from the decade. Want to make your own list? Check out the Social Security Administration's official rankings here.
90s Girl Names: Amanda
Rock band Boston made power ballad "Amanda" a hit single in 1986. I couldn't find an explanation for the choice, though it fits with other girls' names from song titles: Rosanna, Layla, Lola, Melissa. What's notable is that Amanda reached the US Top Ten in the 1970s and stayed there through the 1990s, making it the #6 name of the decade.
Amanda first appears in seventeenth century literature. A handful are found in the 1800s. If the name had not soared during the 90s, it would be perfectly on trend today. Think about it: a great meaning, an A name, literary, nickname-proof, but with plenty of nicknames if you're so inclined. Amelia, Aurora, Athena, Alaina, Amanda. Parents don't see it that way, though. Amanda fell to #316 last year.
90s Girl Names: Allison
We talk about Allison as the mother of Madison, Addison, and Emerson, but that's only half right. While Allison's -son ending paved the way for similar sounding names for girls, Allison didn't begin as a surname. Instead, it's a diminutive form of Alice – feminine from the first.
Allison ranks #41 for the 1990s, and has fared remarkably well as time passed. In 2015, the name ranked #39. After more than four decades in the US Top 100, Allison almost feels like a classic choice for a daughter.
90s Girl Names: Shelby
Like Allison, Shelby fits in 2016 thanks to sound. In this case, Shelby started out as a surname, probably from a place name, possibly meaning willow farm. It brings to mind two things: the Shelby Mustang, a souped-up version of the iconic Ford sports car, first produced in the 1960s. For 90s girl names, the more relevant association is Julia Roberts' character from 1989's Steel Magnolias. Roberts earned an Oscar nomination for her work, and the name spiked.
Shelby became the #44 name for the decade, a successor for Courtney and Michelle, a possible competitor to Taylor. And yet, thanks to a mix of surname and borrowed-from-the-boys style, the name could succeed today. Characters in Glee and Quantico answered to Shelby in recent years. It fits in with Hadley and Everly, too. As of 2015, the name ranks #299.
90s Girl Names: Laura
Classic boy names tend to hold steady. Meanwhile girl names – even the most traditional – ebb and flow. Laura, the 49th most popular of the 90s girl names, comes in at a chilly #322 today.
And yet, Laura boasts a long history of use. There's Canadian War of 1812 heroine Laura Secord, as well as famous Lauras in the sonnets of Petrarch and many a popular song. Laura Ingalls Wilder is a household name; in the 1980s, so was General Hospital's super-couple, Luke and Laura.
Nearly as international as Sophia and as traditional as Elizabeth, Laura ought to be considered a classic still very wearable in 2016.
90s Girl Names: Brooke
Brooke Shields made became a household name back in 1978, as the star of the controversial film Pretty Baby. She wasn't the first high profile Brooke – that distinction belongs to socialite and philanthropist Brooke Astor. But it was Shield's success that propelled the name into the US Top 100 in the 1980s. An All My Children character also gets credit for Brooke's rise.
Brooke peaked at #54 in the 1990s, and remains at #150 as of 2015. If not for Ms. Shields, the name might only be catching on today. It's a gentle nature name with a gender neutral vibe, swayed to the girls' side by the last Mrs. Astor. Instead, place name Brooklyn dominates our decade, though Brooke still feels very wearable.
90s Girl Names: Julia
Speaking of classics, Julia still ranks #89 in 2015. Sure, among 90s girl names, Julia came in at #55. But this name from Ancient Rome boasts a long and steady history of use, charting in the Top 100 every year since the 1980s.
Julia appears in Shakespeare's Two Gentlemen of Verona, and brings to mind famous actresses – Roberts, Louis-Dreyfus, Stiles – as well as poet Julia Ward Howe, and chef Julia Child.
With girl names ending with -ia and -lia so in vogue, it comes as no surprise that Julia has remained a wearable favorite into 2016.
90s Girl Names: Paige
At #66 for the 1990 girl names, Paige started out as a surname. Dallas spin-off Knots Landing gave us Paige Matheson in 1986, boosting the name's use. Since then, both Charmed and Pretty Little Liars have kept the name in the spotlight, as well as Paige Davis, host of TLC hit Trading Spaces.
All the things that are true for Brooke apply to Paige, too. It feels like a modern, sleek name, a sister for Harper, an alternative to Piper. That's why the 90s favorite remains in steady use, currently ranking #140. It's also a big part of the reason rising favorite Saige often takes an 'i' when used for a girl.
90s Girl Names: Cassandra
Cassandra fit right in with other 90s girls names, like Samantha and Alexandra. But it doesn't feel out of place in 2016. Maybe that's because Cassandra's roots are in the ancient world, a source of many popular names today. Or maybe that's because we've embraced even more long, lovely names for girls, like Isabella.
While there are plenty of uses of Cassandra over the years, none are quite as powerful as some of the pop songs or personalities associated with other names. That helps Cassandra feel timeless. Plus, the name ranked #67 for the decade – popular, but not inescapable. At #511 in 2015, the name is falling fast – but could serve as that perfect familiar-to-all, shared-by-few pick for parents today.
90s Girl Names: Miranda
Like Cassandra, Miranda reached only #84 for 90s girl names – not quite enough to be tied to the decade. Though there is at least one famous pop culture Miranda that probably comes to mind – Carrie's successful lawyer friend from Sex and the City.
A Shakespearean name with a great meaning – it comes from the Latin mirandus, admirable – Miranda also appears as a character on Grey's Anatomy and Meryl Streep's unforgettable editor from The Devil Wears Prada.
Like many a current favorite, Miranda is nickname-rich, but not automatically shortened. At #278 in 2015, it hits that current, but not overly used mark nicely.
90s Girl Names: Diana
Widespread admiration for the late Princess of Wales pushed her given name into wider use. And yet, not nearly as high as you might guess. That's because Diana ranked in the US Top 100 in the 1940s as well. Still, the name returned to the Top 100 in the 1980s, and stayed there for much of the 1990s.
Like Laura, this name feels impeccably classic. Like Cassandra and Julia, it ties to the ancient world. It's the alter ego of Wonder Woman, and an Anne of Green Gables name, too. The 98th most popular of the 90s girl names came in at #295 last year – still very wearable, but far from common.
90s Girl Names: Sabrina
Sabrina graduated from Charlie's Angels in the 1980s to Sabrina, the Teenage Witch in the 1990s. Sabrina Spellman makes this feel like a favorite among 90s girl names, but it only came in at #91 for the decade. In fact, a 1954 Audrey Hepburn movie helped popularize the name earlier in the decade.
With names like Brianna and Brielle fading, Sabrina feels like a timeless choice, with ties to literature and Miss Hepburn's enduring movie character.
As of 2015, the name ranked just #355 in the US – a good stands-out/fits-in number.
90s Girl Names: Veronica
Before there was Mean Girls, there was Heathers. In 1988, Winona Ryder played the lone girl in a popular quartet who was not named Heather – instead, she was Veronica.
Veronica also brings to mind Archie comics' character, Veronica Lodge, as well as 1940s screen star Veronica Lake. Elvis Costello fans will spot this is the second of the 90s girl names to match up with one of his song titles.
Long before any of this, of course, Veronica was simply the Latin form of Berenice, associated with a possibly legendary early saint. At #111 for the 1990s, Veronica doesn't feel too tied to the era. And yet, it was far more popular than it is today, when it ranks just #368.
With the letter V so stylish today, I think Veronica could make a comeback, an alternative to Olivia and Evelyn and Vivian.
What are your favorite 90s girl names? Which ones should be included on this list?