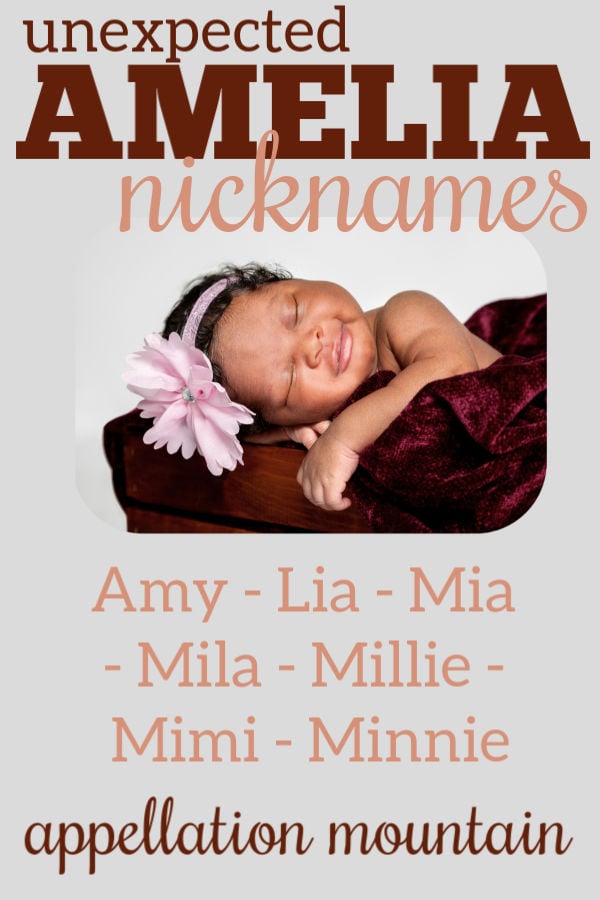 Amelia nicknames could come in handy. After all, Amelia entered the US Top 100 in 2004, and the Top Ten in 2016.
Unexpected nicknames are baked into Amelia's current burst of popularity. The name rose in use following the success of blockbuster novel-turned-movie The Princess Diaries. Meg Cabot gave us ordinary, everyday teenager Mia … who turns out to be Princess Amelia, heir to the throne of Genovia.
The vintage, high-flying name doubled in use between 1999 and 2003. That lines up with the 2000 publication of the novel, followed by the 2001 movie.
It opened the door to plenty of Amelia nicknames. So did the fame of Amelia "Minnie" Driver, who earned an Oscar nomination for Good Will Hunting in 1997 and has stayed in the spotlight ever since.
Not that you'd need to shorten Amelia. Record-breaking aviator Ms. Earhart, arguably the most famous bearer of the name, was called Meelie as a child, but known by her full name to the world. So are plenty of others.
But if you're looking for fresh ideas to shorten Amelia? This list is for you.
Doctor Who fans might immediately think of Amelia "Amy" Pond, companion to the eleventh Doctor. Of course, Amy is also one of the Little Women names, short, sweet, and complete. (Unlike Meg (Margaret), Jo (Josephine), and Beth (Elizabeth), Amy is her full name.) In our age of mini names like Ava, Amy would be a smash hit – except it already peaked, way back in the 1970s. That makes this more mom name than kid choice today, but it's still an obvious way to shorten Amelia.
LIA
The last three letters of Amelia seem like an obvious nickname option. Of course, it also feels like a full and complete name. Lia is the spelling of Leah favored in several European languages, so it stands on its own quite nicely. Another factor? Americans often say "meel-yah" or otherwise blur the last few letters – so while AmeLIA is clearly present in the name, it's not necessarily heard consistently. Still, Lia could work.
Some might argue that Mia is a stretch, the sounds just barely present in Amelia. Except. The book and movie that kick-started Amelia's revival used Mia as a short form, and that cemented the connection for an entire generation and beyond. If Anne Hathaway can transform from Mia Thermopolis to Princess Amelia of Genovia, then parents are willing to accept it as a bona fide nickname-formal name relationship.
Mila continues to rise in use, a white-hot favorite stand-alone name. But if Mia works – thank you, Princess Diaries – the connection feels every bit as valid for Amelia. Maybe more so, as the Mila sound could be a smoosh of the final syllables.
MILLIE
There are lots of formal names for Millie – more than you might guess. Some, like Millicent and Camille, seem slightly more obvious. But Millie works for Amelia, too, a sparky vintage nickname that feels connected to the same era as Amelia.
MIMI
Lots and lots of names shorten to Mimi. The strong M sound in Amelia makes it feel just connected enough to work well. Unlike Amy, Millie, Mila, and Mia, Mimi is seldom heard as a given name on its own. Whether that makes it more appealing or not is up to the parents, but it could be an appealing quality among Amelia nicknames.
MINNIE
Minnie makes my list for similar reasons that Mia earned a spot. In this case, it's Amelia "Minnie" Driver that links the two. Driver's siblings gave her the nickname.
What are your favorite Amelia nicknames? Would you use any of them?
First published on December 30, 2019, this post was revised and updated on June 3, 2020.