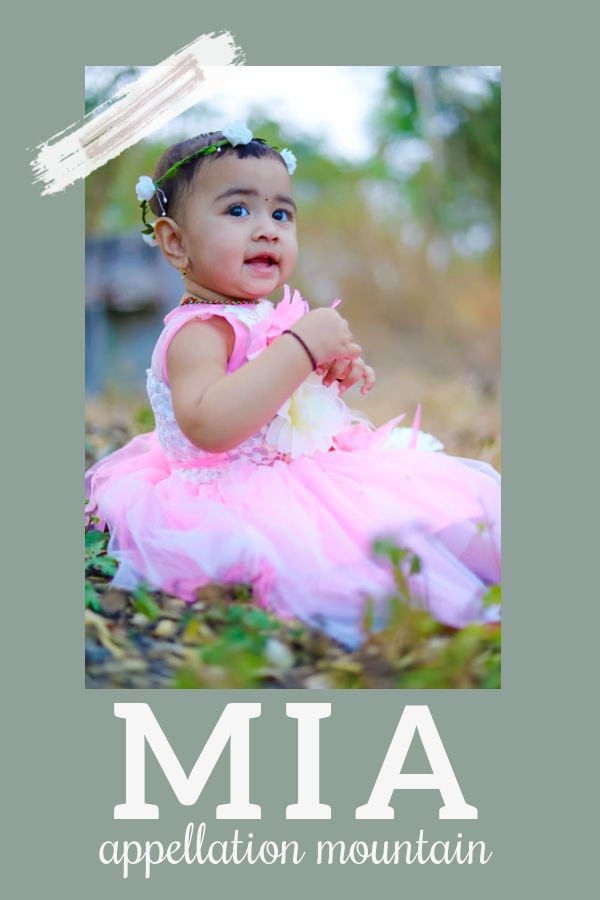 The baby name Mia fits with a minimalist aesthetic. Why take six or seven letters when you pack all that style into just three?
Thanks to Lou for suggesting our Baby Name of the Day.
MINE
In Italian and Spanish, mia simply means mine. Think of Gomez Addams referring to his beloved Morticia as cara mia.  It's tempting to run with that meaning.
And yet, history gives us a more convincing argument for the baby name Mia's origins.
MARY NAME
Oodles of names have derived from Mary. Add Mia to this list, too.
Americans rarely contract longer names to form new nicknames. But plenty of other languages delight in deriving Romy from Rosemary, Maret for Margaret.
Drop the AR from Maria, and you'll arrive at the mini name Mia. Marianna, and plenty of elaborations, lend themselves to the same trick.
Nordic Names cites the mid-nineteenth century in Sweden as Mia's earliest recorded use, so it's far from new. Given Maria's global footprint, it is easy to imagine the nickname emerging all over the world.
PEYTON PLACE

Despite so much history, most Americans probably heard the baby name Mia for the first time around 1964.
That's the year that Peyton Place debuted on ABC, featuring a young Mia Farrow as sweet, bookish Allison McKenzie. Peyton Place quickly became a sensation, a pioneering prime time soap opera decades ahead of Dynasty.
Farrow was born Maria de Lourdes Villiers Farrow in 1945. It's said that she couldn't quite pronounce Maria as a small child, and the shortened form stuck.
What's certain is that Peyton Place launched Farrow's career, and put both Allison and Mia on parents' radar as potential girls' names.
Already rising, Allison would reach the Top 100 in the next decade, and didn't slow down for years. One-L Alison climbed, too. But it was the actor's given name that really took off.
OVERNIGHT SENSATION
The baby name Mia caught on like wildfire.
It debuted in the US Top 1000 at #568 in 1964, and rose to #266 in 1965.
That's seismic. In 1960, just 52 girls were given the name. That represented respectable increase from 20 girls in 1950. But those numbers? 1964 works out to 299 births. And 1965? A staggering 1,054 girls received the name.
While Farrow stayed in the spotlight, for her acting, her high-profile marriages, and her humanitarian efforts, her given name dipped in the 1970s and 80s.
SOCCER + TARANTINO + A SECRET PRINCESS
And then came a trio of high profile uses that pushed the baby name Mia back into the spotlight.
Pulp Fiction racked up plenty of box office accolades following its 1994 release. Uma Thurman wore a black bob to play Mrs. Mia Wallace. She featured in all the movie posters, lending the name an edge.
Around the same time, Mariel Margaret "Mia" Hamm led the US soccer team to Olympic Gold in 1996. She symbolized athleticism, as well as women's achievements in sports. It's easy to imagine parents seeing Hamm as a fitting role model for a daughter.
In the year 2000, when the baby name Mia had reached a respectable #93, Meg Cabot published her first Princess Diaries novel. A big screen adaptation quickly followed, starring a young Anne Hathaway as reluctant ruler-in-training Amelia "Mia" Thermopolis. The world went wild for Genovia's heir apparent in 2001.
By 2003, the name reached #43. It entered the US Top Ten in 2009, and has been there ever since.
GLOBAL SENSATION
Like many a popular choice, the baby name Mia benefits from broad appeal. It works in Spanish, too, and a handful of pop culture references from both languages have helped increase the name's use. There's even a member of the extended British royal family: Mia Grace Tindall, one of the Queen Elizabeth II's great-grandchildren.
Beyond the English and Spanish speaking worlds, Mia has recently appeared in the Top 100 names of the Czech Republic, France, Hungary, Italy, the Netherlands, and Norway just to name a few.
MAJOR MINI
Despite coming in at just three letters, the baby name Mia packs a major style punch. It's a mighty mini name. And while your Mia might not be the only one in the room, it doesn't take away from this name's serious style.
What do you think of the baby name Mia?
Originally published March 12, 2014, this post was revised substantially and re-posted on September 18, 2019, and again on April 3, 2021.