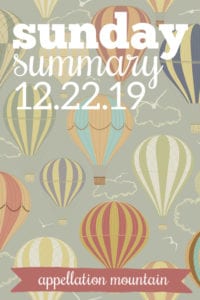 I love a good character name. There are the obvious ones, of course, like Sherlock Holmes. Indiana Jones. Ramona Quimby.
But this week I'm adding one more to the list: Amelia Wren of The Aeronauts. I've yet to see the movie, a fictionalized account of early hot air balloon flights and their impact on meteorology.
The character is loosely based on real figures from the era, male and female. But the name is original to the movie. And it's pitch perfect. The name is historically appropriate for the middle of the nineteenth century, offers a touch of the movie's steampunk sensibility, and conveys flight, with references to both Amelia Earhart and a type of bird.
Style-wise, it falls somewhere between frilly and fanciful, accomplished and strong – the perfect balance.
Heard any great character names lately?
Elsewhere online:
Love these sister names: Paloma and Saskia. Spotted in the most recent edition of British Baby Names birth announcements. Paloma's bonus middle is a real show-stopper.
Now this is an interesting question: let's say your friend used your favorite name for her child – a name she probably heard from you in the first place. Can you still use it? And if so, how do you go about discussing it? A good reminder that the topic of "name theft" isn't black and white, and some good thoughts on how to handle the issue.
The most-viewed names on Nameberry for 2019 range from the predictable (Olivia and Oliver make the list) to the surprising – Milo at the top of the boys' list? Ophelia in the top ten! And wait … is anyone really naming their sons Abraxas? I need to know more …
BBC television host Rachel Riley named her daughter Maven. Could it catch on? They're calling her Mave for short, which nods to Maeve, a name quickly rising in use. She's not the first Maven – comedian Tracy Morgan gave the name to a daughter in 2013. 81 girls and 19 boys received the name in 2018 – a new high. Even though that's still pretty rare, let's call it one to watch.
Pop culture names can take a while to catch on. I think that's easy to overlook. For every Luna, there's a Hayley. Nancy points out that young actor Hayley Mills put her unusual name on the charts way back in 1960. But it didn't peak until the 1990s, and spelling Hailey reached even greater heights in the early 2000s.
That's all for this week. As always, thank you for reading – and have a great week!