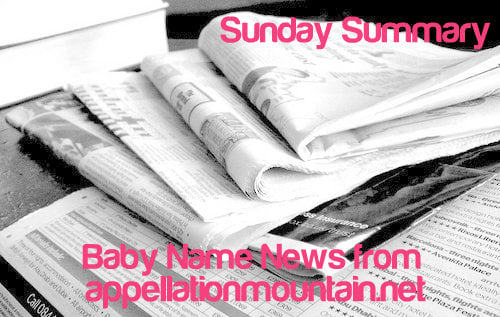 Happy Sunday!  Thanks to the Fourth of July falling on a Thursday, this is my second post of the day.  Read my first at Nameberry: India, Maven & Knute: Controversial Names in the News.
Yes, I'm talking about Katie Hopkins and the ITV This Morning controversy.  Ugly as Katie's comments were, I know what she means about shortcuts.  Like many name nerds, I can guesstimate someone's age by their name.  Some names reveal even more.  The trick is to remember that the name tells you something about where that person's life might have started, but nothing about that person's present or future.
We don't rename ourselves at 20 – or 35 or 62 or any logical age when we might have a better sense of who we really are in this world – and so our names become vestigial.  Just like an ostrich's wings, we can observe them.  But they serve no purpose – an ostrich can't fly.  But Nevaeh can earn a PhD in astrophysics.  It takes more than a superficial glance to know someone's capabilities.
Speaking of things that require more than a glance, anyone have any great resources on Jewish naming to share?  (Blogs, books, etc.?)  I made some basic mistakes in my post on Zev, and I'll be going back to try to fix them – but it occurs to me that this is a deep and rich area of naming traditions, and I'd like to learn more.
Elsewhere online:
That's all for this week!  As always, thank you for reading – and have a great week.