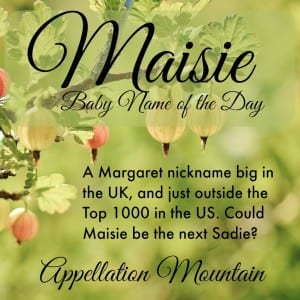 This post was originally published on December 23, 2009. It was substantially revised and re-posted on February 16, 2015.
This short form of Margaret is big in the UK, and could fit right in with Sadie and her sisters in the US.
Thanks to Laura for suggesting Maisie as our Baby Name of the Day, and to Audra, for suggesting the update!
Maisie: Short and Sweet
The enduring Margaret has many a nickname: Maggie and Meg, Peggy and Daisy, Greta, Gretchen, and, of course, Maisie.
In Scottish and Irish, Margaret became Mairead – you can listen to the two most common pronunciations here. Maisie first evolved as a nickname for Mairead.
It's also spelled Maisy and Maizie and you can probably find a Mayzee, too, if you look long enough. But this name has long been undiscovered by American parents. In England and Wales, however, Maisie has spent the last few years in their Top 100.
Maisie: Real and Fictional
There are plenty of Maisies, especially if you count the fictional:
Henry James' 1897 novel What Maisie Knew chronicles the early years of a young girl whose parents divorce and generally behave badly. It became a critically acclaimed movie in 2012.
Actress Maisie Smith played the future Queen Elizabeth I as a child in The Other Boleyn Girl and went on to appear on EastEnders.
Maisie Wylde was a character on British soap opera Emmerdale.
Maisy Mouse stars in a series of children's picture books, with friends like Tallulah the Baby Chicken.  A show based on the books aired on Nick Jr.
Dr. Seuss's Daisy-Head Mayzie is about a schoolgirl who sprouts a yellow flower from his head.
Jacqueline Winspear gave us Maisie Dobbs, a nurse in the Great War who returns to London and sets up a detective agency.
Game of Thrones also has a claim on this name, thanks to young actress Maisie Williams, who plays Arya Stark on the HBO series.
But the best known Maisie was Ann Sothern's character, born on the big screen and later given her own radio show.
Sothern's character was Mary Anastasia O'Connor, an aspiring dancer who answered to the stage name Maisie Ravier.
The fictional Maisie never quite got her big break.  But Maisie made Sothern a star.
The first film debuted in 1939.  Several big screen sequels followed in the 1940s, and migrated to CBS radio.
If you've ever uttered the phrase "Likewise, I'm sure," then you've channeled the memorable Maisie Ravier.
Maisie: Sadie's Sister
While many women might have used this short form for Margaret over the years, there's no way to know for sure.
What we do know is that Maisie was poised just outside of the US Top 1000 in 2013. 214 newborn girls were given the name – a new high.
With names like Sadie and Hattie racing up the popularity charts, it's no surprise to find sweet Maisie catching on, too. Factor in the rising popularity of Mae and Maeve, and it's easy to imagine this Mae name appealing to many parents.
Just like Molly now feels like a name completely separate from Mary, it's tough for many to connect the dots between Maisie and Margaret in 2015.
If you're after a short, sassy name less common than Lucy, with a decidedly retro feel, Maisie is one to consider.
What do you think of Maisie? Is it more of nickname, or does this name work on its own?