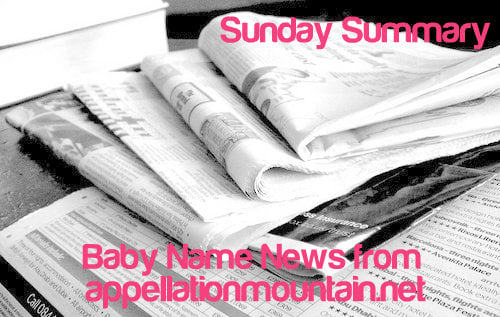 Names are all around us, aren't they?
My five name-spotting tales from this week are:
My mother, calling to tell me that my cousin had her baby.  "His name is Atticus.  I've never heard it before!"  "Mom, like To Kill a Mockingbird?"  "I don't remember that."  "Gregory Peck, mom?"  "I guess so.  Now don't tell me it's popular."  "Not common, mom, but very stylish."  I adore my mom beyond reason, but she is definitely of the school that there are normal names, and they are the ones she liked for her own children in the 1970s.
Watching the Tour de France, hearing Cadel, and remembering how much I like that name.  Remember WaltzingMoreThanMatilda's great post on the name?
I just finishing reading Glitch, a dystopian young adult novel set many years in the future.  The names are fascinating: Zoel, Maximin, Molla, Daavd, Markam.  When they rebel, they become Zoe and Max.  It's an interesting look at how names might change and evolve – just a little bit.
Running into (another) cousin, who lives in a super small town.  (My dad's hometown – the kind of place that is completely down on its luck, and yet, incredibly resilient.  My dad's cousin B. really says things like "You're family, and family is always welcome here." And completely means it.  As a jaded urbanite who fears deer and darkness, I completely love every minute here.)  Her daughter is Emerson – "I know, we chose a weird name.  But we're both teachers, and wanted to use something that we hadn't heard before."  Then I got to introduce her to my daughter, Clio.  Too bad we didn't have more time to visit – I think we could have talked about names for hours.
I'm also reading a historical novel involving the Tudors, and remembering how great some of their names were – Jasper, Owen.  That's a family tree I need to dig into sometime soon …
Spotted any interesting names?
Even if you've been locked in a closet, there are plenty online:
That's all for this week!  As always, thank you for reading.  And have a great week.