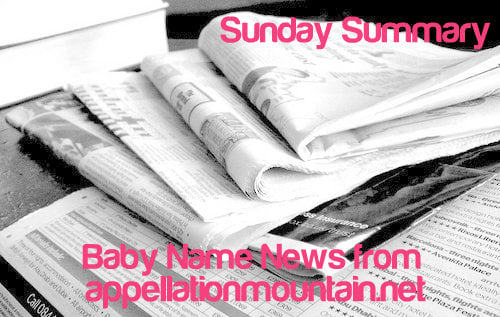 Is it me, or was there a tremendous amount of cheerful, upbeat, downright pleasing baby name news this week?  I like every celeb baby name that I heard!
Or maybe it is just the weather – Spring is finally here in Washington DC, and it has been appropriately gorgeous, to compensate for that long, harsh winter.
In any case, I'm truly delighted to talk baby name news this Sunday morning:
We're headed to a birthday party for a friend of my daughter's called Lorelai later today.  Lately, Lorelai looks like the right spelling to me – funny how that happens.
Ooh, an Eleni in the British Baby Names birth announcements from last week!  A few years ago, two couples that we knew – but who had never met each other – chose this name for their younger daughters.  I love everything about it, from the modern/traditional vibe, to the association with these cookies.
Something tells me that lots of parents are having this conversation right now.  And yes, I do think Elsa is due for a huge boost.
Fascinating to see the names that Bree is thinking about these days.
On a similar note, I so enjoyed Sophie's list of A names we're not using for girls.  Yes to Adair!
My list of favorite names has definitely evolved over time, so I can understand how this mom-to-be feels about naming baby #3.  Have your top names stayed constant?
Love this list at Name berry of ways to name a baby after you or your partner without resorting to junior.
Which reminds me – I always remembered that fashion designer Carolina Herrera had named her daughter Carolina Jr. – a very rare female junior, right?  Right!  And better yet, I found the names of Carolina the younger's children with bullfighter husband Miguel Baez: Olimpia, Atalanta, and Miguel.  Atalanta!  I found someone who actually used Atalanta!  Swoon!
This, of course, sent me seeking the names of all of Carolina Herrera the elder's grandchildren.  Daughter Patricia is married to Gerrity.  They have sons Magnus and Gerrit, and daughter Carolina.  I do like it when names are passed down through the generations.
Oh my goodness – it's Atalanta again!  Along with lots of other lovely obscurities on this list of Operatic Dramatics borrowed from Handel at Baby Names from Yesteryear.
For a very different kind of design, did you see the nursery updates from Young House Love?  New son Theodore Freeman arrived a few weeks ago, and one of the finishing touches they put on his room was adding artwork inspired by the letter "T."  So sweet!
I'm a sucker for birth announcements with names in quotes – like James Edward "Jed" and a dozen or more, found here.
I'm listening to my son in the alley outside.  He's playing with one of the neighbors, including a boy named Ellis, and correcting another kid: I'm Alex.  He's Ellis.  It's not the same name!  Seriously, you cannot win.  The names aren't remotely similar – except they really do sound a lot alike when you call them out.
And just for kicks:
Huckleberry, Apple, Honey, Blossom, Coco, Maple. All Strawberry Shortcake characters + celeb babies. Coincidence? pic.twitter.com/AbzatgN1uj

— Abby@AppMtn (@appmtn) May 4, 2014
Stand by for some exciting news tomorrow, and a little something to celebrate, too …
That's all for this week – as always, thank you for reading, and have a great week!