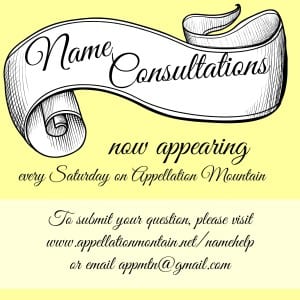 Name Help is a new series at Appellation Mountain. Every Saturday, one reader's name questions will be discussed.
We're relying on thoughtful comments from the community to help expectant parents narrow down their name decisions. Thank you in advance for sharing your insight!
AmyA is expecting baby #2 in February 2015.  She and her husband have a son named Tate.  She writes:
We loved the name Tate for a boy for years and had no other boy options. We did not find out the gender for him and if he would have been a girl we would have named him Juliette.
Now, 2.5 years later, we are really having trouble with a boy and a girl name (gender is going to be a surprise).
I loved Tate because it was not popular and easy to spell- those were my main requirements.
I feel like Juliette has risen in the ranks and it turns me off a bit.
Right now, for girls we like Jules and Liv and for boys we have nothing!
I also love Clementine, but cannot convince my husband.
My maiden name was Anderson so I thought Anders for a boy could be cute and different, but we aren't in love with it. We are stuck – we like a few but haven't stumbled upon anything we LOVE.
Please help! I want to be able to have the name picked out a few months before to make sure it sticks.
Read on for my answer – and please leave your thoughts in the comments!
This happens so often.  The first child's name is The Name – discussed for years, sometimes agreed upon since before the happy couple said "I do."  And then the second child comes along and … nothing quite lives up to The Name.
My husband and I were in this camp.  We had The Name for a girl and The Name for a boy.  We have a son and a daughter, so we used both.  But I felt a moment of true panic before we found out baby #2 was a girl.  Because no boy name could match our son's name.
Or so it seemed.
I think the trouble is this: in the beginning, the lead time to choose your first child's name can easily be a year or more.  You mull over options in a happy maybe-someday haze.  And when you find a great name, there's plenty of time to really get used to it, to elevate it from a very good name to The Name.
With baby number two?  Things are a little bit more hectic, and that timeline is compressed!  So there's less time to fall for another name.
But that doesn't mean it can't happen.  Let's take a look at siblings for Tate: first the general requirements, then brother names, and finally sister possibilities.
A Sibling for Tate: The Basics
Let's assume you want the same basic qualities that you've found in Tate in a boy's name:
Easy to spell
Not too popular
How popular is too popular?  Tate currently ranks #358.  The name is climbing, but still feels nicely uncommon.  Juliette charted at #294 in 2013, plus Juliet stood at #238.  And you've said that the name no longer feels quite right to you.  So let's assume that we're looking for something around the 300 mark and up.
For a girl, it seems like you're looking for:
A slightly tailored name, though not a gender neutral one – you like Liv rather than Ida, Clementine, not Cameron.
Length seems unimportant, but I notice that's the not a single ends-in-y/ie or ends-in-a name on your list, so I wonder if there's a preference there or if that's a coincidence?
Now, on to the names!
A Sibling for Tate: Brother Names
It's funny how often a name popped into my head, and then I realized it was really popular.  That's the beauty of Tate, isn't it?  Straightforward and instantly recognizable, but not too frequently heard.  I discarded Owen and Parker on the grounds of their Top 100 rankings.
Reed – My immediate thought.  Strong, simple, and pairs well with Tate without being too matchy or repeating that long 'a' sound.  In 2013, the name ranked #320, up 52 places from the year before.  Perfect pair, right?  The only trouble is that Reid stood at #259, also up strongly from the prior year.  Combine the two spellings, and Reed/Reid might feel too common – and the potential spelling confusion is something you've avoided with Tate.  Still, they sound so good together that I'm leaving Tate and Reed on the list.
Heath – Why Heath isn't more popular today?  We love nature names and short names, too.  Plus, Heath has a certain cowboy vibe – credit long-running television Western The Big Valley for that vibe.  In 2013, Heath ranked #862 – very under-the-radar.
Bram – Yes, as in Stoker.  Maybe that makes Bram a tiny bit Goth.  And Bram might be mistaken for Bran, as in flake and Game of Thrones.  But this name is huge in the Netherlands, and with Abraham and Abram catching on, Bram might be ready for his moment.
Zeke – I'm still stuck on Reed, partially because that long 'e' sound stands up to Tate's long 'a' sound so nicely.  That got me thinking about Zeke.  The vibe is a little different – polished, modern Tate, and throwback Zeke.  But it's a real possibility, a name that ranked #855 in 2013 – about as rare as Heath, though thanks to the popularity of Ezekiel, you might hear more of this one.
Royce – Royce had a good run in the 1930s.  We often talk about the 100 Year Rule – baby names come back into fashion about a century after they last peaked.  It's not always true, but if it is, Royce is just about ready for rediscovery.  The name charted at #518 in 2013.  It probably brings to mind luxury car Rolls Royce, but it actually comes from a Germanic element meaning fame.
Neil – Stay with me.  Neil ranks #623 and is currently falling.  And I get that thanks to Neil Armstrong, this one feels more like the grandpa than the baby boy.  But … Neil Armstrong!  Neil Young!  And I know a brand new baby boy named Neil for exactly the reasons you chose Tate – uncomplicated, but not common.
Foster – Of course, there's no need to stick with one-syllable names.  Foster has the same preppy-but-approachable vibe that I like about Tate.  Credit Foster's Home for Imaginary Friends, a Cartoon Network series from the last decade.  Foster made a big jump to #937 in 2013, but that's still not Mason.
Lawson – Surname name Lawson comes from the classic Lawrence – as in 'son of Lawrence.'  At #510, Lawson isn't very common – and yet, it feels familiar and is easily spelled and instantly recognizable.  Tate and Lawson … yup, they sound like they'd be brothers.
A Sibling for Tate: Sister Names
I thought I had the perfect name.  Mila.  It popped into my head and said, "Yes, I'm Tate's sister.  Nice to meet you."  Only when did Mila break into the US Top 100?  Quinn, another early thought, is #118.  So let's drop them both from the list and move on …
Sloane – Sloane strikes me as the feminine equivalent of Tate.  I could believe them as bankers or artists – flexible, modern names that still feel like they have history and meaning.  Sloane ranked #405 in 2013, and while this name has caught on quickly, that's still a good match for Tate in terms of popularity.
Lena – And yet, I think you might prefer your girls' names a little more feminine.  If Mila is out, how about Lena?  The name ranked #331 in 2013, and thanks to Girls' Lena Dunham definitely has some buzz right now.  It's the kind of name parents don't often think of, even as we shortlist Ella and Mia.
Gemma – Maybe it's the Tate Modern that makes me think of Tate as ever-so-slightly British.  Gemma has always been more popular in the UK than the US, but that could change.  As of 2013, Gemma ranked #315 in the US.  Jemma is heard, too, and yet, this name still feels relatively rare.
Colette – Another name that parents don't seem to think of, even as we embrace Scarlett and Juliet.  Originally a French form of Nicole (add an -ette, then drop the first syllable), Colette stands nicely on her own today.  In terms of popularity, Colette ranked just #608 in 2013.
Odette – Or … Odette?  There's the whole Swan Lake connection, which makes Odette more familiar than it would otherwise seem.  Another French -ette name, this time a form of Otto.  And Odette is completely outside of the US Top 1000.  Here's a whole list of -ette names.
Coraline – Dad says no to Clementine, but maybe another -ine would work?  Coraline has a lot of positives – the quirky Neil Gaiman story and movie means that we recognize the name, and see it as distinct from the classic Caroline.  All of the Cora- names are gaining, with Coraline at #714.  Tate and Coraline, Coraline and Tate … I think it works nicely.
Olive – You've mentioned Liv, and I'll admit that I'm tempted to root for Liv and Tate – they sound great together!  But if it feels like not quite the name, would Olive appeal?  Olive is as tailored as Clementine and Juliette, but slightly more feminine than spare Liv.  At #291 in 2013 and climbing, Olive is slightly more popular than Tate, but still far from overused.
Neve – Another slim, trim girl name, made familiar by actress Neve Campbell.  Ms. Campbell rhymes her name with rev, as in revolve.  But you'd probably hear quite a bit of rhymes-with-Eve, too – and since Neve is sometimes an Anglicized version of the Irish Niamh, that's not unreasonable.  Which is to say, you'll need to choose a pronunciation and stick with it – possibly a drawback after the uncomplicated Tate.  Pretty rare by US standards – Neve doesn't crack the Top 1000.
Rose – Yes, plenty of little girls have Rose as a middle name – it's the Anne of our age.  But Rose ranked #224 as a given name, meaning that girls actually answering to Rose are much less common.  Tate and Rose, Rose and Tate.
Wren – Except Rose strikes me as the tiniest bit too vintage, at least for your husband, since he's not on board with Clementine.  In which case, may I suggest the avian Wren?  Currently #806, and likely to rise.  But that makes her a good match for the on-trend Tate.  More slim, trim girls' names can be found here.
Hmmm … I think the challenge with girls' names is that you really can go almost any direction.  I'm tempted to suggest Edie and Juno and Coco – especially Coco! – but I think those aren't quite the right fit.
And so let's open it to others – readers, what would you name a sibling for Tate?  Would you keep it short and sweet, or choose something more elaborate?