Name Help is a series at Appellation Mountain. Every Saturday, one reader's name questions will be discussed.
We're relying on thoughtful comments from the community to help expectant parents narrow down their name decisions. Thank you in advance for sharing your insight!
Liz writes:
My husband and I are expecting our first baby, a daughter, this May. It is my name-loving dream to get to name a girl, and we have a list of names that I think I could love. I just don't love them yet.
I think for me to fall in love with a name, I need to see it in completion — meaning I need to love the entire first-middle-last combo.
I am looking for a balanced, complementary, striking, birth-announcement/hashtag-worthy first-middle combination that flows well with our last name: Nav@rro (accent on the second syllable).
I am hoping that you and your readers can help me uncover a hidden gem combination buried somewhere within our style or lists.
First names we like include (but are not limited to):
Lucy (Current front-runner)
Georgia
Nora
Juno
Phoebe
Isla
Hazel
Violet
Rose/Rosie
Mila
Piper
Elliot (Ellie)
Zoe*
Isabel*
Harper*
*Probably too popular for me to love.
Middle names are less defined. Some I've considered include:
Rose (My mother and I share this middle name, but it's become so expected in the middle spot. I would like to explore substituting other flower, nature, color, or word names here.)
Hazel
Violet
Elizabeth (my name)
Isabel
Alexandra/Alessandra/Alessia (my husband is Alexander)
Florence (This is the city where my husband and I met, but I don't love the sound. I'd consider other variants, Italian cities, or Italian words or names.)
Wilder (I just like the spunk and the sound and the literary connection. Any and all literary influence is welcome.)
I'd like whatever middle name we choose to balance or even juxtapose the first name. For example, if the first name is short, I prefer a longer middle. If the first name is popular, I'd like to balance it with an unexpected middle. I also enjoy surprising contrast in sounds or tone. (Some of my Instagram baby name crushes include Lucca Valentine, Goldie Isabel, Rooney Jane, and Francesca Rose.) I'd like to avoid filler middles (no Lucy May or Hazel Ann) or overused combinations. Since our last name starts with "N," middles like Quinn and Wren, though I love them, don't sound right to me.
I appreciate any feedback or suggestions you or your readers may have.
Read on for my response – and please leave your thoughtful suggestions in the comments!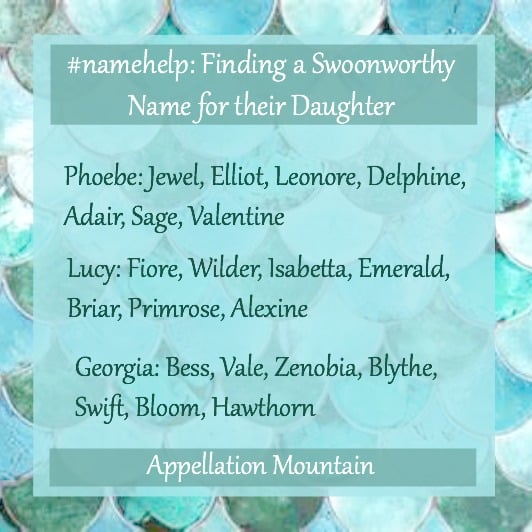 Hi Liz –
I know exactly what you're talking about! But it is hard to describe, isn't it? Some combinations are just sparky. I might not notice the first name or the middle name on their own, but when paired together? I find myself saying "Ooooh …" when I hear it.
There are definitely Ooooh-worthy combinations to made from your list. But it's a long list, isn't it? I wonder if we should narrow it down a little more.
Popularity can be a good way to eliminate possibilities, but it seems like you've already identified Zoe, Isabel, and Harper as a little too familiar – and I think you're right.
Instead, I'll choose three names from your list to work with, and trust that the community will have other combinations to suggest!
First Names: Three Strong Candidates
Lucy – I would have kept it because it's your frontrunner.
But then you mentioned that you and your husband met in Florence. Maybe you already know this, but if not, you need to drop everything and watch 1985's A Room with a View. Or you could read it, but I think the gorgeousness and romance of Florence comes through in the movie. (Okay – I've never read the book!) Anyway, it's all about young Lucy Honeychurch – played by a young Helena Bonham Carter – falling in love in Florence! EM Forster wrote the novel in 1908, and the story takes place around the same time. This makes me think that Lucy is your Florence name.
Phoebe – I think Phoebe hits the right note in terms of popularity – it's in the current US Top 300, and rising – but it's far less common than Zoe.
Georgia – So many of the names on your list are rich with potential. But many of them are around/near the US Top 100. I don't think that should be a deal breaker. But Georgia is around the 250 mark, making it a great name that's still relatively uncommon.
Combinations: 21 Ideas
Let's start with Phoebe:
Phoebe Jewel – I think this name sparkles! I find the initials PJ pleasing, but I wonder if Jewel is too out there for you?
Phoebe Elliot – It's a very feminine first with a more conventionally masculine middle – a combination that wears well, I think. One other thought: go with Phoebe Eliot, and it's a nod to writer George Eliot.
Phoebe Leonore – The lion is the symbol of Florence, so nearly any Leo- name could work in the middle. Leonore appealed to me because you have Nora on your longer list. I also think the repeating 'r' sound in Leonore and your surname works well.
Phoebe Delphine – Maybe it's the repeating 'ph' that makes this such an intriguing combination. Delphine means from Delphi, as in the Greek oracle, but in English it also means "of dolphins." The dolphin was the symbol of a powerful Florentine family, who ultimately lost a powerful struggle with Lorenzo de Medici. Dolphins can still be found throughout the city. Probably a stretch, but still an appealing combination! PS – I think the n-N conflict between middle and last names works here, probably because it's del FEEN.
Phoebe Adair – Dare is a rare name for girls, and a surname, too – but I think I prefer Phoebe Adair. Adair is another surname, but contains the same sound as dare – making it a bold choice.
Phoebe Sage – Another nature name possibility, since Sage is an herb. But it also means wise, which makes it a doubly appealing possibility. And I have a soft spot for the initials PS.
Phoebe Valentine – You mentioned loving this name on Pinterest. It's one of my favorites, too – a middle name that's a little bit frilly and romantic, but still tailored and sharp.
Now, on to Lucy:
Lucy Fiore – Lucy already has ties to Florence, but here's another: the Cattedrale di Santa Maria del Fiore – Mary of the Flowers – is the city's cathedral. Fiore sounds fiery, but it actually botanical. And, of course, Florence and flower share etymological roots. One drawback: I say it fee ohr AY, which feels more Italian, but it might be tough to say in English.
Lucy Wilder – Pairing the more traditional Lucy with the unexpected Wilder makes for a great combination.
Lucy Isabetta – I've seen Elisabetta and Isabella listed as Italian forms of Elizabeth, but I wonder if Isabetta works better with Lucy? I've found Isabetta in more than one place in medieval Italy, so it seems like a possibility.
Lucy Emerald – The birthstone for May is the Emerald.
Lucy Briar – If Rose is a family middle name, how about Briar? It brings to mind Briar Rose, of fairytale fame, but also wild rose bushes.
Lucy Primrose – Just a little twist on Rose, but one that makes the name much bolder.
Lucy Alexine – There are so many options presented by your husband's name – including gorgeous Italian choices like Alessia and Alessandra. Alexine is more traditionally Scottish, and yet I wonder if it's the not the better Alex- name for Lucy Nav@rro. There's also Lucy Alexis, which could be great – but I wonder if Alexis feels too dated and Dynasty?
And lastly, Georgia:
Georgia Bess – I wonder if you'd consider a different form of Elizabeth as a middle name? There are oodles, of course, but I like the retro, unexpected feel of Bess.
Georgia Vale – You don't mention if you're due in early or late May, and this suggestion might not be ideal if your daughter arrives on April 30th or June 2nd! But the birth flower for May is the lily of the valley. Georgia Lily sounds like a type of flower, but I think Georgia Vale is an Ooooh-worthy pick. Vale is a poetic word for valley, but it's not a super-obvious nature name. One more reason to love a reference to the flower? In the Victorian era, including lilies of the valley in a bouquet meant "you have made my life complete."
Georgia Zenobia – Is this too much name? It seems like you might prefer something a little more spare. But here's why I have Zenobia on this list: one of the patron saints of Florence is Saint Zenobius, the first bishop, so it's a nod to Florence. But Zenobia is also a gorgeously literary name, thanks to Nathaniel Hawthorne's The Blithedale Romance. And the name's roots are ancient – it refers to the Greek god Zeus, and was worn by a third century queen who took on the Roman Empire.
Georgia Blythe – Speaking of blithe, how about Georgia Blythe? It means happy.
Georgia Swift – So many word names sound wrong with Georgia! But I wonder if Georgia Swift works? It's a bird, of course, but also brings to mind Jonathan Swift, making it literary. And, okay, Taylor Swift. Still, it's an energetic and unexpected middle.
Georgia Bloom – One more floral-esque possibility, though it's pretty bold: Georgia Bloom!
Georgia Hawthorn – I think this might be my favorite with Georgia! Hawthorn is often called the may blossom, making it a nature name. But it also brings to mind Nathaniel Hawthorne, which makes it literary. It's not actually the name of a plant, and I don't think it feels like one – at least, not in the way that Georgia Rose or Georgia Lily might.
It's hard for me to choose my favorites – there are just so many Ooooh-inspiring choices! I like Georgia Hawthorn and Georgia Vale quite a bit, but also Phoebe Delphine. And it's hard to resist the idea of Lucy as your daughter's name, what with the Florentine connection. Lucy Wilder and Lucy Fiore are my favorites from that list.
Okay, readers – this is a big, fun challenge! Can you dream up some more swoonworthy combinations for Liz and her husband to consider?