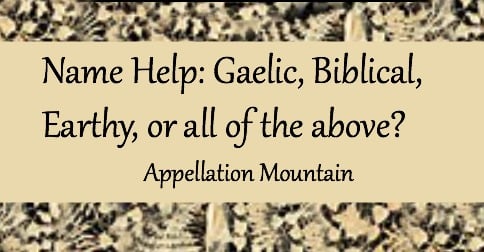 Name Help is a series at Appellation Mountain. Every Saturday, one reader's name questions will be discussed.
We're relying on thoughtful comments from the community to help expectant parents narrow down their name decisions. Thank you in advance for sharing your insight!
New Mom writes:
We are welcoming our first child and are struggling to find the right name … or even where to begin in considering the whole universe of names out there.
We like:
Gaelic names, as my family heritage is Irish and Scottish. My biggest concern with this is the spelling issue.
Very earthy/hippy names for girls.
Less common Biblical names for boys.
Names we are considering:
For a girl, Saoirse or Imogen. We've also talked about Fern, Juniper (does not work with our last name), and Hazel, but we aren't quite sold on them. Finally, we keep coming back to Rosaline or Rosalind.
For a boy, my husband really loves Tadhgan or Tadhg. I like both names, but am a bit nervous about the Gaelic spelling in an American context. We also like Gideon, and have talked bout Ezekiel and Jude, though neither of those feel quite right.
For a girl, the middle name will likely be Kate or Katherine, as it is a family name. For a boy, the middle name will likely be Michael, after my husband.
The last name is three syllables, begins with Mc and ends in -er.
Any suggestions to help us narrow our casting net among the broad universe of names would be super helpful and extremely appreciated!
Hi New Mom –
Congratulations on your baby on the way!
Naming can be like swimming. We recognize that the water is deep, but it doesn't much matter until it's time to dive in! And so it is with naming. It's wonderful and glorious that there are so many names, until you have to narrow to just one.
The good news is that you and your husband are on the same page. While you might not agree on The Name yet, it feels like you share similar tastes and the same style overall. That's half the challenge for many families!
Instead of talking about names, let's take a step back and talk about the qualities you would like in a name. The best point of reference is usually to think about your own name, and the qualities that you appreciate, and those that you might prefer to change.
Familiar versus unusual (over the past fifty to seventy years or so)
Popular versus rare (in terms of your child's peers)
Easy to pronounce versus takes challenging
Nickname-rich versus nickname-proof
Long and elaborate or short and straightforward
It seems like you're leaning towards unusual and rare – names that weren't common when you were growing up, and names that your children likely won't share with our kids their age. But that's not entirely true – Hazel and Jude, for example, are pretty mainstream for children born today, though they weren't common twenty or thirty years ago.
I'd also guess that you prefer nickname-proof names, though again, I can imagine Rosalind answering to Rosie and Ezekiel becoming Zeke.
But the million dollar question is the spelling/pronunciation issue.
To be completely honest, I struggle with names like Tadgh and Saoirse. I recognize them, and can spell and pronounce them – but I do pause when I see them and have to think for a second.
This is not the end of the world. To some degree, any unusual name will invite hesitation. And these names do reflect your heritage, so there's good reason to consider them.
I'd encourage you to spend some time with the questions, because your answers can help narrow your search. As for suggestions, I'm going to look for names that overlap – Biblical boy names with a tie to Ireland, for example, as well as names that address the question of authentic Irish spellings versus the potential headaches.
Now, on to the names!
Names for Boys
Teague – One option is to choose a great Gaelic name with an Anglicized spelling. Tadhgan becomes Teagan, which is more popular for girls in the US. (Probably thanks to the success of Megan and Reagan.) But Teague is an appealing possibility – easier to say and slightly easier to spell, too. It's nickname-proof. While it's rare as a given name, the strength of surnames is that they still feel familiar. In this case, Teague becomes teeg, with a long 'e' sound. I've also seen Tighe, which makes the name sound like the first syllable of tiger. It sacrifices some – but not all – of the Irish heritage appeal of Tadhg, but might be less problematic.
Phineas – Of course, you could consider nearly any Finn name, because, well, it doesn't get more Irish than Finn McCool. But I chose Phineas especially because it could bridge the quirky Biblical/Irish heritage divide.
Malachi/Malachy – Malachi is an Old Testament name. Malachy is an Irish name – influenced by the spelling of Malachi. Like Phineas, it strikes me as a both-and choice.
Cillian – There's no Biblical tie to Cillian, but it's an Irish name that is easy to pronounce in English. It's popular in Ireland today. Americans tend to favor Killian.
Rory – I almost suggested Rufus, except it's Latin and not really tied to any of your themes. Rory, on the other hand, is a handsome, Irish, underused possibility.
Names for Girls
Rose, Rosalie, Roisin, Rosamonde – I love Rosaline and Rosalind. Both are literary and feel traditional – though neither has ever been common. And yet, I wonder if another Rose name would rise to the top of your list? There's the Irish Róisín, but it sounds more like Rosheen, which sacrifices some of the Rose sound. And, of course, there's just Rose.
Anya, Orla – Just like Tadhg/Teague/Tighe, there are some options for girls' names that are authentically Irish, but easily Anglicized. Anya is the typical English form of Aine, and Orla is common for Orlaith. Both feel underused in the US, though since Anya is also used as a Slavic form of Ann, I think Orla is the more distinctively Irish of the two.
Maeve – Maeve is authentically Irish and works in English without respelling. That's probably why it's catching on with families looking for an authentically Irish name that works well in the US.
Clover – Clover could be perfect! But I think it's going to clash with your last name.
Belle – This might be a stretch, but Clover made me sonde about other flowers associated with Ireland. There are Bells of Ireland, but also the Scottish bluebell. I almost dropped it from the list, but it does remind me of the equally brief Fern.
Favorites
I really like the idea of Tadhg, though I think respelling the name Tighe or Teague, depending on your preferred pronunciation, is worth consideration.
If you're open to the idea of nicknames, then Phineas called Finn might be a best of both worlds solution.
Overall, Imogen Kate is my favorite combination from your girls'  list. It seems beautifully British, a mix of literary and broadly Gaelic names. While Imogen has never been popular in the US,  I think it's on the right side of the familiar/obscure divide, and will wear well.
Maeve Katherine is my second choice. It's obviously Irish, but easy to say and spell, which might be less true of Saoirse. Though I don't think that Saoirse is unwearable – and with the popularity of the talented Saorise Ronan, it might be absolutely no problem at all.
Readers, what would you suggest to New Mom? Are there any great Irish-earthy or Irish-Biblical crossover names I've missed? And I'm especially curious to know what you think of names like Saoirse and Tadhg – are they difficult in the US, or not such a big deal?