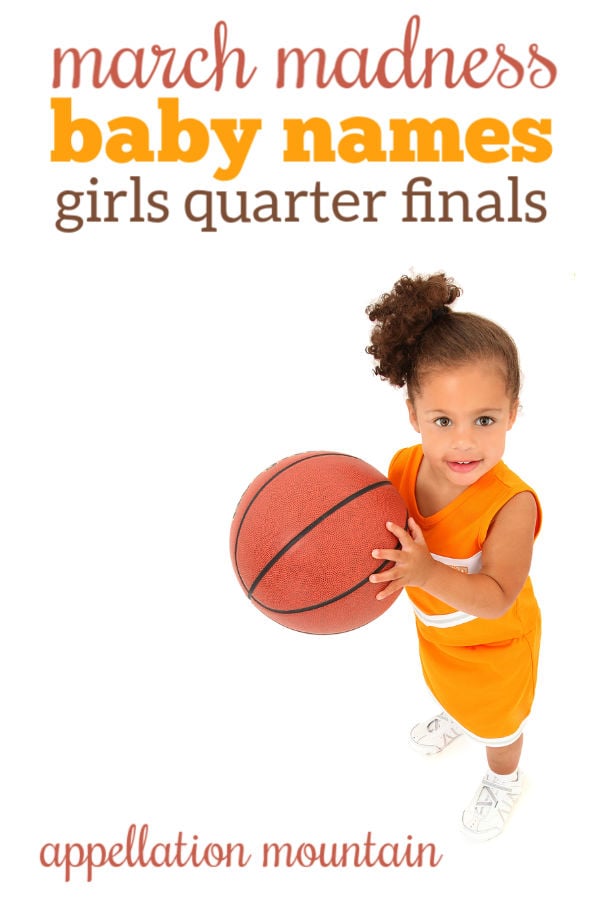 March Madness baby names has never been so exciting!
The girls' opening round ended with an actual, vote-for-vote tie in one of the contests.
Some of the results surprised. Others turned out exactly the way I'd imagined.
Now it's your turn to vote once more. But before we get to it, let's review the results from the Opening Round.
Emmeline squeaked by Maisie by just a handful of votes. (This is the contest I had to re-open!) For a while, it was tied, vote for vote.
With nearly 66% of the vote, Faye also advances, beating out Noa.
Esme brought in a solid 67% of the vote against Lumi, moving forward to the quarter finals.
Tess defeated Marlowe with almost 65% of the vote.
In one of the biggest defeats of the entire contest so far, Juniper pulled in just over 86% of the vote against Zuzu.
Botanical Marigold earned nearly 68% of the vote to move forward, leaving Persephone in the dust.
With just over 61% of the vote, sleek Sloane leaves elaborate Andromeda in the dust.
And the last contest gives us the most impressive victory so far: Vera brought in nearly 79.5% of the tally, against invented Evolet.
And so now we have our eight names that advance to the quarter finals!
We're looking for your favorite in each of the match-ups. Define favorite as you like: the name you'd be more likely to give a child, or maybe the one that you'd be most thrilled to hear in public.
Past winners go back to 2011: Louisa, Genevieve, Isla, Cora, Sylvie, Wren, Eliza, and Margot. (If you're thinking that the numbers don't quite add up, you're right. Cora won back-to-back victories 2014/15, so we decided that past winners can't defend their titles in future years.)
Got all that? It's time! Voting is now open for March Madness Baby Names 2020: Girls Quarterfinals!
EMMELINE V. JUNIPER
FAYE V. MARIGOLD
ESME V. SLOANE
TESS V. VERA
Voting stays open through Thursday, March 19th. Check back on Saturday, March 21st to see which names advance. And, of course, to vote for your favorites in the SemiFinals!