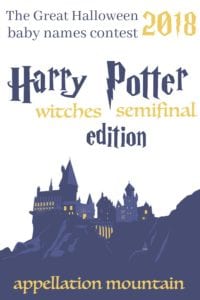 Last week, we kicked off this year's Great Halloween Baby Names contest. Now it's time for the Great Halloween Baby Names 2018 SemiFinals: Harry Potter edition. This contest is for the names of witches; check back later today for the wizards' semifinal round.
All of our names are drawn from the witches and wizards that we know and love from the original seven-books series. But it's not about choosing our favorite character. That's much too difficult! Besides, JK Rowling chose amazing names for heroes and villains alike.
Another bonus? You don't need to know a thing about the series to cast your vote. We're not looking for the best character – though it's hard to overlook, of course – we're just looking for the name that you love best.
Let's take a quick look at last week's results:
Luna came out on top, with 12% of the vote, with Rowena close behind.
Minerva ranked third, at 11%.
Ginevra and Hermione both garnered 10% of the vote.
Botanical names Lavender and Poppy claimed 9% each.
Sybill rounds out our slate, with 8% of the total.
Andromeda, Bellatrix, Fleur, and Rosmerta don't advance.
The winner of each new match-up advances to the Quarter Finals next week. On October 31st, we'll learn the most popular witch and wizard names, and they'll share the title of Halloween Baby Name of 2018.
Expecto appellation!
Witches of Harry Potter: Luna v. Sybill
Quirky and fearless Luna faces the mystical – and occasionally clairvoyant – Sybill.
Witches of Harry Potter: Rowena v. Poppy
The legendary founder of Ravenclaw House takes on the indefatigable Hogwarts school nurse.
Witches of Harry Potter: Minerva v. Lavender
Iron-willed Professor McGonagall faces Gryffindor and DA member Lavender Brown.
Witches of Harry Potter: Ginevra v. Hermione
The future sisters-in-law both have great names! But only one can advance …
There you go! Just like the Triwizard Tournament, less a few dragons, portkeys, and maybe a golden egg or two.
Voting will stay open until Thursday, October 18th. The results will be posted with the Quarter Finals round, beginning on Saturday, October 20th.