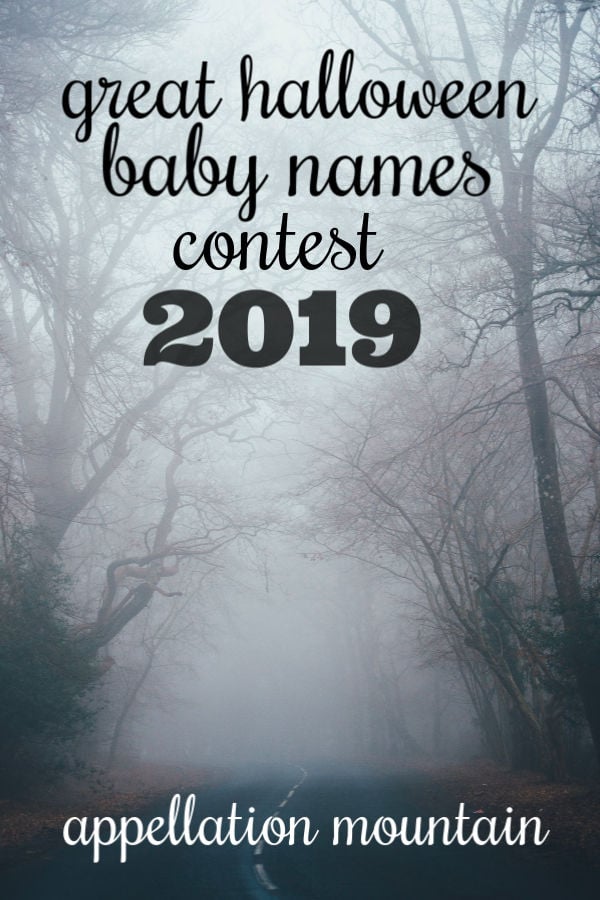 The votes are in for the opening round of the boys' Great Halloween Baby Names Contest 2019!
As with the girls' contest, there were some serious surprises … and a few expected outcomes, too. AM readers aren't shy about favoring a more obscure name over a mainstream chart-topper, and that tends to come out in these competitions.
Now it's time for the SemiFinals, and this time each contest has THREE names vying for a spot. I know, it's just too hard! But these choices are never easy. Before we move on to the voting, let's review the opening round results. As a reminder, all the entries in this year's Great Halloween Baby Names Contest come from the television series Vampire Diaries and its spin-offs. But votes don't necessarily reflect affection for a character – it's all about the names here.
Here's what happened last week:
Lucien toppled Kai, with 52% of the vote. That's a big upset, since Kai ranks just outside the current US Top 100, and Lucien doesn't even register in the Top 1000.
I expected this one: Beau took nearly 76% of the vote versus Kol. I suspect the unorthodox spelling hamstrung Kol. Beau versus Cole might've been much, much closer.
Finn swept up almost 54% of vote against Alaric. While Vampire Diaries has boosted the Gothic Alaric, it's still relatively uncommon. Finn, on the other hand, just keeps rising, an Irish name made famous by a Star Wars hero.
Enzo scored nearly 58%, a decisive win over Dorian. But I wonder if the recent destructive storm has changed parents' minds about the potential Julian-Adrian successor?
The romance language Rafael garnered nearly 57% of the vote, leaving the Irish Kieran in the dust.
Literary Atticus trounced cowboy Cade, with close to 64% of the votes.
A few unexpected outcomes in the opening round are … well, to be expected. So let's move on to the SemiFinals.
LUCIEN, FINN, OR RAFAEL?
The French Lucien, Irish Finn, or Spanish Rafael? They're all romantic, dramatic, even heroic kinds of names, but only one can get your vote.
BEAU, ENZO, OR ATTICUS?
All three names are up-and-comers amongst American parents right now. That makes this round especially tough!
Voting remains open through Thursday, October 17th. Check back next Saturday to see which names advance to the final round – and, of course, to pick your favorites!