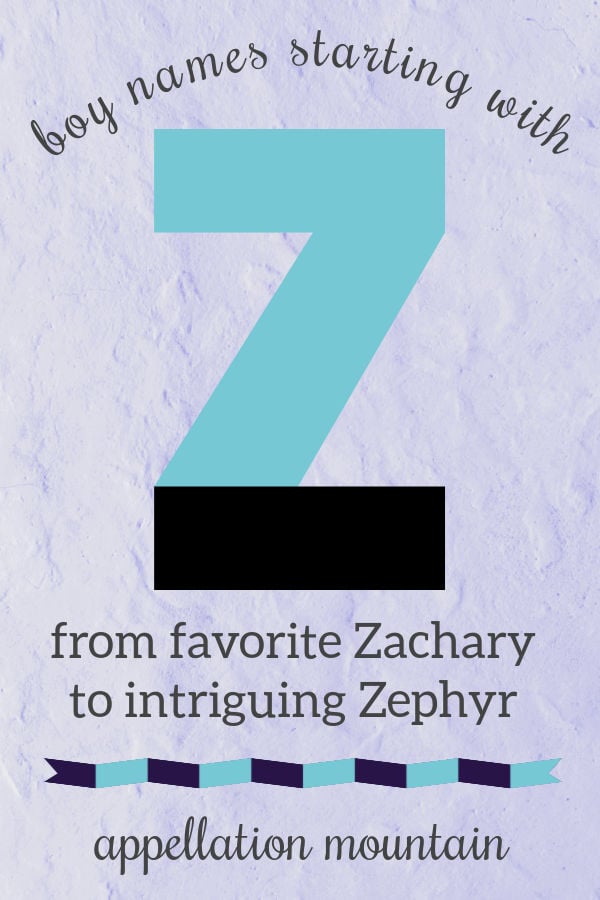 When it comes to boy names starting with Z, we all get the appeal.
The letter Z feels effortlessly cool. It's just a little bit different. While it may fall at the very end of the alphabet, there's something about the letter and the sound that commands our attention.
Zorro used just the Z as his mark. And Z can transform a more conventional sound – just ask the parents of Zayden.
And yet, if you're into classic names, there are several that satisfy both requirements – all of the edge of the letter Z, but plenty of roots and tradition, too.
Add it up, and Z names for boys represent some extremes: the invented and trendy, the enduring and deeply rooted.
It's a smaller list than many letters. A relatively small pool of names means that Z ranks 19 out of 26 on the list of most popular initials for boys' names. (In other words, not very.) But maybe that just adds to the appeal.
MOST POPULAR Z NAMES FOR BOYS
ZACHARY (#124)
A name both cool and traditional, Zachary is the typical English version of the Old Testament staple, Zechariah. It means "God remembers."
ZION (#154)
Seldom heard until the late 1990s, Zion can refer to Jerusalem … or heaven.
ZAYDEN (#194)
Take Aiden, add a Z, and the result is this twenty-first century name.
Multiple origins and meanings attach to Zane. One familiar reference: legendary author Zane Grey, known for his depictions of the American West.
ZANDER (#276)
Xander comes from the last two syllables of Alexander. Zander makes it a little more phonetic.
ZAYN (#340)
Zayn means beauty in Arabic. It owes its popularity to two things: first, the crossover appeal, as it is so close to established English name Zane. But the name's sharp rise is likely down to singer – and One Direction alum – Zayn Malik.
ZAYNE (#406)
A little bit Zayn, a little bit Zane.
ZAIDEN (#457)
Another possible spelling of Zayden.
A Zachary name slightly closer to the original Hebrew Zechariah.
ZYAIRE (#525)
The Democratic Republic of Congo was formerly known as Zaire. Voltaire used Zaire as a feminine name; but the country's former name came from a Portuguese take on a native phrase. While Zaire is nearly as popular as a boy's name in the US today, Zyaire is more popular. Perhaps it seems slightly more phonetic?
OVERLOOKED Z NAMES FOR BOYS
ZACCHEUS (unranked)
An unexpected Zac- name, it's spelled Zacchaeus in the New Testament.
ZAHIR (#935)
An appealing Arabic name with a strong meaning: supporter.
ZAKAI (#906)
The name of a minor Old Testament character, Zakai – also spelled Zaccai – means pure.
ZEBEDEE (unranked)
This name is just plain fun to say! It comes from Zebadiah, an Old Testament name.
One of Jacob's sons in the Old Testament, Zebulon has a long history of use. If you've been to Pike's Peak in Colorado, you might know that it was named after American army officer and explorer Zebulon Pike. Well over a dozen counties and other places are named in his honor, too.
ZEKE (#654)
Originally short for names like Ezekiel, Zeke fits right in with brisk, bold boy names like Cole.
The west wind in Greek mythology, Zephyr sounds like lots of two-syllable, r-ending boy names popular now … and yet, it's a little different, too.
ZERAH (unranked)
An Old Testament name with a great meaning: shining.
Zev means wolf in Hebrew.
A traditional Hungarian name, Zoltan might have been derived from the title sultan.
What are your favorite boy names starting with Z?