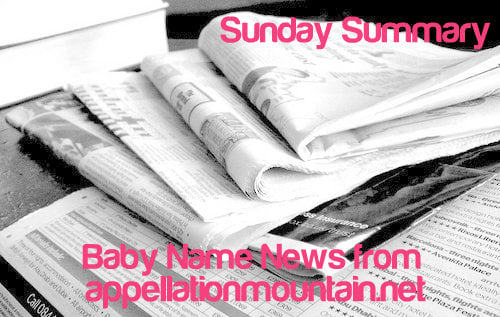 I stumbled on this quote in The Mermaid of Brooklyn, a novel by Amy Shearn:
Mothers and nannies called to their children – "Cassiopeia!"  "Scorcese!" – a chorus of unfortunate displays of creativity.  The other day I'd met a toddler named Curly.  "Curly what," I'd said, feeling like my mother.  "Just Curly," the mom had explained placidly.  I couldn't stop myself.  "Like the Stooge?"  There were days when my neighborhood made me want to slam my head against a historically accurately restored brick wall.
The main character has daughters named Betty and Rose.  Other kids are Emma and Maude, Aidan and Isabelle.  It's an intriguing story, and I do love it when a writer gets the name exactly, pitch perfect right.
Elsewhere in baby name news:
Alejandro and Lucia are the top names in Spain.
Butterfly names are in the spotlight over at Bewitching.  (Confession: I am completely creeped out by butterfly gardens.  It's not the insect part – I'm reasonably zen about bugs.  Something about how they get an exception to being considered bugs, maybe?  It feels dangerously duplicitous.)  Anyhow, her list of name is gorgeous.  Gossamer seems like one of those wacky middles that would punch up an expected first: Ava Gossamer, Elizabeth Gossamer.
I'm quite fond of Fletcher, and how nice that he has ties to Australian history.
An interesting conversation from Lisa.  My first instinct is to say "no, don't make your baby's name."  But that's too easy an answer.  There's lots to think about – and certainly lots of parents who are taking this approach.
Amazing how much the fierce and floral Tigerlily is growing on me.
Isn't English Anne a surprising name?  First there was Moroccan, now English?  Are there other ethnonyms or demonyms that could be used as given names?
Do you watch AnastasiaRuby's YouTube channel?  By the way, I think Everly to honor a Beverly is very clever.
I'm not at all interested in the music the Hanson brothers make, but I'm charmed by their children's names.  I might not buy their music, but I would pay to eavesdrop on their baby naming deliberations.  And now there's yet another next generation Hanson on the way …
From the wayback machine: Odessa in 2008 and Maurice in 2009.  Amedeo took center stage in 2010, followed by Hendrik in 2011 and back in 2012, I wrote about June.  I think Odessa is easily my favorite from that group.
What wild choices from 1912 at Kelli's blog!  Loving Noble, Walker, Foster, Dock, Easter, Daisy … and check out the unexpected gender neutral choice, Ivy!
Thoughts on regional spelling and pronunciation challenges at Spastic Onomastic.  I get it – I come from a part of the world where A and O can be confusing.  (I grew up drinking Flahrida ahrange juice.)  But does it make a difference?  Most people aren't aware of their accents, and they're not likely to overcome them because you've changed the spelling of your child's name.  I think.  Do you live in a part of the world where parents have tried changing the spelling to influence the pronunciation of a child's name?  Is it successful?
That's all for this week.  As always, thank you for reading, commenting and sharing AppMtn posts!