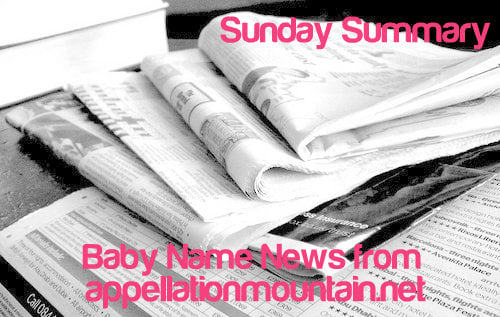 Happy Saint Patrick's Day to all, whether you're Irish – or just wearing green for the day.  We're not even a little bit Irish around here, but we're on our way to a shamrock-bedecked brunch at the neighbors' shortly.
Elsewhere in baby name news:
It was a great week for Irish baby name round-ups.  Here's one from Babble: Irish Baby Names from Literature.  I'm intrigued by Doran.  The Stir gives us their list, too.  Dempsey is great, but Bartley feels like a non-starter.  And is Cara really Irish?  I can't think how …
I agree with Anna – Esme and Sylvie are perfect together.
While we're in Australia, check out the fastest gaining girls' names in New South Wales.  Does this presage big jumps for Josephine, Olive, Harper and Eloise when the US numbers are released?  On the boys' side, how about Hudson, Hugo, Luca and Kai?
I could cheerfully name a Duggars' worth of children from Elea's Guys and Dolls list.  Meet my kids, Betsy, Clyde, Ray and Marnie …
Speaking of big families, I loved the 100 – and counting! – lists of twin names, A to Z, at Nameberry last week.  The combinations from vildeoddli are my favorite so far.  (Isabelline and Indigo, Lyra and Lux!)  But then, I'm not sure I've read them all …
Do you follow Suri's Burn Book?  It can be snarky, but her commentary on celeb kid names is deliciously insightful.
Another baby Cosette …
What do you think of Italy as a middle name?
A chance to do a name interview with Nancy!
That's all for now.  As always, thank you for reading – and have a great week!