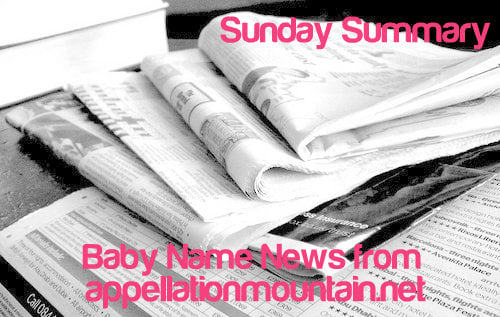 So there's a state in Mexico that has banned names that "are derogatory or that don't have any clear meaning and can lead to bullying."
I wonder what that conversation looked like.  Did they white board names, and let civil servants argue.  "No, Hermione isn't so bad."  (She's on the banned list, along with Harry Potter.)  Are these 61 names that were actually used?  Or did they break out a crystal ball along with that white board?  And …
Apparently they must issue crystal balls to Sonoran civil servants.  Because I've always marveled at the ability of bullies to invent horrible nicknames for their targets.
Isn't the real problem bullying?  Let's face it, if your parents entertained the name Twitter, there may be other things about your childhood experience that could make you the object of ridicule.  Still, there's something truly dreadful about trying to make us all the same, and something really lovely about encouraging us to accept others as they are.
Lastly, when will we have an interview with someone who named their child Robocop, Lady Di, or another of the 61 banned names?  I can't find the full list, but here's about half of them.
Anyway, I really like Claire McCarthy's article at HuffPo on the Sonoran brouhaha.  The pediatrician has seen many an eyebrow-raising name over the course of her career, but she says this: "That's the thing: we can't know people's reasons."
Sometimes a name that seems wacky turns out to be a deeply meaningful choice.  I've reacted negatively to a name, only to discover that it isn't creativity gone wild, but a foreign name I hadn't heard before.  And even in English, traditions and customs vary widely – think of names from English-speaking African nations, like Blessing.
Freedom in naming, even it means my kids have a friend called Facebook.
Oh, and isn't Sonora a great possibility of a place name?
I'll stop now.
Elsewhere online:
That's all for this week.  As always, thank you for reading – and have a great week!