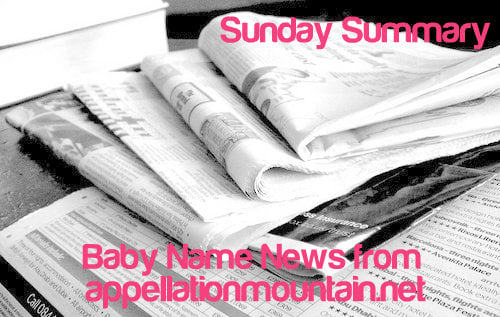 I'm binge-watching Revenge at the moment – and I'm enjoying it so much that I don't want to read any spoilers, nevermind that I'm two years behind and anything I read will spoil something – and if you're still on season one, then, well, spoiler alert.
Amanda and Jack named their baby Carl?  I completely understand that he's named after his grandfathers, and I do love a family name.
Except – Carl?  On a baby?  On a show where other characters have great names like Nolan and Declan?
I know a 20-something named Carl, and it always feels out-of-step to me.  An old man's name on a young guy.
Yes, I'm overthinking this one.  And yet it strikes me that we all have those names – names that in that exact form seem unwearable for anyone younger than fill-in-the-blank.  And only in that form, because Charles is classic, Charlie is adorable, and Carlo is swoon-worthy.
Elsewhere online:
The sibsets at Jolis Prenoms make me so happy – and sometimes suggest completely new names, too.  Castille is the stand-out from this sextet – a very wearable place name that I'd never considered.  Donatello impresses me as rich with potential, too.  And, oh Hortense!  Impossibly clunky in English, but it suddenly feels fresh and interesting in, well, French.
Speaking of clunky, isn't it great that this family used Hildegard as a middle name?
Names for Real spotted a Caspian Wolf – a combination of two boys'  names that are going places, and a name both literary and fierce.  Proof that there are always interesting new names for boys, even when it feels like we've exhausted the options.
Also from Names for Real, a Birdie Celine.  I'd use Birdie as a nickname for Beatrice or Elizabeth.  But ever since Busy Philipps gave the name to her daughter, I've been warming to the idea of just Birdie.
More on nicknames for Elizabeth, you say?  Why, of course!  Surprising to see just how many forms of the name have been bestowed independently, via this chart at NameFreak!
I'm fascinated by large families, and not just because they get to choose SO many names!  But can you imagine having twelve boys?  And now you're expecting baby #13, and not sure if it will be a girl – at last?  That's this family's position.
Speaking of big families, the Bates clan – friends of the Duggars, sometimes seen on 19 Kids and Counting, and also a family with 19 kids – have welcomed their first grandchild.  Eldest son Zach and wife Whitney are now parents to son Bradley Gilvin.
Will the name Pharrell catch on?  I've always liked the idea of Farrell, and now the anthemic "Happy" is such a defining song of our era.  Nancy has the numbers.
Arrow is attracting more and more notice.  Waltzing More than Matilda discussed Arrow this week, and so far, the votes suggest that most people think it is reasonably wearable.  Well, at least those of us people who read name blogs, and vote on the questions therein, which may not be representative of the general population.
Looking for something equally daring, but more traditional?  Elea talks about Francis.
Hello, Cleveland Evans! I may be your biggest fan.  He's now writing name profiles for omaha.com, the website of the Omaha World-Herald.  Evans is a true master of the form, and his name write-ups are thoroughly enjoyable reads.
Penn, Gemma, Tilda, Petula – what an amazing list of names from November birthdays, via Meagan.
We're off to see The Book of Life later today.  I'm curious to hear Manolo – the name of Diego Luna's character – in a context that has nothing to do with shoes.
Lastly, have you weighed in on the latest baby name help question?  So many great strong names for girls – here's hoping Andrea finds one that she loves.
That's all for this week.  As always, thank you for reading – and have a fabulous week!