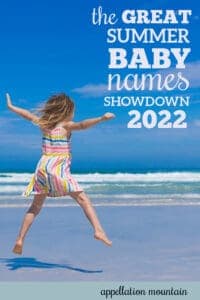 The first round of this summers' New Names Showdown is complete!
Thanks to your votes, our eight names have been narrowed to just four promising names for girls.
We'll continue with our contest in a minute, but first, let's recap the opening round.
Nature name Clover bested fellow nature name Soleil with a comfortable 59% of the total. My take? No matter how lovely Soleil might be, many parents hesitate when it comes to names that require spelling and pronunciation help. Clover, on the other hand, is a straightforward choice, with an optimistic, lucky vibe, and that stylish -R ending.
Birdie knocked out Vida with a little over 55% of the tally. While both names have a delightfully vintage appeal, Birdie feels like a match for so many sweet nickname names we love now, from Sadie and Millie to Hattie and Charlie.
With nearly 59% of the vote, Indigo sailed past Soraya. This one surprised me a little. While both names are very on-trend, Soraya feels like a successor to names like Sienna and Maya, a name with Persian roots and global appeal. But Indigo is yet another name borrowed from the color wheel, just like Navy, Olive, and Scarlett.
Guinevere commanded over 62% of the vote, to put Billie out of the running. Billie has been due to break into the US Top 1000 for years, lifted by high profile Billies, as well as our love of nickname names. (After all, Stevie, Charlie, and Frankie all make the current girls' Top 1000.) But instead, AM readers favored the lush and powerful Guinevere, a medieval queen with all the sounds.
Did your favorites advance? I'm so sad to see these four names go!
And now, time to vote again. Because it's the SemiFinals!
As a reminder, you can vote for the name that you think is most likely to catch on in the future, or for the name you just plain like better. It's up to you!
VOTE FOR YOUR FAVORITES
CLOVER v GUINEVERE
BIRDIE v INDIGO
Thank you for voting!
Polls stay open through July 13th. Check back on Saturday, July 16th to see if your favorites advance. And, of course, to vote in the final round!