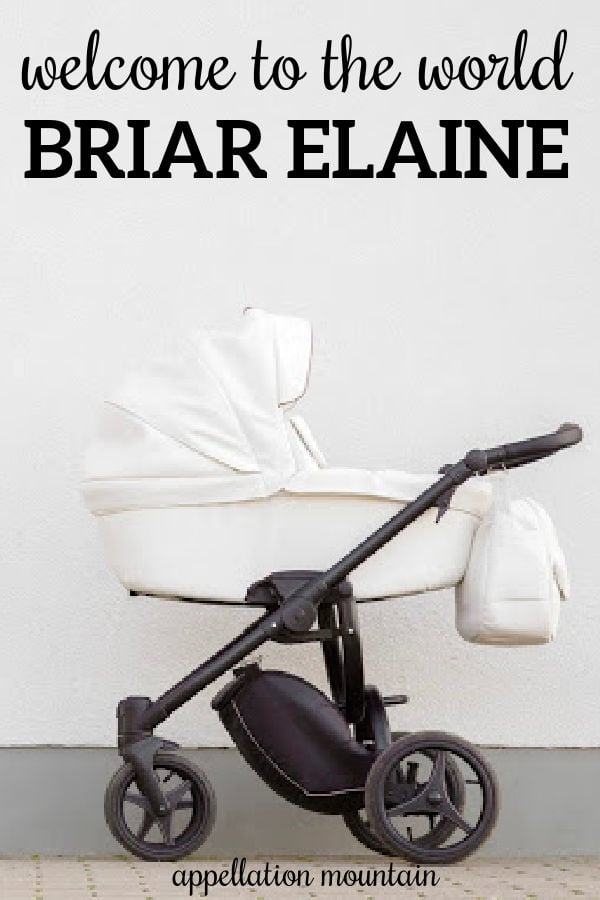 UPDATE: She's here! Jamie writes: Thanks SO MUCH to everyone for the suggestions! As much as I liked Scout, it didn't sound right with our last name. We took Briar, Acadia, and Wren with us to the birthing center, and we decided she looked like a Briar. Elaine is for my mom.

Jamie writes:
We have two boys, Wilder Blake and Ridge Harrison, both named for our love of the outdoors. We're expecting a daughter in August, and we'd like a name with the same rugged, adventurous spirit. But lists of "nature names for girls" don't feel right. We're not interested in frilly flower names. If this was a boy, we liked Canyon.
We don't like Canyon for a girl, though.
Suggestions welcome!
Please read on for my response, and leave your thoughtful suggestions in the comments.
Dear Jamie –
Congratulations on your new daughter! You're right that nature names for girls sometimes tend towards Lily and Rose. But it sounds like you might want something at least slightly feminine – or, in any case, you're not interested in just using your next favorite name regardless.
Based on your comments, and drawing from your sons' names, we're looking for something that:
Conveys an outdoorsy and adventurous vibe
Is probably a word name, or close to it, rather than a more subtle meaning/association
Sounds like a sister for Wilder and Ridge – or at least doesn't sound like the third brother
Is modern and current, but not invented
I think there are some excellent possibilities.
Aspen makes this list for two reasons: first, it's a tree. But secondly, the Colorado town is known for its rugged beauty, especially during ski season. There are lots of other tree names that might inspire you. Or maybe there's a favorite place – a trail, a mountain, a lake – that would work well for your child's name. Rowan is another option.
BRIAR
Briar is sometimes heard for boys, but it's more popular for girls. If you know your fairy tale princesses, you might know that Sleeping Beauty was also known as Briar Rose. But there's nothing overly feminine or frilly about this name. After all, a briar is a thorny plant – beautiful, but strong, too.
High-energy Juniper is another tree name. It's caught on in  a modest way over the last decade or so, meaning that it feels just familiar – and feminine – enough. Built-in nicknames like Junie and June are another bonus.
Flower names tend to go to the girls. So do bird names. Wren ranks in the current Top 1000, but I wonder if Lark would appeal to you even more?
No question that Meadow feels outdoorsy and untamed. But it's also clearly feminine, especially when paired with brothers Wilder and Ridge. While all three names are drawn from the natural world, they all have distinctive sounds – I think that's a plus. For something rarer still, you might consider Prairie.
River is rising for boys and girls alike. While it's more popular for boys at the moment, I think it works equally well for a daughter. My only hesitation is that Wilder, Ridge, and River might sound like three boys, and it sounds like you might prefer to avoid that. Well … and is it a little bit of a tongue twister to say all three names together?
Do season names appeal to you? Winter, Autumn, and Summer have all seen plenty of use for our daughters – though Winter is the least common of them. (Well, except for Spring, which is seldom heard, but could wear beautifully.) Of course, some of this depends on your preferences. If Winter – or Autumn or Summer – is a favorite season, or the time of year you got married, etc. – then it might work especially well.
I'm still stuck on Meadow. I think it's outdoorsy and feminine, without straying into the frilly. And I love the way Wilder, Ridge, and Meadow all sound distinctive – but I think they work nicely together.
Readers, over to you. What outdoorsy girl names would you suggest for Wilder and Ridge's new sister?