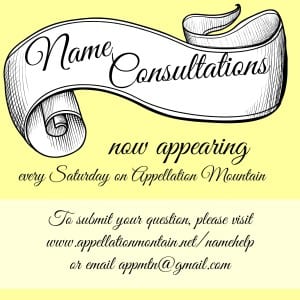 Name Help is a series at Appellation Mountain. Every Saturday, one reader's name questions will be discussed.
We're relying on thoughtful comments from the community to help expectant parents narrow down their name decisions. Thank you in advance for sharing your insight!
Ashleigh and her husband are the parents of Rafael, called Rafi, and Naima.  They're expecting baby #3 and could use our help.
She writes:
We aren't finding out the gender, but are settled on Liora for a girl.
For a boy we are stumped.
We want to find something sophisticated, with a cute and unexpected nickname. Our son, for example is Rafael NN Rafi.
Meaning is important to us, we don't want anything with a negative meaning. Our surname ends in -son.
Middle name will be either Louis or Daniel.
So far Ashleigh's shortlist for a boy consists of Luca and Desmond – but they're not sure if either is the right name.
Read on for my answer – and please leave your thoughts in the comments!
Would it be crazy to say that I really hope you have a daughter?  Liora is such a gorgeous name – unusual but very wearable, with a great meaning – and fits so well with Rafael and Naima, too!
Okay, that's not helpful.  But I do love the sound of your children's names.
The qualities you look for in a name are as follows:
Sophisticated, possibly with an unexpected nickname
A great meaning – or at least not a negative one
A few other things leap out at me:
You're naming little citizens of the world!  The names you like come from a wide variety of backgrounds – Arabic, Hebrew, the Spanish and Portuguese form of one Biblical classic, the Italian form of another.  It's a lot of freedom, but there's also a challenge – you almost want to keep each child's name distinct, and that can mean a slightly different origin for each.  And yet, I can completely picture these kids as twenty-somethings, already with well-worn passports.
While Naima and Liora aren't common names for girls, the 'a' ending is fairly traditional.  But your boys' names are quite daring – Rafi's 'i' ending, Luca's 'a'.  It suggests that you're open to lots of great names, and that's fabulous – but it only makes the list of possibilities longer!
Now, a question: is Lior a possibility for a son?  No reason it has to be – for every family who loves Samuel and Samantha, there are plenty of families who only like one form or the other.  But Lior has a great meaning, a sophisticated sound, and some great potential nicknames – Lio, maybe?  Rafi, Naima, and Lio; Rafael, Naima, and Lior.
Assuming you're already ruled out Lior, let's look at some more names:
Rodion – Rodion is a Russian name, ultimately related to Herod, from the Greek Heroides – song of the hero.  Rafael and Rodion sound like brothers, and Rafi and Rodi makes for a nicely matched pair of brothers.  Maybe too matched, though?  Rafael, Rodion, and Naima. Rafael, Naima, and Rodion – I like it, but let's keep going.
Evander – A hero of the Trojan war, his name means good man – the 'ev' comes from the Greek 'eu' – good.  Rafael, Naima, and Evander; Rafi, Naima, and Van.  Rafi and Van.  Or Ev, Evan, or Anders … lots of nickname options there.
Jacoby – Originally a surname form of Jacob, Jacoby has caught on in recent years.  The meaning isn't great – supplanter – but nicknames Cobe and Coby might appeal.
Koa – I almost dropped Koa from the list because it's so short.  But if you love Luca and want a great meaning, Koa seems like a name to consider.  It's Hawaiian, related to the Koa tree, and means warrior.
Nico, Nicolo, Nicodemus – I wonder if you've considered Nico already?  Nicholas feels a little plain with your other kids' names, but Nico is a great modern short form, and there are plenty of formal name options.  Rafi and Nico are great together.  But are Naima and Nico too close?  Some parents prefer to avoid repeating first initials.
Siraj – Lior had me thinking about names that mean light.  Siraj is Arabic in origin.  Rafi and Raj, Rafi, Naima and Raj … hmmm … I keep running into repeating first initials!  I wonder if that's a deal-breaker for you?
Kiran – An Indian name of debated meaning, but they're all pretty darn lovely: sunbeam, thread.  In decades past, might have been mistaken for Karen, but I feel like this works better in 2015.
Orion – The constellation from the night sky, Orion is a hunter.  The name originally comes from a Greek word meaning boundary, or maybe beehive … so the meaning isn't rock solid.  But nickname Ori goes back to the Hebrew word for light, and also brings to mind gold.  Rafael, Naima, and Orion – Rafi and Ori, Rafi, Ori, and Naima.
Names I thought about but eliminated for one reason or another: Ruskin – is Rafi and Rus too much?  Zebulon, nickname Zeb – it felt a little less sophisticated and globe-trotting that Rafael and Naima.  Jasper – too common?  Though Jas/Jaz is a great short form.  Also, Galileo, Israel, and Sorrel/Sorrell … though I can't quite say why these three didn't make the final cut.
I'm not sure it's time to rule out Luca or Desmond, either:
Rafael, Naima, and Luca
Rafael, Naima, and Desmond
Both trios sound great together, and I'm really drawn to Desmond's jazzy nickname Dez.  Rafi, Naima, and Dez – it just sounds great together, doesn't it?
From my list, I'm most drawn to the possibility of Orion – especially because it shares sounds with your top choice for a daughter's name.
Readers, what would you suggest for a brother for Rafi and Naima?  I feel like I could list great potential names forever, but narrowing it down is tough!