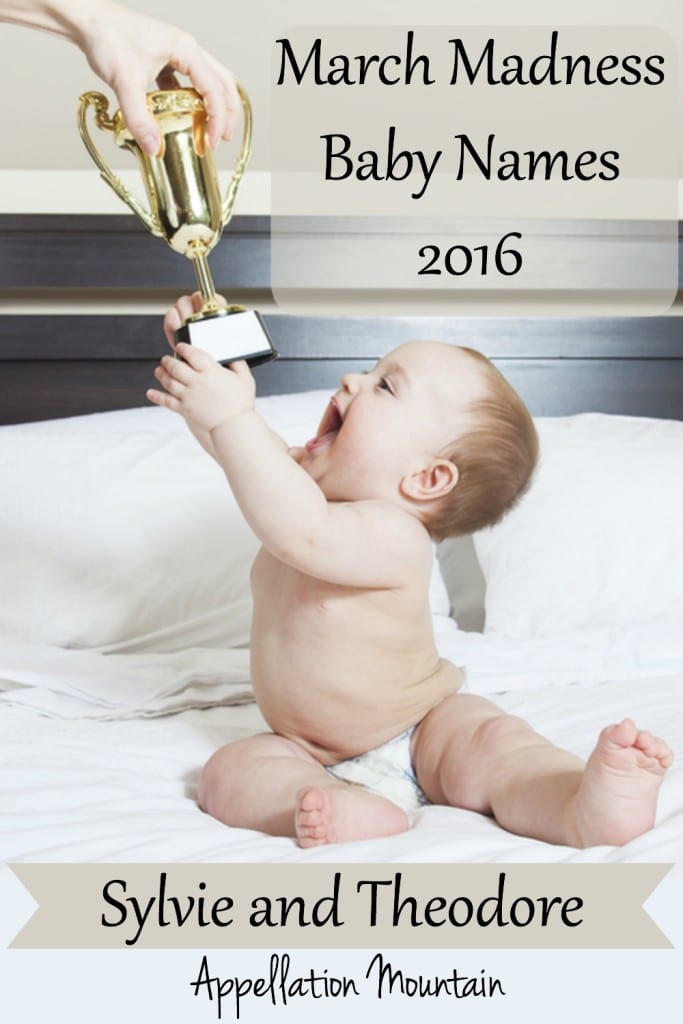 And just like that, another March Madness Baby Names contest have flown past, and it is time to congratulate our winners!
Welcome to the exclusive club, Sylvie and Theodore.
Sylvie swept past Clementine with a commanding 56% of the vote. March was really the month of Sylvie, wasn't it? It seemed like I couldn't stop talking about the name after Swistle posted a story about three sisters who all wanted to use it for their next child.
Sylvie joins past winners:
Louisa in 2011
Genevieve in 2012
Isla in 2013
Cora in 2014 and 2015
After Cora's back-to-back wins, the rules were changed. Any winning name is retired from future competition, meaning that Sylvie cannot attempt to defend the March Madness Baby Names title in 2017.
On the boy's side, Theodore brought home an even more commanding victory. After beating the similar Leo in the semi-finals, Theodore bested Sullivan with 66% of the vote.
Theodore joins a club of past March Madness Baby Names winners that also includes:
Nathaniel in 2011
Arthur in 2012
Archer in 2013
Everett in 2014
Finn in 2015
Like Sylvie, Theodore is now retired from future competitions.
Can we learn anything from the March Madness baby names winners? Maybe. What seems to be true for this contest is true for rising names in general.
They have to be familiar to be considered. Some rarities, like Emrys and Pluma, have made it to the competition more than once, but rarely get out of the opening round.
Traditional names fare well, but they're not the only ones that succeed. While most of the names that have won tend towards the traditional, newer favorites – like Archer and Isla – can win the top spot, too.
Appellation Mountain readers tend to be ahead of the trends. Louisa won a few years before re-entering the US Top 1000, and other names, like Archer, are on the upswing. It's part of the reason I'm so sure Sylvie is on the rise.
Thank you for so faithfully returning to vote each and every week in March – even, no especially – when your favorites didn't make it through.
And now, I'm already looking forward to March Madness Baby Names 2017 – just 336 days until voting starts!