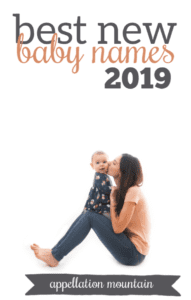 Time for me to pick the best new baby names 2019! These are my favorites from the names debuting or returning to the US Top 1000 in May 2019.
Read the full lists here:
I've chosen exactly eight names for girls and eight for boys. They'll advance to our annual contest, where you pick the best of the best: the New Names Showdown! This is the fourth year for the contest. Prior years' results can be found here:
BEST NEW BABY NAMES 2019: GIRLS
Anais #848
A French form of Anna, rare in the US and perhaps the tiniest bit challenging to pronounce. But it could be worth it for such a gorgeous name, equal parts exotic and enduring.
Bellamy #962
Isabella means Delaney, with an appealing meaning: beautiful friend. Bellamy got a boost from a male character on The CW's The 100, but I think the Bell- sound gives this one to the girls.
Emmarie #991
Smoosh together Emma and Marie, and you'll have this novel name. Or maybe respell new-to-the-Top-100 surname Emery and the result is the same.
Promise #908
Grace and Faith are classic virtue word names. Promise feels faithful to that naming tradition, and yet fresh and modern at the same time.
Scout #976
An active, outdoorsy verb of a name, Scout also stands for all the literary goodness of To Kill a Mockingbird. If Harper can make the Top Ten, then Scout deserves a spot in the Top 1000 – at least!
Violeta #965
As sharply elegant as Violet, but with a romance language spin, the Spanish Violeta sounds like a successor to Sophia and Valentina, too.
Wendy #969
As sweetly storybook as Alice, Wendy reminds me of Molly and Sadie. It's casual, accessible, and still cool.
Zora #982
A nature name of sorts – it means dawn in Slavic languages – Zora fits with Cora and Nora. But that letter Z turns it up to eleven.
BEST NEW BABY NAMES 2019: BOYS
Archie #992
Even before Harry + Meghan named their new son Archie, this nickname-name was catching on. Credit goes to Riverdale, but also parents' preference for going straight to the everyday use name on their children's birth certificates.
Benedict #981
An alternative to chart-topping Ben and the actor who plays Sherlock and Doctor Strange? Of course it belongs back in the Top 1000. That's before considering the name's powerful meaning: blessed.
Bowie #982
This rock star surname benefits from the legend of David Bowie. But it helps that the Bo sound is white hot, too. Boden + Bode also debuted in the US Top 1000 this year.
Jericho #959
Jericho may be an ancient Biblical place name, but it sounds bright and modern.
Kenzo #873
We're wild about Leo, Milo, Arlo, and Enzo. So how about Kenzo? Instead of a romance language, it comes from Japanese. French fashion designer Kenzo Takada lends it a high fashion vibe.
Torin #980
An Irish name with a great meaning – chief – Torin could replace chart-topping favorites like Aidan and Connor.
Zakai #903
Just when you think every cool Old Testament name is in use, another possibility emerges. Zakai sounds like it's clipped from Hezekiah or Zachariah, but it has independent roots of its own.
Zev #975
Zev sounds downright cool. But if that's not enough, there's the meaning. It's Hebrew for wolf.
These sixteen names will compete in the 2019 New Names Showdown later this summer. Do you have any favorites?